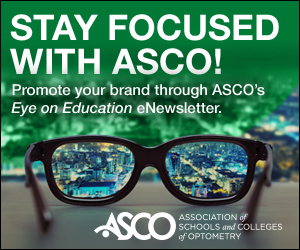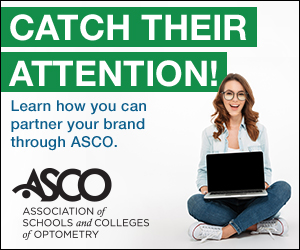 LaShawn Sidbury, CMP, CAE, director of meetings and special interest groups at ASCO, was recognized as a member of Connect Association magazine's "40 Under 40."
ASCO is pleased to announce the sponsorship of its Interprofessional Education and Collaborative Practice (IPECP) video by Johnson & Johnson Vision Care, Inc.
ASCO is slated to conduct its annual fall meetings in conjunction with the 2019 Academy Orlando. View the full list of meetings iby clicking the link directly below.
Wednesday, October 23, 3-5 p.m.
Sunday, October 27, 8 a.m.-12 p.m.
Twenty-one residents and graduate students from the schools and colleges of optometry will be selected to participate in the program, which is co-chaired by Dr. Mika Moy and Dr. Jeff Walline. The goal of the program is to provide participants with an opportunity to gain the knowledge and skills necessary to enhance their success in an optometric academic environment as career-long, productive faculty members.
Join an ASCO SIG now!
At its meeting in St. Louis in June, the ASCO Board of Directors voted to change the association's nomination process for participation in its Special Interest Groups, or SIGs.
Attention students: Mark your calendar! On Friday, October 25, from noon to 3 p.m. in the Valencia Ballroom of the Orange County Convention Center in Orlando, Florida, the American Academy of Optometry will hold its first Residency and Graduate Program Fair, and ASCO will have a strong presence.
ASCO held its eighth-biennial Summer Institute for Faculty Development (SIFD) on July 14-17 in Fort Worth, Texas. This year's program was chaired by Dr. Tiffenie Harris, director of clinical education and associate professor of the Western University College of Optometry.
ASCO is part of Health Professions Week (HPW), a free, on-demand event for high school and college students who are exploring a career in the health professions. ASCO staff and volunteers represent the optometric profession and is part of the marketing subcommittee for the HPW committee.
Tools for eyecare professionals are also available to leverage the augmented reality lens with patient.
Transitions Optical has partnered with Facebook to create an augmented reality try-on experience using the Facebook camera. The new Facebook virtual try-on from Transitions Optical is a first-of-its-kind social media experience that allows users to see themselves in all 13 Transitions® lens colors – including Transitions® Signature® lenses style colors and Transitions® XTRActive® style mirrors. Users can tap through the different Transitions lens colors and switch between indoor and outdoor settings.
After five years working in the insurance industry, Sarah Hileman decided to change careers and applied to optometry school. When she arrived at the Arizona College of Optometry at Midwestern University, she discovered that her optometry program was part of a larger university initiative incorporating One Health – the intersection of human, animal and environmental health – and it gave her an idea.
The University of Houston College of Optometry (UHCO) is loving the new additions to their Office of Optometry Relations! ASCO's Optometry Gives Me Life campaign posters are certainly drawing great attention when visitors and current students stop in.
Southern College of Optometry Professor Glen Steele, OD, has seen a number of honors fresh off his recent induction into the National Optometry Hall of Fame.
Berkeley optometry and vision science professor Martin Banks has been elected to the National Academy of Sciences. Dr. Banks is one of 100 new members elected for their "distinguished and continuing achievements in original research."
The University of the Incarnate Word's Rosenberg School of Optometry Eye and Vision Care Clinic was selected to receive an award for "Providing Excellence in Vision Care for Persons Who Have Vision Impairments."
Five students from Salus University's Pennsylvania College of Optometry (PCO), along with a faculty advisor were in Washington, D.C., partnered with Vision Service Plan's Global Eyes of Hope, the Washington Nationals baseball team, Nike and sports vision optometrist and PCO alum Dr. Keith Smithson in August to help screen and provide glasses to more than 100 children in the D.C. area.
This year at the 2019 National Optometric Association (NOA) National Convention, five UAB School of Optometry students and alumni were awarded scholarships, honored and elected to leadership positions for the National Optometric Student Association (NOSA).
For many years, The Eye Institute (TEI) has provided vision care services to economically disadvantaged children in Philadelphia and its surrounding suburbs. Starting in September and continuing through the school year, vision care teams from TEI work collaboratively with school nurses to assist them in providing state-mandated vision screenings to their children.
After four years of studying and hard work, sisters Abby and Paige Small graduated from the MCPHS Doctor of Optometry (OD) program - but their interest in protecting patients' vision began long before they stepped onto the university's Worcester campus.
Every summer, Salus University's Department of Blindness and Low Vision Studies welcomes incoming students for on-campus summer programs.
Heather Napolitano started losing her vision seven years ago due to proliferative diabetic retinopathy, a complication of diabetes caused by changes in the blood vessels of the eye.
Southern College of Optometry (SCO) continues to expand its involvement in interprofessional education through a number of collaborative projects throughout Memphis.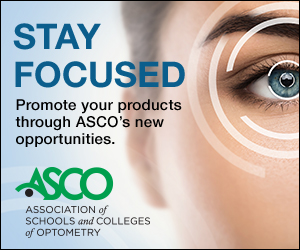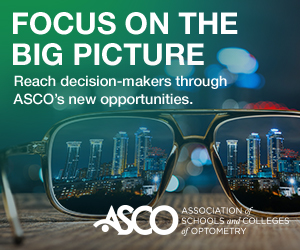 The ASCO Ophthalmic Optics Educators SIG met July 25-27, 2019 in Fort Lauderdale, Fla. Under the leadership of Chair Dr. Cristina Law (NOVA) and Co-chairs Dr. Arnie Patrick (NOVA) and Ana Abugazaleh (NOVA), they attended educational development lectures and held a business meeting over two days.
The ASCO Low Vision SIG met July 11-13, 2019 in Columbus, Ohio. Under the leadership of Chair Rebecca Marinoff (SUNY), they explored topics for a multi-school research project and began to look at outcomes measures for the Advanced Competencies.
AEVR has posted details of its September 18 International AMD Awareness Week Congressional Briefing featuring National Eye Institute scientist Kapil Bharti, PhD, speaking on New Stem Cell-Based Therapies for AMD and Blast-Related Eye Injuries.
Prevent Blindness has released new FREE toolkit offering educational materials on diabetes and the impact of diabetes on eye health – available in both English and Spanish.
Join us in Portland this October! The preliminary agenda and speaker biographies are now available for the Fall 2019 Interprofessional Education Collaborative (IPEC) Institute in Portland, Ore.!
Patients who suffer a traumatic brain injury often have a team of rehabilitation professionals assisting in their recovery. Given that up to 90% of TBI patients have a visual dysfunction as a result of their injury, it is very important for a doctor of optometry to be part of that rehabilitation team.
Are you a researcher with a basic understanding of clinical trials, regulatory requirements and medical product development who wants to learn more about clinical trial design and analysis, safety and efficacy requirements, roles and responsibilities of the investigator and more?