Join us on Tuesday, June 28, 2022, from 1 - 2:30 p.m. ET for ASCO's Diversity and Cultural Competency Committee's Town Hall on The Social Determinants of Health and Healthcare Disparities: An Optometric Perspective. This interactive program will begin with an overview of the social determinants of health, and the healthcare disparities that play a role in both the access to and the quality of eye care for various patient populations. The subsequent discussion will focus on how this applies to optometric care and how providers can utilize this information to benefit their patients.
ASCO will soon bid farewell to its longtime Director of Meetings and Special Interest Groups, LaShawn Sidbury Duckett. She has accepted the position of Director of Meetings with the National Science Teachers Association.
ASCO is looking forward to attending the Optometry's Meeting, in Chicago, in person, for the first time since the onset of the pandemic.
Full-time, first-year enrollment in the 23 professional OD programs in the United States has decreased 2.1% in the past year, to 1,906, according to
ASCO's 2021-22 Annual Student Data Report
. The decrease remains at 2.1% when including part-time students. Since 2016-2017, when there were 22 programs, the number of full-time first-year students has decreased 0.4%. When part-time students are included, the number has increased 0.4%.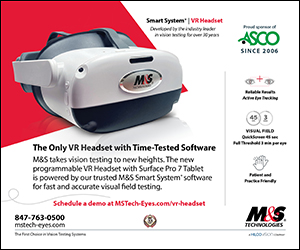 Bausch + Lomb Reports More Than 48 Million Units of Contact Lens, Eye Care and Lens Care Materials Recycled Through ONE by ONE and Biotrue® Eye Care Recycling Programs
CooperVision's Online Success Center for Eye Care Professionals
EssilorLuxottica Live! 2022
Johnson & Johnson Vision Reinforces Sustainability Commitment
Students Learn About the Benefits of Fish Oil and Macular Carotenoids
The Age of Trial and Error is Over!
OCULUS Pentacam® for efficient specialty lens fitting
Using the Optomed Aurora Camera in Teaching Clinics
Spend Money to Make Money: Cold-start Practice Gains High Return on Investment and New Revenue Paths
New Data Presented by Visus Therapeutics at ARVO Annual Meeting
VSP Vision Premier Pathways Offers Valuable Career Resources for Students and New Grads
Some time ago, a bold young person visited the campus of a well-known college of optometry, as confident in her calling to become an optometrist as she was in the knowledge that she was already at the place she would do it. Since it was unofficial, her tour was essentially self-guided; in fact, the only assistance the young person had was from the older sister she had convinced to drive her there – she was, after all, only ten years old.
The Pennsylvania College of Optometry (PCO) at Salus University and The Eye Institute (TEI) recently entered into a new partnership with the State Correctional Institution (SCI) at Cambridge Springs in Crawford County, Pennsylvania, to custom make eyeglasses for children served by the University's Looking Out for Kids (LOFK) School Vision Program.
The textbook, entitled, Anatomy of the Eye and Orbit: The Clinical Essentials, authored by Thomas F. Freddo, OD, PhD and Edward Chaum, MD, PhD has been selected for inclusion in Doody's Core Titles in the Health Sciences.
UC Berkeley Optometry students, alums, and faculty, along with AOA representatives from all over the country, descended on Capitol Hill in April to speak with politicians regarding legislation important to optometry.
The UAB School of Optometry is leading efforts to provide eye and vision care to World Games athletes during the multi-sport international event in Birmingham, July 7-17, 2022.
The Midwestern University Arizona College of Optometry is hosting an annual Pre-Optometry Program for current undergraduate students from across the country. Students spend three days immersed in seminars on preparing for optometry school, hands-on workshops using state-of-the-art technology (including virtual reality eye exam simulators) interactive experiences in optometric labs, and panel discussions with current Midwestern University optometry students and faculty.
Southern College of Optometry's Class of 2022 celebrated its commencement Tuesday, May 3, at the Cannon Center for the Performing Arts in Memphis.
Nia Phillips '23OD said she was "blown away" by a recent email that revealed she was the Rick Bay Foundation Scholarship winner.
The Pennsylvania College of Optometry (PCO) at Salus University and its clinical facility, The Eye Institute, recently partnered with STAAR Surgical, a leading developer and manufacturer of implantable lenses and companion delivery systems for the eye, to launch Project MyVision, a charitable lens-based refractive surgery program.
Research!America's Advocacy Awards honorees are committed to putting research and innovation to work to find the solutions to what ails us. If you know an outstanding advocate who is dedicated to advancing medical progress and whose contributions have brought us closer to cures for deadly and disabling diseases,
nominate
them for the 2023 Advocacy Awards today!
On July 13-14, 2022,
Prevent Blindness
will host the 11th annual Focus on Eye Health National Summit as a FREE virtual interactive event. The Summit brings together diverse stakeholders across the vision and eye health community to stimulate a national dialogue around emerging and current population health trends and topics such as equity, research, surveillance, access, prevention, service integration, program development, and dissemination of professional best practices.
Contact lens educators from three countries – India, the United States of America, and the United Kingdom – receive prestigious awards from the International Association of Contact Lens Educators (IACLE) for their efforts in contact lens education.