As we step into 2022, we can reflect that 2021 was a year like no other. While for some things it seemed like we were all standing still, rocket pace was the mode of action for others. As a profession, optometry is perpetually moving forward, and occasionally, something good happens that creates a leap rather than constant and consistent progression. Sometimes, the leap isn't recognizable until hindsight catches up, and sometimes, the leap is obvious mid-flight.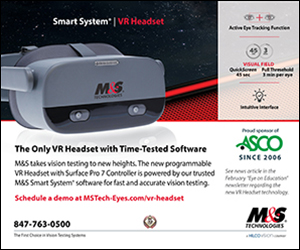 ASCO's national public awareness campaign, Optometry Gives Me Life (OGML), which launched in March 2019, has added two new Doctors of Optometry to the campaign in December as part of a creative refresh. The goal of the Optometry Gives Me Life campaign is to increase the number of highly qualified applicants to optometry schools and colleges from a wider variety of demographic backgrounds, specifically Black/African-American and Hispanic/Latino students, so Doctors of Optometry are better prepared to serve all communities.
In recognition of the importance of graduate education and ASCO's strategic goal of advancing research in optometry and optometric education, ASCO has established a new
Graduate Education and Research webpage
.
Direct costs awarded from July 1, 2020 – June 30, 2021 for research at ASCO member institutions totaled $30.8 million, up from $30 million the previous year, according to ASCO's 2020-21 Research Survey Report.
The ASCO Board of Directors convened in November for a virtual meeting (as opposed to meeting in person because of remaining concerns regarding COVID-19).
LAST CHANCE to submit nominations is January 14, 2022.
Deadline to submit essays is February 18, 2022
Keep Up with Alcon News on Social Media
U.S. Food and Drug Administration Approves VUITY™ (pilocarpine HCI ophthalmic solution) 1.25%, the First and Only Eye Drop to Treat Presbyopia (Age-Related Blurry Near Vision)
Bausch + Lomb Launches Biotrue® Hydration Boost Lubricant Eye Drops, Announces Biotrue® Eye Care Recycling Program and Expands Cylinder Powers for Bausch + Lomb ULTRA® Multifocal for Astigmatism Lenses
Luxottica Eye Care Sends Children's Book Written by Target Optical OD to School Opticals
National Vision Announces 2021-2022 Scholarship Program, Focusing on Importance of Accessible Eye Care
New Pentacam® AXL Wave Now Targeted for Specialty Care
Team up with Optomed to Close the Gap on Diabetic Retinopathy Screening!
Meet the Recipients of the 2021 Practice Excellence Scholarship
One of the two new ODs featured in the next phase of the Optometry Gives Me Life public awareness campaign is Dr. Vishal Patel, a 2020 SCO graduate. During his time at SCO, Dr. Patel was a Student Ambassador who appeared on camera to talk about his optometry school experience for videos targeted to prospective students.
UAB School of Optometry student Emily Platt, class of 2024, won the National Optometric Student Association (NOSA) Logo Contest. The former art student's design is now the official logo for the national organization.
Berkeley Optometry professor Teresa Puthussery is part of a new project funded through the prestigious National Eye Institute's (NEI) Audacious Goals Initiative, whose aim is to enhance the survival and integration of regenerated neurons in the visual system.
The Contact Lens Research Team (IRLCM) of Université de Montréal School of Optometry is working on a project to evaluate the choice of lens material vs. the results obtained when wearing gas permeable contact lenses in orthokeratology.
Satya Verma, OD '75, FAAO, DPNAP, Diplomate, who completed his 50th year of working at the Pennsylvania College of Optometry (PCO) at Salus University in June 2021, will retire at the end of the year.
Etty Bitton, OD, MSc, FAAO, was honored in Boston by the American Academy of Optometry as she received the Michael G. Harris Family Award for Excellence in Optometric Education.
Chad Killen, OD '19, Resident '20, FAAO, has been named the new director of the Pennsylvania College of Optometry (PCO) at Salus University's On-Campus Residency Programs.
Southern College of Optometry has received a $250,000 grant from United Healthcare to assist lower-income households with vision care in the Memphis area. Originally slated to begin in March 2020, the program encountered an 18-month delay due to the COVID-19 pandemic.
Quatre diplômés de l'École d'optométrie de l'Université de Montréal ont discuté de l'importance de l'intervention communautaire dans le domaine.