ASCO's Annual Meeting, scheduled for 12 p.m. – 2 p.m. eastern time on Wednesday, June 16, is open to all who wish to attend. The Annual Meeting will be virtual again this year due to the ongoing COVID-19 pandemic.
Full-time enrollment in the professional OD programs in the United States grew 1.3% to 7,339 in 2020-21, according to the
2020-21 Annual Student Data Report
distributed in May 2021 by ASCO.
Calling all optometry students, residents, faculty and ASCO Corporate Contributors – Do you have a story to tell? Do you like to write and/or make videos? ASCO's blog,
Eye on Optometry
is a well visited part of
ASCO's website
and we are always looking for submissions from students, faculty, residents and Corporate Contributors.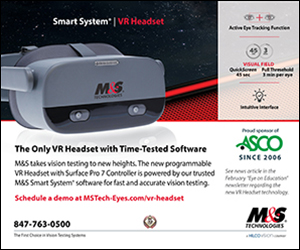 Allergan, an AbbVie Company, Submits New Drug Application for Investigational AGN-190584 for the Treatment of Presbyopia
Bausch + Lomb Announces New Data from the NEI 10-Year Follow-on Study Results of the Age-Related Eye Disease Study 2 (AREDS2), Celebrates 50 Years of Contact Lens Innovation, and More
CooperVision Doubles Prescription Options for Biofinity® XR toric Contact Lenses
Johnson & Johnson Vision Announces New Products and Services in Myopia-Control Space
Ortho-K and Dry Eye — Getting the Most Out of Your Keratograph® 5M
ProQR Announces Positive Results from Clinical Trial of QR-421a in Usher Syndrome and Plans to Start Pivotal Trials
The iDetect KC Program — Keratoconus Care Starts with You
Your Future Practice: Resources from VSP for Your Success
Midwestern University celebrated the graduation of the inaugural class of students from the Chicago College of Optometry (CCO) in May. The students earned a Doctor of Optometry (OD) degree following an intensive four-year program where they learned to diagnose, treat and manage injuries and diseases of the eye and visual system.
Virtual golden anniversary party to kick off a year of celebration
The State University of New York College of Optometry community is celebrating 50 years of study and service with a virtual celebration that will launch a year-long commemorative campaign stretching through June 2022 highlighting the history and contributions of the College to optometric education, patient care and research in New York and worldwide.
With the world totally Zoomed out after over a year of quarantine due to COVID-19, SCCO admissions was faced with how to host a virtual event that people wanted to attend and to stay logged into the entire time, specifically the Virtual Spring Admissions Open House. They needed to be engaging, informative, with changing content, or they'd lose the opportunity to share more about the profession of optometry with their viewers.
Congratulations to Shervonne Poleon, who has been named the recipient of the 2021 Prevent Blindness Rising Visionary Award.
Mai Nguyen, Vision Science Graduate Program student, is the first UAB School of Optometry student to receive an F31 Ruth L. Kirschstein Predoctoral Individual National Research Service Award. This National Institutes of Health grant is for five years, totaling $189,180.
SCO Associate Professor Marie Bodack, OD, has been named President Elect of the College of Optometry in Vision Development as part of the COVD's 2021-2022 Board of Directors.
NSUOCO Professor, Dr. Alissa Proctor, was recently named a Fellow in the College of Optometrists in Vision Development (FCOVD). The newly certified FCOVDs participated in a formal induction ceremony in conjunction with the 51st Annual Meeting of the College of Optometrists in Vision Development in Columbus, Ohio.
Salus University's 14th annual Looking Out for Kids (LOFK) charity fundraiser — this year a combination live and virtual event — held May 1 was a tremendous success, raising more than $170,000.
Marking 50 years of scholarship and service this year, the
State University of New York College of Optometry
recognized two distinguished professionals who have made lasting contributions in their respective fields with honorary degrees during the college's 2021 commencement ceremony on May 20.
The winners of the 2021 Salus University Alumni Association awards have been announced. The Alumni Association annually recognizes the professional contributions and achievements of graduates and friends of the institution. Awardees are nominated by alumni, students, faculty, staff and friends of Salus.
A group of international students are a step closer to realizing their dreams of becoming optometrists able to practice in the United States after having spent a week on campus recently.
Spring is here, and with it comes the season of road trips. This got us to thinking about Berkeley Optometry Magazine's recent interview with Professor Bruno Olshausen about the challenge of replicating the awesome power of the human visual system, and how that relates to the development of autonomous vehicles.
With the testing administrative year coming to a close, NBEO is taking time to reflect on the past year. There have been multiple positives amidst the challenges of the pandemic. NBEO has emerged from the last year with new knowledge gained through facing those challenges.
AOA/AOSA Opportunities in Optometry Grants represent a concerted effort to not only build diversity, equity and professional leadership for the next generation of optometry, but also ensure expanded access to primary eye care throughout America's communities.
On July 14-15, 2021, Prevent Blindness will host the 10th annual Focus on Eye Health National Summit as a virtual interactive event. (Due to the current COVID-19 health crisis, the 2021 event will be held as an online event only.) This FREE event will include multiple opportunities for participant engagement, including moderated discussions on key topics, chats with presenters, an exhibit hall with live exhibitor chat and video conversation, and more.
The Interprofessional Education Collaborative (IPEC) is beginning a formal process to review and revise the 2016 IPEC Core Competencies. The IPEC Core Competencies have helped to frame the national dialogue on the need for interprofessional education (IPE) and collaborative practice (CP) as a catalyst for improving team-based patient care and enhancing population health outcomes.
In a study published in JAMA Ophthalmology, "
Prevalence of Visual Acuity Loss or Blindness in the US
," researchers estimate permanent vision loss and blindness in Americans of all ages, including people younger than 40 years old, and adults in group quarters, such as nursing homes or jails. Researchers found more than 7 million people are living with uncorrectable vision loss, including more than 1 million Americans who are living with blindness.
A week before the Biden Administration is scheduled to release its detailed Fiscal Year (FY) 2022 budget proposal on May 27, on May 19 House Labor, Health and Human Services, and Education (LHHS) Subcommittee Chair Rosa DeLauro (D-CT) held a virtual Public Witness Day hearing — the first since 2019 — regarding FY2022 funding for programs within the LHHS spending bill.