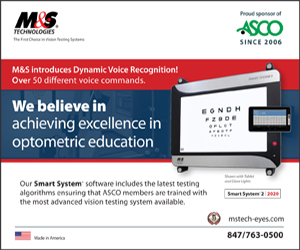 On July 8, ASCO's Board of Directors received a letter from a group of optometry students and graduates from SUNY, College of Optometry. The letter in part states, "… the educators and leaders of our profession must make it a priority now to target and recruit minority talent, brains, and skills to join our leadership ranks.
The Association of Schools and Colleges of Optometry (ASCO) and CooperVision understand that COVID-19 has greatly impacted student financial resources, loss of income, and financial aid opportunities.
The Cultural Competency Case Study Subcommittee of ASCO's Diversity and Cultural Competency Committee (DCCC) announces it will hold its third Cultural Competency Case Study Competition...
ASCO announces its support of a nationwide pause on advertising on Facebook and Instagram social media channels at least through the month of August.
ASCO experienced a 3.7% increase in applicants compared to the previous application cycle. There were 2,563 applicants who submitted a total of 11,873 applications.
ASCO is extremely pleased to announce its public awareness campaign, Optometry Gives Me Life, is named a 2020 Power of A Gold Award Winner by the American Society of Association Executives (ASAE).
Join an ASCO SIG now!
At its meeting in St. Louis in June 2019, the ASCO Board of Directors voted to change the Association's nomination process for participation in its Special Interest Groups, or SIGs.
ASCO's Interprofessional Education and Collaborative Practice (IPECP) Committee e-Poster, "ASCO's IPECP Toolkit: A Guide to Effective Interprofessional Education and Collaborative Practice Experiences in Optometric Education," was selected as a "Top 5 Poster" at the AOA 2020 Virtual Learning ePoster Livecast...
The COVID-19 global pandemic recently caused ASCO to move its June meetings, originally scheduled to take place in National Harbor, Md, adjacent to Optometry's Meeting, to a remote format.
The ASCO Student Affairs Officers (SAOs) held their first ever virtual meeting sponsored by Alcon on Tuesday, June 23.
The ASCO Chief Academic Officers conducted a series of virtual meetings on June 18-25, due to the COVID-19 pandemic, with a theme of virtual teaching.
When the 2021 ORMatch (Optometry Residency Match) application cycle opens on October 1 this year, there will be a new residency title structure, in addition to revised descriptions.
ASCO staff was busy the last week in June promoting ASCO's Optometry Gives Me Life public awareness campaign at both the HOSA International Leadership Conference and the National Association of Advisors for the Health Professions (NAAHP) meetings.
Deadline to submit papers: March 30, 2021
CooperVision Unveils Virtual Exhibit Booth to Connect with ECPs
Johnson & Johnson Vision Donates $320,000 to Support Practitioners and Schools and Colleges of Optometry
America's Blind Spot: The Vision Care Gap
National Vision Supports National Optometric Association Community with Student Grants and Donated Equipment
The Way We Care for Patients Has Changed
Transitions Optical Launches First-of-its-Kind Virtual Try-On for Transitions® Signature® GEN 8™ Lenses
Vision Expo's Career Zone goes Virtual!
Walmart Celebrates Annual Project Foresight Scholarship Competition
Webinar hosted by SUNY Optometry is the first of a two-part series focusing on the Black perspective and experience in vision care
Janette Pepper, OD, has been named Coordinator for Student Diversity & Inclusion, effective July 1.
After five years, the Kentucky College of Optometry received news that they were accredited by the Accreditation Council on Optometric Education, a crucial step for the college going forward.
The Optometric Center of New York (OCNY) recently elected long-time member Richard Soden, OD, FAOO as the new president of the board of trustees.
Joel Silbert, OD '73, FAAO, Salus PCO professor and director of the Contact Lens Program and former chief of the Cornea and Specialty Contact Lens Service at The Eye Institute (TEI) and a nationally recognized expert in contact lenses, has retired after a 46-year career at the University.
Former Obama administration official, ODs on Facebook founder among the newest members
At the age of 29, C.J. Dale has quite the health care resume. With a master's in public health he's already worked five years as an epidemiologist, studying the causes of various illnesses and finding ways to prevent their spread.
A UAB School of Optometry faculty member has been named the American Optometric Association (AOA) Optometric Educator of the Year for the third time in less than five years.
Salus University's Janice Chau, OD '20, has been named the recipient of the 2020 Vision Award of Excellence in Contact Lens Patient Care by the Academy of Optometry Foundation (AAOF) and Johnson & Johnson Vision Care, Inc.
Salus University Pennsylvania College of Optometry's Cristina Rosano, OD '20, has been chosen to be one of 38 members of the Philadelphia Eagles cheerleading team for the upcoming National Football League season.
Please welcome Jessica Rivers, Assistant Dean for Admissions and Student Affairs. Ms. Rivers comes to Berkeley from the Boston College School of Education...
Connor Christensen, a fourth-year student at the University of Houston, College of Optometry, won the American Optometric Student Association's 2020 Optometry Student Bowl.
Vision therapy involves a series of activities and procedures designed to improve the connection of the eyes with the visual center in the brain.
The Medical Library Association (MLA) recognizes the accomplishment in collection development for the health sciences by awarding the Louise Darling Medal for Distinguished Achievement in Collection Development in the Health Sciences annually.
The Vision Council and Reed Exhibitions, organizers of Vision Expo, announces the decision to cancel Vision Expo West 2020, scheduled to take place in Las Vegas, Nevada from September 23-26.
Registration is now open for the Neuro-Optometric Rehabilitation Association, International (NORA) Online Conference at www.nora2020.com.