The ASCO Board of Directors gathered in October, continuing the momentum of important work faced by the optometric education community.
ASCO's International Optometric Education Committee partnered with the World Council of Optometry (WCO) and the American Academy of Optometry (AAO) to hold a Global Summit on Optometric Education in concert with the American Academy of Optometry's conference in Orlando this past October.
ASCO's third "Ask the Experts" event was held at the Academy's first Residency and Graduate Program Fair in Orlando on October 25.
ASCO's "Profile of Applicants to OD Degree Programs for Fall 2019 Entering Class" is now available on the Association's website.
Did you catch the November issue of the National Association of Advisors for the Health Professions e-newsletter?
Deadline to submit essays is February 13, 2020.
Deadline to submit nominations is January 17, 2020.
www.EyeMedsNow.com
, a free ophthalmic prescribing resource, is ideal for instructing students and is the most comprehensive database of medications specifically for eyecare.
Having completed an extensive, highly selective search, the Illinois College of Optometry has appointed Ms. Christa Ojeda as its vice president for business and finance/chief financial officer.
This
video
demonstrates interprofessional patient care within the fields of optometry, pharmacy, social work and medical.
More than 800 first-year students from Midwestern University received their clinical white coats and took an oath affirming their commitment to the highest standards of compassion and patient care on the Downers Grove Campus on October 5.
Congratulations to Kathryn Richdale, OD, PhD, for achieving Diplomate in the Section on Cornea, Contact Lens, and Refractive Technologies at the 2019 American Academy of Optometry (AAO) Meeting.
Dr. Jennifer Fogt, OD, MS, has joined the clinical faculty at the Ohio State University College of Optometry.
Roya Attar, OD, MBA, FAAO, an assistant professor and director of optometric services at the University of Mississippi Medical Center (UMMC), has been named the 2019 Helen St. Clair Young Optometrist of the Year.
For the first weekend of November, three faculty members and 14 third-year optometry students from Salus University's Pennsylvania College of Optometry (PCO) took a trip to Warsaw, Virginia, to provide vision screenings with an organization called Remote Area Medical (RAM).
MCPHS School of Optometry alumna Emilee Nehring, OD, was named Young Optometrist of the Year for 2019 by the Oregon Optometric Association (OOPA) at their annual meeting in July.
The Class of 2019 is the final graduating class of the first century of the founding of the Pennsylvania State College of Optometry (PSCO), later renamed Pennsylvania College of Optometry (PCO).
At the 2019 American Academy of Optometry (AAO) Meeting, UHCO had 20 alumni, one faculty member, six former UHCO residents, two former residents from affiliated residency programs, one former Fellow and one staff member become Fellows!
Congratulations to Ralph Herring, OD, '81, and Nicole A. Karson, OPT III, OD/MS, on their honors at the 2019 American Public Health Association (APHA) conference.
Each year, Salus University hosts a charity fundraiser event called Looking Out for Kids (LOFK) to help support some of the Philadelphia area's most vulnerable children by raising money through not only corporate support but also an online auction.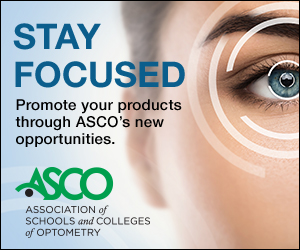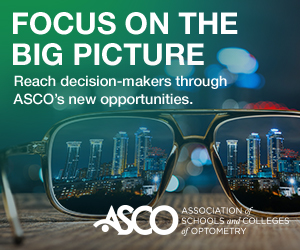 The fourth call for applications for the Public Health Excellence in Interprofessional Education Collaborative Award is now open!
Optometry Cares® honors luminaries of the optometric profession.