| | |
| --- | --- |
| September 11, 2018 | In This Issue |
| INDUSTRY HIGHLIGHTS | |
| MCAM IN ACTION | |
| MEMBERS CONNECTING | |
| MEMBERSHIP ADVANTAGE | |
| INDUSTRY INNOVATION & ASSISTANCE | |
| INDUSTRY IN FOCUS | |
The MCAC Whistler Conference features a great number of very high-level speakers and panelists whose knowledge will give you an opportunity to change, adjust or perhaps even reinvent some of your practices. Topics that will be covered include: high building performance, industry performance through best practices, the impact of cannabis legalization on workplace policies, perception vs. reality in the decision-making process, and the industry's growing dependency on mobile apps. Networking is also a key component of the conference. Make new acquaintances whose backgrounds can also be impactful for your operation. See you in Whistler! Link to registration: https://mcac.ca/events/mcac-national-conference/registration-form-whistler-2019/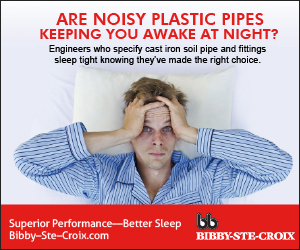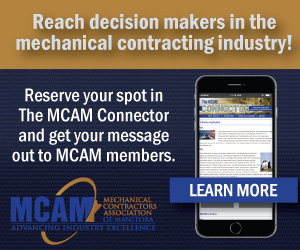 | | |
| --- | --- |
| | |
Through the association's 2017-2022 Strategic Plan, the Board of Directors of the Mechanical Contractor Association of Manitoba is committed to providing quality Educational programming for association and industry members. Forming a committee of business and trade professionals dedicated to sourcing, reviewing and developing relevant professional development opportunities; the Board of Director's goal for MCAM Education Week is for it to become a highly anticipated event offered in Fall and Spring of each year. Each day of Education week is targeted at a different audience within the Mechanical Industry. Day one is focused on Owners, Senior Management, Middle Management and Estimating. Day two is focused on Project Managers, Foreman and Supervisors. Day Three will aim to the meet the needs of Service Contractors. Day four is Innovation Day, including industry tours and presentations on new industry technology and trends. Day five is governance day; the MCAM Board of Directors will receive valuable governance training to ensure they have the tools necessary to serve the membership effectively. MCAM Fall Education Week will highlight both international and local speakers. Register for a half day, full day, multiple days or entire week. Select LEARN MORE for Schedule of Events, Speaker and registration details.
Prompt Payment Legislation is a hot button topic within the Construction Industry in Canada. Following the success of Ontario's Bill 142, Manitoba's Conservative Govrnment has been responsive to Industry's requests for a Manitoba Prompt Payment Legislative scheme. The goal of Prompt Payment Legislation is to the see the timely flow of payments within the construction industry and reduce the growing occurance of construction litigation. A win for contractors, a win for local Tax Payers.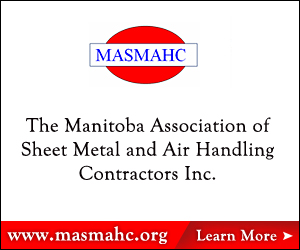 The MCAM Board of Director's is committed to maintaining a Charitable profile in our home community of Manitoba. MCAM's goal is to have a positive impact on outcomes for Manitobans. Throughout the year MCAM receives requests of support for worthwhile charitable organizations and/or activities. The Board of Director's is developing a multi-year approach in line with the timing of the MCAM Strategic Plan for supporting a Manitoba based charities. The intention is for the strategy is to provide a commitment period to the charitable organization for planning and budgeting purposes as well as the opportunity for MCAM membership to nominate a charity meaningful to them.
As a member of MCAM, you are invited to submit a charity for consideration for the remainder of the 2017-2022 MCAM Strategic Planning Period. The nomination form can be found at: https://www.mca-mb.com/news.php?id=64
MCAM will be launching a Membership Advantage program in 2019! MCAM members will have access to exclusive offers and discounts with local and nation wide business. Through the Membership Advantage Program a multitude of benefits, discounts and special offers will be available. If you would like more information on being part of this program; contact the MCAM Office.
Kathryn has over 15 years experience in management and consulting roles. Since joining MNP in 1999, Kathryn has designed and delivered consulting and facilitation services related to strategic and business planning, feasibility studies and business case development, stakeholder consultation, program evaluation and operational effectiveness. Her clients have included commercial businesses in a wide range of industries, public sector, First Nations and Not-for-Profit organizations. She is a skilled facilitator who is able to effectively work with individuals and groups from varying backgrounds. Prior to joining MNP, Kathryn spent 10 years with the Workers Compensation Board of Manitoba in positions of progressive responsibility providing policy and decision support to the Board of Directors
The Platform Business Model has found its way into the Construction Industry. A Local Manitoba Startup is connecting Contractors with rental companies saving time spent calling, emailing and messaging suppliers one by one.
Applying its fresh, innovative processes and collaborative work approach, Wescan is pleased to be part of the construction team for Assiniboine Park Conservancy's new Leaf facility at Canada's Diversity Garden. Leaf will join the many attractions at Assiniboine Park and will be a unique, state-of-the-art Winnipeg attraction. The Leaf will include; tropical rainforest and Mediterranean biomes, butterfly pavilion, event spaces, retail, office and support spaces, classroom spaces with outdoor teaching area, a restaurant with kitchens, and outdoor terrace. Outdoor features will include additional event spaces and courtyards, a viewing terrace, toboggan hill and arboretum.