The Board of Directors of the South Carolina Asphalt Pavement Association (SCAPA) is pleased to announce that Jayson Jordan, PE has accepted the position of Executive Director and started in August. Jayson is a graduate of Clemson University, where he earned a master's degree in civil engineering. Jayson previously held the position of Technical Director with SCAPA from May 2014 until September 2018. Please help us welcome Jayson back to SCAPA.
On behalf of the SCAPA Board of Directors, we would like to invite SCAPA members to the Fall Member Dinner to be held on Tuesday, October 20 at 6:30PM at The Palmetto Club in Columbia, SC. This is an excellent opportunity to network with your fellow SCAPA members in a fun and casual atmosphere.
SCAPA Technical Director Kimberly Lyons, Ph.D. will provide training on the recently updated Asphalt Pavement Design Guide for Low-Volume Roads and Parking Lots. This webinar will be held on September 8, 2021. It is open to the public and is focused on engineers, project managers and other asphalt industry workers. The deadline to register is Monday, September 6, 2021.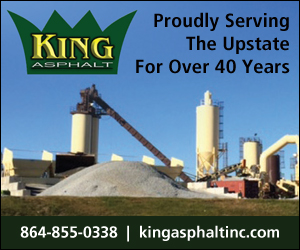 | | | |
| --- | --- | --- |
| | | Sanders Brothers Construction Co., Inc. has been in the Charleston, SC market since the early 1960s when two brothers, Jimmy and Elliot, started the business. Over the years, we have evolved in many areas. Presently we operate eleven separate divisions, which includes asphalt production and road building. As we have evolved, so has our mission statement. |
WofA releases the third video in a four-part video series entitled Women in the Field: The Women Who Build America's Roads, showcasing women from across the country who are building America's infrastructure. Each five-minute video features engaging and insightful interviews with a few of these inspiring women. In this third video in the series, watch as Apprentice Operator Julia Hutchinson from Lakeside Industries in Issaquah, WA, shares her varied, non-traditional experiences in the asphalt industry and why it is such a great industry in which to work.
This article discusses the use of aramid synthetic fibers in asphalt mixtures. Several existing studies have shown that adding aramid synthetic fibers (ASF) can potentially improve the structural capacity
of asphalt mixtures due to fiber reinforcement. This improvement may lead to a higher structural coefficient and a reduced asphalt layer thickness, providing significant cost savings for pavement
construction.

Time: August 25, 2021 2:00 - 3:30 PM ET

Speaker: David E. Newcomb, P.E., Ph.D., Consultant

Description: Pavement engineers have been producing long-lasting asphalt pavements since the 1930s. Research has shown that well-constructed and adequately designed flexible pavements can perform well for extended periods of time. Many of these pavements were the products of full-depth or deep strength asphalt pavement designs, and both design philosophies have been shown to provide adequate strength over extended life cycles. This webinar will discuss material selection and mixture design to optimize Perpetual Pavement performance, discuss current Perpetual design practices, and present best practices for construction of high-quality, high-performance pavements.
Time: September 15, 2021 2:00 - 3:30 PM ET
Speaker: Thomas C. Baird, P.E., Associate, Barton & Loguidice
Description: Porous asphalt pavements are being used by many owners to construct asphalt pavements that become part of the stormwater solution, reducing runoff, improving infiltration, and saving land. The performance of these pavements depends on proper design, materials, construction methods and quality control. In this session you will get an understanding of porous pavement design and understand the details of proper construction practices, material selection and handling, and how to protect porous pavements.