TIP 1004-01 "TAPPI Roll Number for inventory/tracking systems and bar codes" (Revision)
TIP 0606-24 "Hydrogen peroxide (H2O2) safe storage and handling" (Revision)

Special note: Documents appearing in the TAPPI online version of the Standards and TIPs are updated once a month (usually around the 15th). So it is possible that there is a delay between the publication announcement and the posting online. If you are a subscriber to the online access to Standards and TIPs and you are in a hurry for new documents that have not yet been posted, you can send a request to standards@tappi.org.
The TAPPI Standards regulations require public review of standards that are up for ballot. TAPPI members can view any drafts that are in ballot by logging in to the TAPPI web site (www.tappi.org), clicking on "My TAPPI," and then clicking on the "Standards Public Draft Review" link on the left side of the page. If you would like to review and comment on any draft and are not a member of the corresponding Standard-Specific Interest Group (SSIG), you may view the draft online or you may request a copy of the draft being balloted by writing to standards@tappi.org. TAPPI members may join SSIGs as permanent members; go to the Subject Category page to download forms for this purpose. Nonmembers of TAPPI may join any SSIG as a voting member; to do so, send a message to standards@tappi.org to receive a copy of the draft and a ballot.
Listed below are TAPPI Standards that have recently gone out for ballot to the corresponding Standard-Specific Interest Group (SSIG). The date in parentheses is the closing date for voting.
T 1211 sp-06 "Acceptance procedures for calibration laboratories" (April 30, 2010)
T 414 om-04 "Internal tearing resistance of paper (Elmendorf-type method)" (April 30, 2010)
T 621 cm-01 "Analysis of rosin" (May 3, 2010)
T 564 sp-06 "Transparent chart for the estimation of defect size" (May 3, 2010)
T 525 om-06 "Diffuse brightness of paper, paperboard and pulp (d/0)" (May 7, 2010)
T 425 om-06 "Opacity of paper (15/d geometry, illuminant A/2 degrees, 89% reflectance backing and paper backing)" (May 10, 2010)
T 546 om-06 "Machine direction grammage variation measurement (gravimetric method)" (May 17, 2010)
T 558 om-06 "Surface wettability and absorbency of sheeted materials using an automated contact angle tester" (May 17, 2010)
T 454 om-06 "Turpentine test for voids in glassine and greaseproof papers" (May 24, 2010)
T 551 om-06 "Thickness of paper and paperboard (soft platen method)" (May 24, 2010)
T 465 sp-06 "Static creasing of paper for water vapor transmission tests" (May 24, 2010)
T 493 cm-01 "Identification and determination of melamine resin in paper" (May 28, 2010)
T 576 pm-07 "Tensile properties ("dry tensile") of towel and tissue products" (proposed new title) (June 1, 2010)
T New (WI 3016) "Tensile breaking strength ("wet tensile strength") of water-saturated paper and paperboard: immersion method" (June 1, 2010)
T New (WI 3017) "Tensile breaking strength ("wet tensile strength") of water-saturated paper and paperboard" (June 1, 2010)
T 223 cm-01 "Pentosans in wood and pulp" (June 1, 2010)
T 429 cm-01 "Alpha-cellulose in paper" (June 1, 2010)
T 541 om-05 "Internal bond strength of paperboard (z-direction tensile)" (June 1, 2010)
T 476 om-06 "Abrasion loss of paper and paperboard (Taber-type method)" (June 1, 2010)


Do you use, or do you know of others who use, TAPPI Useful Methods? If the answer to this question is "yes," then we would appreciate your feedback on the following questions:

• What Useful Methods do you, or do your business contacts, use on a regular basis?
• For the UMs that you or your business contact use, are supplies or equipment needed to run the tests readily available from suppliers? Can you provide specific information?
• Do you know of any UMs for which there are no suppliers who can provide appropriate supplies to perform the test?
• Are you aware of any UMs that may have been deleted from the set in 1991 that are still referenced in any published material or any company specifications?
• Are you aware of any existing UMs that may need to be reviewed, and possibly deleted, due to outdated technology or use of hazardous materials?

If you can answer any of the above questions, we would like to hear from you. Please send your comments to standards@tappi.org no later than April 30, 2010, so that the UM Task Force can consider them at their meeting.

Recently, the Quality and Standards Management Committee (Q&SMC) received a request to look into developing a new classification of test method which we have been calling "plant floor methods." The idea would be to produce a series of test procedures that would not be as rigorously reviewed as the Standard Test Methods, but which would serve as quick tests that operators might use in a mill or plant situation. These methods would not be under the rules of review and development of the Standards. A Q&SMC task group was put together to look into this issue.

After some consideration, the task force decided that perhaps the best way to allow such "plant floor" methods to be published might be to resurrect the Useful Method (UM) category.

The task force has drafted a set of guidelines for UM review and development. The task force plans to meet in May to once again review the UM set, with perhaps more deletions or additions to take place before finalizing the guidelines. The purpose of this article is to informally solicit some information on the use of Useful Methods so that the UM Task Force can consider them at its next meeting.


A new TAPPI standard has been proposed: "Aerobiological fungal growth of paper under extreme indoor air quality." This test method evaluates fungal spore germination on cellulose paper fiber under post-flood disaster conditions. Part one evaluates fungi growth on samples by visually recording germination over 7-day testing period as the temperature slowly increases. Part two evaluates the presence of volatile organic compounds (VOCs), microbial volatile organic compounds (MVOCs), and types of fungi growing on samples in the environmental cabinet assembly, after 28 days. Environmental cabinet assembly conditions simulate indoor air quality (IAQ) conditions, occurring in room post-flood disaster, when building mechanical systems are inoperable, affecting cellulose products as the RH and temperature increase.

The procedure will: (a) determine background levels of VOC and MVOC in tank chamber, before testing; (b) test paper sample for fungal growth, after 7 days of testing; (c) visually, evaluate fungal growth on paper sample as RH and temperature increases; (d) determine levels of VOC and MVOC, after 28-day testing period; and (e) document quantitative and qualitative data.

Any persons who are interested in this method may join the Standard-Specific Interest Group (SSIG) to receive ballots when this method is ready for vote. If you would like to join the SSIG for this project, please notify the Standards Department at standards@tappi.org or by fax at +1-770-446-6947, no later than May 21, 2010.


SSIG members needed for review of T 657 "Sampling of fillers and pigments"

T 657 "Sampling of fillers and pigments" came up for five-year review in 2008. Since that time, there have been two ballots, neither of which received the proper percent return to validate. Eight people have been dropped form the Standard-Specific Interest Group (SSIG) for missing three ballots in a row (including ballots from the previous review of this standard).

It is now necessary to reconstitute this SSIG in order to have the minimum number of 10 participants. It is important to retain this standard because it is referenced in all other standards that test fillers and pigments.

If you would like to participate in this SSIG, please contact standards@tappi.org no later than June 1, 2010. Thank you for your consideration.


The following standards have been posted on the agenda for the next SARG meeting. These are ready for final approval. If you have comments on any of these standards, please send a message to standards@tappi.org no later than April 29, 2010.

T 456 "Wet tensile breaking strength of paper and paperboard"
T 254 "Cupriethylenediamine disperse viscosity of pulp (falling ball method)"
T 403 "Bursting strength of paper"
T 411 "Thickness (caliper) of paper, paperboard, and combined board"
T 617 "Analysis of lime"
T 553 "Alkalinity of paper as calcium carbonate (alkaline reserve of paper)"
T 562 "CIE whiteness and tint of paper and paperboard (45/0 geometry, C/2 illuminant/observer)"
T 840 "Testing adhesives used in glued lap joints of corrugated fiberboard containers"
T 702 "Rheological measurements for characterization of polyolefins: low-density polyethylene (LDPE) for extrusion coating"
T 431 "Ink absorbency of blotting paper
T 619 "Analysis of salt cake"


The next meeting of the Standards Advisory Review Group (SARG) is scheduled for Monday, May 3, 2:30 p.m. Eastern time, at the Hyatt Regency Hotel in Atlanta, GA – the site of the 2010 TAPPI PaperCon Conference. SARG approval is the last step prior to publication for any new or revised standard.

In order to act on any appeals from TAPPI members relevant to the standards up for approval, the SARG meeting is open to anyone for participation. The agenda has been posted on the SARG page. There are links from the agenda items to the final drafts that are up for approval.

If you would like to participate by conference call, please send a message before April 28, 2010, to standards@tappi.org.


Did you know that many of the TAPPI Standard Test methods require the use of reference materials for calibrating the instruments used in testing? As an example, Optical properties tests (brightness, whiteness, and other tests of appearance properties) are tests where the need for specialized reference materials is widely recognized. The use of certified reference measures of mass, distance, time, and volume are also widely used within the paper industry measurement organizations for verifying calibration of basis weight balances, cutting dies and templates, and tensile testers – to name only a few of the more obvious examples.

As assistance to those needing a source of reference calibrating materials or equipment, TAPPI maintains a Reference Materials List which is described in TAPPI Standard Practice T 1211. Suppliers of standard materials for TAPPI Standard Test Methods that would like to be placed on the Referenced Materials List are encouraged to consult this Standard Practice for guidance on the steps to take in order to be listed. In addition to reading the requirements of TAPPI T 1211, interested parties are encouraged to contact Charles Bohanan, TAPPI Director of Standards and Awards, at standards@tappi.org to discuss specific needs of the Reference Materials program or assistance in becoming a listed material source.

Needs in the Reference Materials area are constantly changing as existing TAPPI Standard Test Methods are updated and new methods are written. For example, we are currently seeking a source for the viscosity reference oils required for performing T 632 "Analysis of Sodium Silicate." There are numerous other opportunities for suppliers of reference materials to add their products to the Reference Materials List.

For details on these commonly-used acronyms in the development of TAPPI Standards and TIPs, please see the Standards Guidelines and the TIP Guidelines, or send your questions to standards@tappi.org.

TIP = Technical Information Paper
Q&SMC = Quality and Standards Management Committee
SSIG = Standard-Specific Interest Group
SARG = Standards Advisory Review Group
WI = Work Item
WG = Working Group
WGC = Working Group Chairman
om = Official Method
pm = Provisional Method
sp = Standard Practice
cm = Classical Method
ss = Standard Specification
sg = Standard Guideline
gl = Standard Glossary
wd = Withdrawn Standard
UM = Useful Method
Details on how to search and order TAPPI Standards and TIPs can be found on the TAPPI website's Search and Order page.

All individual TIPs or Standards are available for electronic or paper delivery. For electronic delivery, the documents are e-mailed in PDF format. Hard copy documents can be mailed or faxed, but shipping and handling costs will apply.

For Individual TIPs, order Item Number: 0108____ (Insert TIP number).
For Individual Standards, order Item Number: 0104T____ (Insert Standard number).
List price: $49; TAPPI member price: $32. There are no shipping or handling charges for electronic documents.

The 2010-2011 collection of Standards, published in March of 2010, and the 2009-2010 collection of TIPs, published in March of 2009, are available on CD. An Individual or Company License for access to the continually updated collection of Standards and TIPs via the web, is the best way always to have a current set of documents accessible. A print-on-demand version of either the Standards or the TIPs set, current and updated as of the date printed, is also available.

For information and quotes on company licenses, contact Lisa Stephens at lstephens@tappi.org or +1-770-209-7293. For regular orders (including individual online licenses), contact Member Connection at 1-800-332-8686 (US), 1-800-446-9431 (Canada), or +1-770-446-1400 (international), or order online at www.tappi.org.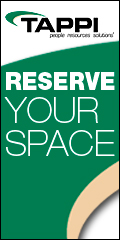 Find us on Facebook
Network with us on LinkedIn
Follow us on Twitter