I must admit, starting a year of ASCO presidency on the tail-end (hopefully) of a pandemic is a bit daunting. It is difficult to think of something in the past year, whether it be a daily activity, process of getting something done, or even set plans that didn't change.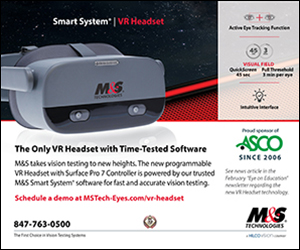 A Short Conversation with Dr. Kelly Nichols, ASCO President
The American Optometric Association's (AOA) Board of Trustees announces ASCO's CEO and Executive Vice President is a 2021 President's Award recipient. The President's Award is given for exemplary dedication to optometry and the advancement of the profession.
The American Optometric Association's Board of Trustees presented ASCO's Director of Meetings and Special Interest Groups, LaShawn Sidbury, with the 2021 President's Award in June.
ASCO experienced a 4.7% increase in the just recently completed OptomCAS application cycle. This is on top of the 3.7% increase experienced in 2019-2020. For 2020-2021, there were 2,684 applicants who submitted a total of 12,513 applications.
The ASCO Student Affairs Officers (SAOs) and the Chief Academic Officers (CAOs) joined together to host Dr. Damon Williams on June 8 during the ASCO June meetings. Dr. Williams is a visionary and inspirational leader and one of the nation's recognized experts in strategic diversity leadership. He currently leads the Center for Strategic Diversity Leadership and Social Innovation and the National Inclusive Excellence Leadership Academy.
The ASCO Online Clinical Educators Forum (OCEF), now in its seventh year, took place June 4. New this time was a format change from a formal presentation-focused event to a less formal discussion-centered event built around several questions of focus.
Michelle Vaca joined ASCO's team in early June 2021. She recently graduated from Boston University's Sargent College of Health and Rehabilitation Sciences with a Bachelor of Science in Health Sciences on a Pre-Optometry Pathway.
Johnson & Johnson Vision Expands "Sight For Kids" Program to Bring Eye Care to More Children and Unveils New "Vision for Good" Community Impact Report
Fit Custom Scleral Lenses Like a Pro
Congratulations to Our Recent Scholarship Winners
Each year, the University of the Incarnate Word Rosenberg School of Optometry (UIWRSO) welcomes 68 students for the entering class. Recently, the admissions process was completed and the final offers were made for the Class of 2025.
Berkeley Optometry is happy to announce that Dr. Ruth Shoge is joining the school as Director of Diversity, Equity, Inclusion and Belonging, and Associate Clinical Professor. Many know Dr. Shoge through her DEI Workshops and her frequent appearance on national panels.
The School of Optometry of Université de Montréal (EOUM) is pleased to announce the appointment of three new assistant professors: Drs. Joe Nemargut, Rémy Allard and Marie-Lou Garon. Moreover, Drs. Dan Samaha and Matthieu Vanni have both been reappointed at the rank of assistant professors at EOUM.
VSP Global and the Rick Bay Foundation have named Jacob Shipton, OD, a Class of 2021 graduate from The Ohio State University College of Optometry, as the winner of the Ohio State Student Innovator Award.
The 2020-21 academic year marked the 150th anniversary of the University of California's unanimous approval of a resolution stating that, "young ladies be admitted into the University on equal terms in all respects with young men." The first women were admitted in 1872, and Rosa Scrivner became the first woman to graduate in 1874 with a Bachelor's degree in Agriculture.
Anita Ticak, OD, MS, FAAO, Associate Clinical Professor, is the recipient of the 2021 Cora and J. Davis Armistead Teaching Excellence Award from the University of Houston, College of Optometry.
The UABSO Dean's Distinguished Faculty Award recognizes exemplary leadership and service and is only given when an individual rises to the occasion in an exceptional way. During the 2021 Doctoral Convocation and Hooding Ceremony, the award was presented to Elizabeth Steele, OD, FAAO, associate professor and associate dean for clinical affairs.
Because of the pandemic and geographical distance, Samuel Thomas hadn't seen his daughter face-to-face in nearly two years. But he wasn't going to miss her graduation from the Pennsylvania College of Optometry (PCO) at Salus University.
By the time she was in seventh grade, Tessa Ives '21OD had decided to become a Doctor of Optometrist. While growing up she had watched her father, Paul Ives, OD '83, and he had really influenced her career choice.
In April 2019, Anastasia "Annie" Goerl '21OD woke up one morning and discovered she had lost her voice. She was training for a half-marathon at the time and had what she described as a "little cold," so she attributed her raspiness to the fact that she was overworking her body while being a bit under the weather.
Over 90 graduates earn degrees with Tweedy, Cepko as honorary recipients
Keynote address given by NYS Assemblymember Paulin
In late November 2020, School of Optometry Professor Thomas Freddo, OD, PhD, was selected by the World Health Organization (WHO) to be a member of the Development Group for the anterior segment and adnexa group of eye care specialists.
Southern College of Optometry officially became a debt-free institution in May 2021. After recent robust market gains saw healthy returns on the college's investments, SCO's Board of Trustees opted to pay off the outstanding balance from the construction of The Eye Center at SCO.
Senators Mark Kelly (D-AZ) and Susan Collins (R-ME) recently introduced the Student Assisted Vaccination Effort (SAVE) Act.
On July 14-15, 2021, Prevent Blindness will host the 10th annual Focus on Eye Health National Summit as a virtual interactive event.
IPECP IDEAS: Inclusion, Diversity, Equity and Advocacy Stories
Virtual - October 12, 14, 19 and 21
Contact lens educators from three countries – Colombia, China and the United Kingdom – are celebrating their success in the 2021 IACLE Contact Lens Educator of the Year Awards. The meetings they will attend to receive their awards will be confirmed once COVID-19 restrictions allow.