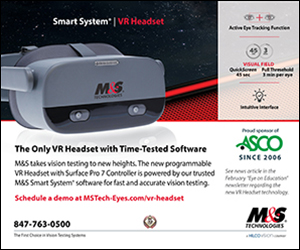 ASCO will host a moderated panel discussion about its member's role in the psychological well-being of optometry students. Topics include stereotype threat, personal awareness when teaching and interacting with students from underrepresented backgrounds, managing microaggressions, and recommendations on navigating mental well-being.
ASCO is now accepting applications to its ninth biennial Summer Institute for Faculty Development (SIFD), a program that promotes increased retention of faculty in the schools and colleges of optometry. The deadline for applications to the SIFD is September 30, 2021.
Friday, October 15, 2021
2 – 3:30 pm ET
Planning has begun and applications are being accepted for ASCO's fifth biennial Future Faculty Program. The program has been reformatted and will be held on an annual, year-long basis. The newly formatted virtual program will run from lectures from January 2022 – June 2022 and mentoring sessions from January 2022 – December 2022.
Advanced registration is now open for ASCO's Fall Meetings occurring during Academy and will be open until October 1. Please register through this
link
.
HOYA Vision Care Welcomes Warren Modlin as Vice President, Technical Marketing
Dr. Chandra Mickles Joins J&J Vision to Lead Professional Education Efforts in Myopia
New Pentacam® AXL Wave Now Targeted for Specialty Care
The Next-Generation Refraction System Boosting Accuracy & Efficiency
Join Us at Vision Expo West
The Dr. Herbert and Nicole Wertheim Family Foundation has pledged $50 million to UC Berkeley Optometry as part of a 10-year, $100 million investment that will expand the school's ability to train the next generation of optometric physicians and keep the school at the forefront of research and discovery in eye care.
Dr. Daniel A. Taylor, Associate Dean of Academic and Student Affairs for the Michigan College of Optometry (MCO) at Ferris State University has been appointed MCO Interim Dean.
Janene Sims, OD, PhD, FAAO, has won the Odessa Woolfolk Community Service Award. This award was established by UAB to recognize one of its faculty who has rendered outstanding service to UAB's community.
Earlier this summer, the Pennsylvania College of Optometry (PCO) at Salus University welcomed a cohort of 14 PCO/Salus Doctor of Optometry applicants to its recently relaunched Summer Enrichment Program, renamed in honor of former dean and vice president for Student Affairs Robert E. Horne as a tribute to its founder, for high-achieving students of color. This year, the program's recruitment efforts placed special emphasis on Black and African American students who are historically underrepresented in health science.
How to prepare for a baseball pitch remains an open question
From July 12-16, Arizona College of Optometry faculty and student volunteers offered their time and effort to help 48 high school students learn about healthcare careers at Midwestern University's Health Careers Institute for High School Students.
SCO recently welcomed its two newest faculty members: Drs. Chawan Rasheed and Patrick Fiddler.
Twenty-one alumni and faculty from the State University of New York (SUNY) College of Optometry have been awarded as one of America's Best Eye Doctors 2021 by Newsweek magazine. The prestigious honor recognizing the top 300 ophthalmologists and optometrists in the United States was released in July and is available on the Newsweek
website
.
The Ohio State University College of Optometry's Improving Diversity in Optometric Careers (I-DOC) program received the 2021 Inspiring Programs in STEM Award from INSIGHT Into Diversity magazine, the largest, and oldest, diversity and inclusion publication in higher education.
Although they don't yet have individual names, Alissa Coyne, OD '10, Resident '11, FAAO, course coordinator for the Ophthalmic Lasers and Minor Surgical Procedures course and assistant professor in the Pennsylvania College of Optometry (PCO) at Salus University calls them "the twins" because they were purchased at the same time.
The Association for the Education and Rehabilitation of the Blind and Visually Impaired (AER) has been accrediting Orientation and Mobility, Vision Rehabilitation Therapy and Teachers of the Visually Impaired programs for a while now.
The State University of New York (SUNY) College of Optometry is proud to receive an "affirm re-accreditation"
decision
from the
Middle States Commission on Higher Education
(MSCHE), one of seven institutional accrediting bodies in the United States that is recognized by the U.S. Secretary of Education and the Council for Higher Education Accreditation.
The October 2021
IPEC Institute
is an advanced virtual program for those trying to sustain or strengthen their interprofessional education for collaborative practice (IPECP) programs while increasing faculty readiness and student preparation around inclusion, diversity, health equity and advocacy.
The submission deadline is October 15, 2021