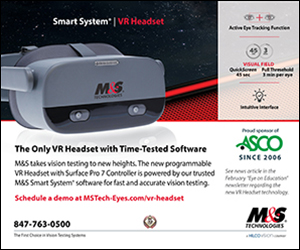 ASCO is now accepting applications to its ninth biennial Summer Institute for Faculty Development (SIFD), a program that promotes increased retention of faculty in the schools and colleges of optometry. The deadline for applications to the SIFD is September 30, 2021.
Planning has begun and
applications
are being accepted for ASCO's fifth biennial Future Faculty Program. The program has been reformatted and will be held on an annual, year-long basis. The newly formatted virtual program will run from lectures from January 2022 – June 2022 and mentoring sessions from January 2022 – December 2022.
ASCO's Journal,
Optometric Education
, is now available at
https://journal.opted.org
. Volume 46, Number 3 issue of
Optometric Education
is full of peer-reviewed articles including a
Teaching Case Report
on Ocular Ischemic Syndrome.
Advanced registration is now open for ASCO's Fall Meetings occurring during Academy and will be open until October 1. Please register through this
link.
The ASCO Board of Directors meets three times per year and convened in June virtually due to the COVID-19 pandemic.
ASCO is thrilled and very appreciative to announce that the American Academy of Optometry (AAO) has donated $50,000 to ASCO's public awareness campaign, Optometry Gives Me Life (OGML).
As the country begins to ease restrictions regarding the COVID-19 pandemic, ASCO Chief Academic Officers (CAO) met for a session on June 15 during ASCO's virtual meetings from June 8 - June 18, focusing their time and efforts on discussing the effects of COVID-19 on optometry institutions, their faculty and staff, and most importantly, their students.
State University of New York (SUNY) College of Optometry welcomed more than 100 aspiring optometry students from close to home and abroad to its newly launched
Eye-CARE Summer Camp
, a three-day program designed to expose participants to the optometric profession and school application process while also expanding the pipeline of opportunity for underrepresented minorities interested in the field.
Friday, October 15, 2021
2-3:30 p.m. ET
ASCO is pleased to present its 2020 Annual Report. The Annual Report offers a year in review of fiscal year 2020 (July 1, 2019 – June 30, 2020) and a bit beyond.
CooperVision Further Expands Parameters for MyDay® toric Contact Lenses in the U.S.
30th Annual AOSA Optometry Student Bowl Powered by Essilor Draws Fierce Competition Around the Country
Don't Waste Time Searching for Dry Eye
Overcoming Barriers to Myopia Management
Come to the Career Zone in Las Vegas!
"Focus on Diabetes: A Closer Look at Diabetes for Optometrists" Complimentary CE Webinar
Nova Southeastern University (NSU) announces the appointment of Linda S. Rouse, OD, MBA, FAAO as permanent Dean of the NSU College of Optometry.
The Eyewear Brand Expands Scholarship to Increase Black Representation in the Field
In May, Drs. Lester Efianayi, '21, and Jeff Villena, '21, returned to the Illinois College of Optometry campus to unveil a mural that they envisioned and produced along with designer Christopher Donley.
The State University of New York (SUNY) College of Optometry reflected on the progress to recruit, advance and support people of color during
Race in Optometry—One Year Later
, featuring perspectives from panelists from various sectors of optometry.
Andrew D. Pucker, OD, PhD, UAB School of Optometry assistant professor, has successfully completed his fellowship in the British Contact Lens Association (BCLA).
Payton Holden, a fourth year at ICO, was recently featured because of her personal story with low vision. For Payton, growing up with a blind father allowed her to experience firsthand just how important low-vision rehabilitation can be.
Collin Gray, OD, a University of Houston College of Optometry Class of 2020 graduate, was recognized as the Young OD of the Year by the Utah Optometric Association.
Midwestern University's Chicago College of Optometry (CCO) held its third Annual Summer Eye Experience (SEE) program on the Downers Grove Campus for 30 college students and recent graduates interested in pursuing a career in optometry.
When Stephanie Holt, OD '04, Resident '05, was a fourth-year student at the Pennsylvania College of Optometry (PCO) at Salus University, assistant professor Gwenn Amos, OD '92, Resident '93, FAAO, MPH, CMPA, took Dr. Holt skating for the first time and taught her to play ice hockey, something Dr. Holt — who played basketball in college — didn't have the opportunity to do while growing up in North Carolina. To this day, Dr. Holt still plays ice hockey in a league in Philadelphia.
Highlights from Optometry's Meeting® 2021, the annual meeting of the American Optometric Association (AOA) and American Optometric Student Association (AOSA), prove it was a banner year for the Pennsylvania College of Optometry (PCO) at Salus University.
Southern College of Optometry has welcomed back second- and third-year students to campus for in-person instruction.
Six-Time Limit Appeals Change
The World Council of Optometry is excited to share that the United Nations General Assembly has adopted the 'Vision for Everyone; accelerating action to achieve the Sustainable Development Goals'
Resolution
committing the international community to eye health for the 1.1 billion people living with preventable sight loss by 2030.
IPECP IDEAS: Inclusion, Diversity, Equity and Advocacy Stories