ASCO announces that there was a 3.7% increase in applicants compared to the previous application cycle, as well as an 18% increase and a 7% increase in Black and Latino/Hispanic applicants respectively.
ASCO is offering an educational webinar and resource-rich toolkit for practitioners and others interested in sharing why optometry should be a profession of choice. Components of ASCO's public awareness campaign, Optometry Gives Me Life, the webinar, and its companion tool kit includes videos of three featured Doctors of Optometry, downloadable artwork for posters and brochures, and sample social media posts.
Optometry students and residents have a unique opportunity to get involved in an
exciting new effort
that has just launched in Arizona – a partnership between
Students Assist America
the Arizona Department of Health Services, Pima County Public Health and the Medical Reserve Corps of Southern Arizona.
Deadline to submit papers: March 30, 2021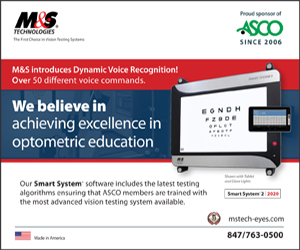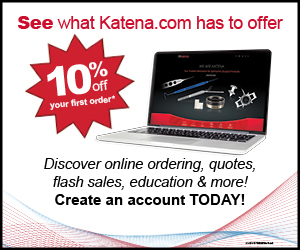 Johnson & Johnson Vision partners with AOSA to offer "Info Nights" for Students
Keeler USA & Olleyes Partnership
Transitions Optical Launches Virtual Kids Program
Salus University Pennsylvania College of Optometry (PCO) recently partnered with Hampton University, one of the nation's historically Black colleges and universities (HBCUs), to offer a new articulation agreement to address the shortage of Black student representation in optometric education and the healthcare profession.
The Southern California College of Optometry at Marshall B. Ketchum University is excited to announce that Dr. Melissa Contreras will be embracing a new role as SCCO's Director of Diversity, Equity, and Inclusion.
Congratulations to the following leaders from The Ohio State University College of Optometry, who have been named American Academy of Optometry 2020 Award Recipients.
The American Academy of Optometry Foundation has named IU School of Optometry Professor Donald T. Miller the 2020 Glenn A. Fry Lecture Award recipient.
Berkeley Optometry is happy – and so very proud – that Dr. Michael G. Harris, Clinical Professor Emeritus and Senior Lecturer Emeritus at the School of Optometry, has been recognized as the 2020 winner of AAO's Founders' Award. A very distinguished honor!
Internationally renowned expert in optical quality of the human eye, Professor Raymond A. Applegate, OD, PhD, FAAO, FOSA, FARVO and Borish Chair of Optometry at the University of Houston College of Optometry (UHCO) is the recipient of the 2020 Carel C. Koch Memorial Award from the American Academy of Optometry (AAO).
The American Academy of Optometry Foundation has named IU School of Optometry Professor Emeritus Clifford W. Brooks Jr. the 2020 Michael G. Harris Family Award for Excellence in Optometric Education recipient.
Newest members feature 33% first generation students and the greatest representation of Black and Latinx students in the college's history
Jessica Jasien, PhD, a summer graduate from the University of Alabama at Birmingham School of Optometry, is setting her sights high after graduation.
Chad Killen, OD '19, Resident '20, has joined the Pennsylvania College of Optometry (PCO) at Salus University as an instructor in addition to seeing patients in in primary care at The Eye Institute (TEI).
Longtime SCO Professor Betty Harville, OD, retired in August after 36 years of service to optometric education. During her time at SCO, she was estimated to have taught nearly 5,000 optometry students.
Aug. 31 was Assistant Clinical Professor Dr. Khashayar Tonekaboni's last day at the Indiana University School of Optometry. He retired after 33 years of service to the school.
When American Heritage Credit Union president and CEO Bruce Foulke met with Salus president Michael Mittelman, OD '80, MPH, MBA, FAAO, FACHE, and was informed about the University's Looking Out for Kids (LOFK) program, he took special note.
The Eye Institute at Salus University is searching for children aged three to 12 years to participate in a four-year clinical study evaluating how well an investigational eye medication works to reduce the progression of myopia. Joseph Ruskiewicz, OD, MPH, is conducting the study.
Illinois College of Optometry's Continuing Education Program will be offering 12 hours of live online CE during the weekend of October 30, 2020.
Chief of Pediatric and Binocular Vision Services Dr. Katie Connolly is leading the way in myopia management in children at the Indiana University School of Optometry.
NECO Professor's app puts OCT reference materials at the fingertips of optometry/ophthalmology students and eye care professionals.
Online tool called Daily Doc connects ODs and employers seeking to fill fluctuating schedules.
In an effort to educate the public on glaucoma, raise awareness and bring patients and caregivers together,
Prevent Blindness
and
Responsum Health
have launched "The Glaucoma Community," a new platform that can be accessed for free via web browser or mobile app in the android and iOS stores.