On October 22nd, join Dr. David Weiss as he leads a full-day of exploration for board members and senior leaders of key questions around roles and the most effective approach for a board in developing the association's strategy. How can you work together to build a strategy that delivers sustainable competitive or comparative advantage? How can you track strategic progress and your investment in innovation?
Discover how to contribute greater value to the future of your organization and learn to master the tools you'll need to get there with this outstanding day of learning and discussion led by one of the industry's best.
For more information and to register, click here.
Sponsored by:
Carol joins CSAE at the King Street office, Toronto, as financial administrative coordinator, bringing 15+ years experience in both the private and non-profit sectors, most recently with the Office of the Provincial Advocate for Children and Youth. Carol looks forward to bringing her expertise to the CSAE team and membership. Welcome, Carol!

You can reach Carol at 416-363-3555 ext. 224, or carol@csae.com.
Join more than 600 fellow association professionals in Canada who are CAE® certified or working toward their designation.
Designed with the flexibility you need, the program includes five, 12-week online courses that you can take at your own pace and a certifying exam. Courses integrate real-world scenarios in the assignments, allowing you to dive in to your professional knowledge in a truly rewarding way.
For the full course list and to register, visit the website.
Questions? Contact Eve Mechici, Program Manager, at eve@csae.com or 416-363-3555, ext. 242.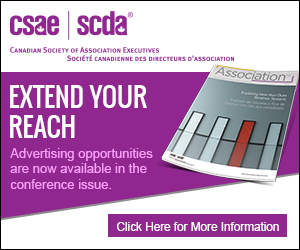 Member Since 2003
Early in my career, I was very fortunate to have a mentor that taught me the vital importance of the non-profit sector, the need to become involved in one's professional association and the requirement to give back. I proudly became a CSAE member and earned my CAE in 2003. I continued to be a member for over 13 years while working as a senior executive in several non-profits. However, I have since moved onto the other side of membership as a business member when I launched my consulting firm, Pinpoint Governance Group, in 2018.
CSAE continues to provide me with incredible opportunities for collaborating, volunteering, networking and business development. Currently, I am pleased to serve on CSAE's governance committee and on the PDX committee for the Trillium Network.
Connect with Heather on LinkedIn.
Member since 2018
I work for the hospitality sales team at Andrew Peller Limited (APL) representing Peller Estates, Trius Winery, Wayne Gretzky Estates and Thirty Bench in Niagara, Ontario. I thoroughly enjoy working with associations and learning about their organizations' values. I've noticed how everyone I speak to is passionate about what they do and how they can further improve their association; a work ethic I admire. For this reason, it is rewarding to volunteer with CSAE and create lasting relationships.
One of the best aspects of having a CSAE membership is attending networking events where you can meet and connect with professionals who are very knowledgeable about the industry. Initiating an open discussion with a fellow member can lead to inspiring conversations and impactful advice that can enhance your career. I believe I learn the best from others, and most are willing to teach lessons they once learned.
Feel free to connect with me at lindsay.murray@andrewpeller.com.
Learn more about Lindsay.
Are you a CSAE member who would like to be featured in our newsletter? Email nicolas@csae.com for details!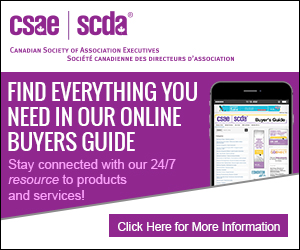 Winnipeg, MB
Lunch session/Workshop
Speaker: Jonathan N. Strauss
Time: 11:30 AM – 1:00 PM

Ottawa, ON
Network event – CSAE Ottawa-Gatineau
Time: 2:30 PM – 7:00 PM
Edmonton, AB
Network event – CSAE Alberta
In-person event
Speaker: Dr. Judi Malone
Toronto, ON
Network event - CSAE Trillium
Reception and dinner, In-person event
Master of Ceremonies: Dave Hemstad
Time: 4:30 PM – 9:00 PM
October 22-25
Conference and Showcase
Venue: Sheraton Wall Centre, Vancouver, British Columbia
Price: Early Bird Full Conference Pass - Members: $815.00 / Early Bird Full Conference Pass – Non Members: $1,065.00
Vancouver, BC
Workshop, in -person
Speaker: Dr. David Weiss
Time: 8:30 AM – 4:30 PM
Toronto, ON
Workshop, in-person event
Network event - CSAE Trillium?
Facilitated by Fay Booker, FCPA-FCA, CIA, C.Dir., Acc.Dir., FCIS
Panel moderated by Korinne Collins
Time: 8:00 AM – 12:00 PM

Western Canada
CSAE event
Workshop, In-person event
Speaker: Dr. David Weiss
Time: 8:30 AM – 4:30 PM

Vancouver, BC
Network event – CSAE British Columbia
Luncheon, networking event
Time: 11:30 AM - 1:30 PM

Toronto, ON
Network event – CSAE Trillium
Networking event
Time: 4:45 PM – 9 PM

By Huw Williams
Excerpt: Dealing with the media is a risky and high-pressure business for association staff and board members. Answering a journalist's questions incorrectly or mishandling a media enquiry can be like a high wire act gone awry with immediate negative career implications. In my experience, association members have high expectations that the media will be handled professionally by their leaders. Too often, media missteps are a short path to an association member revolt.
Order at a 10% discount through August 31, 2019.
By Jack Shand
Excerpt: Succession planning is not about trying to guarantee future jobs for current employees. The process must first look to the organization's future vision and strategic plan,and define what competencies the organization will require to meet its mandate. At this point the employer can set about cultivating the careers of the best employees by looking at staff who perform well, want to excel, and who have the potential to grow.
Order at a 10% discount through August 31, 2019
Do you have a recommended great read? Send your suggestion to nicolas@csae.com.
Have you thought about leveraging CSAE's relationship with over 15,000 association executives to fill your next position? Post your job to AssociationJobs.ca now! Remember CSAE members save 40%.
Interested in finding the latest career opportunities in the association sector? Click here to find the most recent postings, such as:
Title: CEO
Organization: go2HR
Location: Vancouver, BC
Get More Details
Title: Executive Director
Organization: The Canadian Institute of Forestry/Institut forestier du Canada (CIF-IFC)
Location: To be discussed
Get More Details
Euclid Technology is a leading provider of Association Management Software. For over twenty years, Euclid has provided innovative Association Management Software (AMS) products and solutions to clients in the United States and Canada. The Euclid Team is US-based and prides itself in providing the best implementation support and services. Euclid is relentlessly committed to our clients' success, which shows in our 97% client retention rate.
For more information, click here.