This week, the U.S. Occupational Health and Safety Administration (OSHA) revoked its COVID-19 vaccination-or-testing emergency temporary standard (ETS) applicable to private businesses with 100 or more employees in light of the recent U.S. Supreme Court decision. In addition, it is AGC's understanding that the agency will no longer pursue a permanent infectious disease standard broadly applicable to private businesses, ending the threat of such a mandate enduring forever. The agency will, however, pursue a more tailored permanent standard applicable to healthcare.

This is a clear and complete legal victory for AGC of America and its Construction Advocacy Fund-financed lawsuit challenging the ETS. The U.S. Supreme Court agreed with AGC's argument, among others, that OSHA overreached and exceeded its authority under the law. The ETS represented a general public health measure—which Congress never authorized it to issue—instead of a narrower occupational safety or health standard based on risks limited to the workplace.

Although this lawsuit against OSHA is over, AGC of America continues to press forward in another Construction Advocacy Fund-financed lawsuit against the federal contractor vaccine mandate, currently under nationwide stay.

And the association's broader efforts to support the construction industry's voluntary encouragement for the use of COVID-19 vaccines remain. AGC of America has put forth a host of construction industry-specific resources on its COVID-19 Vaccine Toolkit webpage. The resources include a series of Construction Advocacy Fund-financed public service ads AGC of America created specifically targeting construction workers.

AGC members should continue to follow OSHA's COVID-19 guidance, as the agency plans general enforcement of COVID-19 protocols via the Occupational Safety and Health Act's General Duty Clause.
According to Wells Fargo's 2022 construction industry forecast, there is renewed optimism among nonresidential contractors and distributors for increasing profits and new equipment sales in the year ahead. The report's benchmark U.S. national Optimism Quotient (OQ) registered 112, a 44% increase from its mark of 78 a year ago, showing leaders ended 2021 feeling cautiously optimistic.
Covering the spread between bids and costs requires doing more with less through efficiency gains and cost cuts. There is much to contemplate at this point (inflation, deflation, interest rates, job costs, labor, financing and supply chain issues). Just how do you incorporate all of these unknowns into your planning and still wind up with a profit, assuming you can get the work to begin with?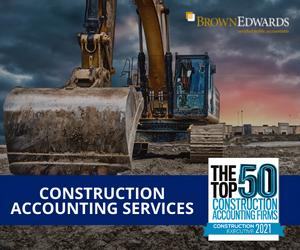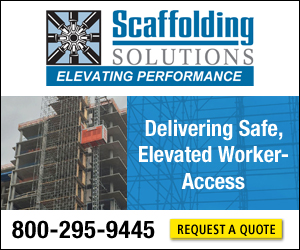 The Coronavirus Aid, Relief, and Economic Security (CARES) Act, was among the government's first legislative responses to the pandemic. The main goal of the legislation was to reduce the economic impact of COVID-19 on people and businesses across the country. One key focus of the law was helping companies stay in business and keep workers on the payroll. Two methods for achieving this was the Paycheck Protection Program and the Employee Retention Credit.
There are a lot of strategies that contractors can use to reduce their income tax liability. One option is to take a net operating loss (NOL) carryback or carryforward. The decision to take a carryback or carryforward depends on profits, tax rates and timing. If profits and tax rates are expected to be higher in future years, it might be better to use the deduction later.
The past two years have had an enormous impact on the construction sector. It's no secret that the industry has been facing a growing skills shortage for years. However, the ongoing pandemic has greatly amplified and accelerated the impact of this shortage. Contractors must increase their focus on hiring the best available candidates and integrate these efforts with their health and safety strategy.
A new study by Dodge Construction Network and Versatile, a construction technology pioneer using artificial intelligence (AI) and the internet of things (IoT) to optimize construction processes, found that unexpected overtime is predictable and controllable through regular job site activity measurement. According to the study, overtime is predictable at an 88% confidence level, if proper measurement is utilized.
The U.S. Department of Labor's Occupational Safety and Health Administration and a group of elevator industry stakeholders known as the "Elevator Industry Safety Partners" collectively have signed a five-year alliance agreement to renew their commitment to protect nearly 75,000 workers who construct, install, repair and maintain elevator industry conveyances. OSHA's 10 regions nationwide will participate in the alliance.
The American Society of Civil Engineers has released a new standard for protecting buildings from tornado damage. The standard is the first of its kind in the world. It offers guidance designed to protect infrastructure from tornadoes ranking from 0 to 2 on the Enhanced Fujita Scale, which translates to winds ranging from 40 mph at the bottom of EF0 to 157 mph at the top of EF2. In the U.S., approximately 80% of tornadoes are EF0 to EF1 strength. The standards aren't meant for residential construction, but rather for critical infrastructure such as hospitals and fire stations.
| | |
| --- | --- |
| | Deadline to register: February 3 at 12:00 p.m. |
| | |
| --- | --- |
| | Deadline to register: January 31 |
| | |
| --- | --- |
| | Missed the first three units? Don't worry. STP can be completed in any order, and at your own pace. Each unit is taught over the span of two days, both of which are included when you register for the unit. |
| | |
| --- | --- |
| | Missed the first three units? Don't worry. STP can be completed in any order, and at your own pace. Each unit is taught over the span of two days, both of which are included when you register for the unit. |
| | |
| --- | --- |
| | Location: AGCVA Training & Development Center |
| | |
| --- | --- |
| | SAVE THE DATE to join us as we begin to wrap up the Williamsburg House construction. We need volunteers to help clean up the yard and inside of the house. No construction experience necessary but come prepared to get your hands dirty. |
| | |
| --- | --- |
| | In addition to a fun evening of fellowship, strengthening business connections, and catching up with friends, Spencer Wiegard of Gentry Locke will provide an overview of the 2022 General Assembly session, as well as an update on the status of OSHA and government contracts. |
| | |
| --- | --- |
| | Tour of Gropen's design and sign facility with happy hour sponsored by Gropen and Fortiline. Includes light hors d'oeuvres and beer/wine. |