The Recycling and Composting Accountability Act, S3743, a bipartisan bill co-sponsored by Sen. Carper of Delaware and Sen. Boozman of Arkansas, calling for data collection, infrastructure quantification, study of compost best practices, compost use markets and compostable packaging feedstocks, passed the Senate Environment, Public Works and Transportation Committee just this morning.
In discussing this bill and the Recycling Accountability Act, a similar bill that looks at recycling systems and markets, it was exciting to hear Senator Carper mention, "I compost at home. We ought to be able to compost in our office here," and said the Capitol Architects office would be working on that!
This bill was introduced as a bipartisan bill; USCC chapters and members from states with Republic members of the Senate Recycling Caucus have been our targets as cosponsors; our Iowa Chapter, which includes Vermeer, one of our equipment manufacturing members, has secured a pledge from Sen. Grassley to cosponsor!
We will be reporting back to you about next steps to push this bill to the Senate floor, its next stop!
We are sad to say that Hilary Nichols is leaving the USCC in early April to pursue her dream to thru-hike the Appalachian Trail while vlogging horticultural workshops. We will miss her and wish her the best on her journey!
Over the four years Hilary was with us, she assisted with many projects to help us grow. Among other activities, staff and Market Development Committee created as a team numerous
Joe Lamp'L videos
,
victory garden
social media templates,
webinars
, and updated the
compost use
section of our website. Hilary also worked with CREF and USCC staff to execute a grant from
EPA's Region 3
to reach out to specifiers in that area, gather in-use specifications, and discover roadblocks. Over the last four years, the entire USCC team began building the
Gateway Database
, clarifying the
STA brand
messages, and growing the number of participants in the STA program by almost 28%! This supports the industry by strengthening the overall brand of Compost through clear consistent labeling.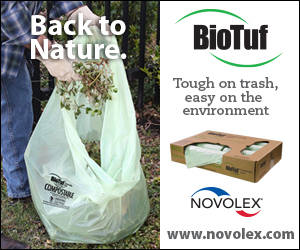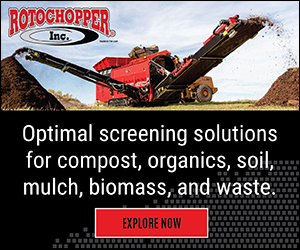 The USCC is calling for nominations through 5 p.m. PST Friday, April 8 to fill a seat being vacated by a retiring affiliate class board member. The winner of this seat will fill the remainder of the board term, running through the end of 2022.

To run for the seat, one must be an affiliate in one of the following member type categories, NOT be engaged in compost production, and not an individual, advocate, or student member:
Public Agency
State Agency
Compostable Product Mfg/Distributor
Consultant/Service Provider
Hauler/Non-Profit Organization
Community Composter
Academia/College/University
Click
here
to complete the form.
Click
here
to read Board Member Roles & Responsibilities and our Code of Ethics.
If you have questions, please reach out to Nominations Committee co-chairs Eileen Banyra or Jennifer Trent.
I want to bring to your attention the significance of participating in our Compost Industry Study. Our industry is growing, and we have not had accurate metrics to evaluate both the environmental impact and the economic impact that we have in the US. The time is now to participate in this critical study. Every Compost Manufacturer needs to be counted to move our industry forward, we need to understand where we are currently and what our potential impact can be in the future. As a compost manufacturer member, you will be receiving email correspondence see details above.
This past summer the USCC and the Environmental Research & Education Foundation (EREF) began the process of undertaking a critical step in advancing the Compost Industry. This project will be the first-ever in-depth study of commercial composting. This has been made possible by the underwriting of members and the Corporate Compost Leadership Council. The EREF will be facilitating the study, which will gather data that ranges from facility throughput, compost volume sold, employee headcount and other downstream financial impacts of the industry, to the current state of practice regarding equipment types, tipping fees, feedstock types and technologies.

Your specific data will be kept confidential and only the aggregated data will be made public in a report. If you have strong concerns about the security of your data the EREF can sign a Non-Disclosure Agreement with your company. If you have multiple facilities, we can email you an Excel spreadsheet to use to fill out your data. The final report will help paint a more complete picture of the industry (that is lacking now), thus providing needed figures for decision making by our Members and allied industries, policy makers and municipalities, and industry leaders. The report will also provide an analysis of program availability and an exhaustive facilities list will assist in infrastructure development.
If you have any questions or concerns, please email at
ffranciosi@compostingcouncil.org
.
Please participate in this vital project. The future of our industry depends on it.

Frank Franciosi
Executive Director
US Composting Council
The USCC is "upping our game" when it comes to the ability for you and fans of composting and organics recycling to reach out to legislators and regulators. We have just signed on to pilot a new advocacy software, Capitol Canary (formerly called Phone2Action), a direct result of USCC member dues support.
Capitol Canary will allow USCC and our chapters to quickly catalyze large numbers of people to reach out to support, oppose or otherwise communicate to legislators and regulators This is done by clicking on a link that will be on USCC's website, filling out a form and, (preferably!) writing a few personal lines about your support for the bill or industry. You'll hear about these opportunities through action alerts from USCC!
For an example of how it feels, take a look at an action alert from Solar Energy Industries Association, another organization using Capitol Canary.
https://p2a.co/KllK3Oj.
Compost and Phosphorous Claims - A new testing method and labeling guidelines have been approved to enable producers of compost, and other carbon-based products to measure and advertise the amount of slowly releasing phosphate in their products, if their products are registered as fertilizers (making legal nutrient content claims). This can be done by testing composts for their content of "water extractable phosphorous" (WEP). Compost, and other carbon-based products, typically possess less WEP; therefore, the phosphate from these products is more likely to stay where it was applied, rather than run off into nearby waters.
At the July 2021 American Association of Plant Food Control Officials (AAPFCO) meeting, the SERA-17 test method for WEP was found to be acceptable and at the February 2022 meeting the WEP definition became 'official. The final piece of this puzzle involved illustrating how testing for the WEP content could be used to make labeling claims on carbon-based products. State control officials were concerned that using the term WEP on the label would create confusion, because fertilizer phosphorus is expressed as "available phosphate." Therefore, WEP testing will instead be used to illustrate "slowly available phosphate" on a label, like the way slowly available nitrogen is claimed.
This strategy enables the new phosphate claims to align more closely with existing labeling regulations and formats. (See label graphic below)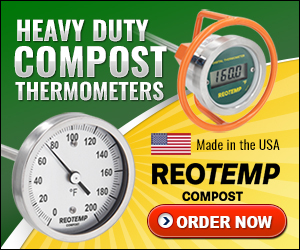 Memberships with the US Composting Council are almost entirely tax deductible as a business expense. You may count your membership dues as a deductible expense. The USCC has been increasing its work with advocacy and lobbying. As a result, three percent of your membership dues are not allowed to be claimed as a deduction.
This year, we have hosted 10 webinars covering subjects from Municipal Parks & Composting to a three-part series on compostable products aimed at compost manufacturers. We also hosted nearly a dozen happy hours, as well as monthly Young Professionals Group happy hours. We also saw the return of our in-person annual conference and tradeshow. The USCC saw near-record turnout in attendance with a mix of workshops, sessions, and exhibition & demonstration of equipment.
New Seal of Testing Assurance (STA) Database: Over the last 12 months, our team has been working to build a new technology that will streamline your engagement with the STA program, safely secure your details, and support you in maintaining good standing with the STA program. The new technology is a compost manufacturer's gateway to everything in the program. From renewals to adding new products or derivatives of products, you will have one place to keep track of your invoices, certificates, test results, permits and more. Phase 1 of the new technology for launching STA Renewals has launched.
Industry Development: Model Compost Rules Template and Model Zoning efforts ...
There is less than a month until the start of International Compost Awareness Week (ICAW) 2022 – the best time of year to share the many benefits of composting our food scraps and using compost to build healthy soils. Start making your plans to get the word out about ICAW this May 1-7. Check out activities, events, and resources on the CREF website:
https://compostfoundation.org/ICAW/ICAW-Home
. If you need help with your ICAW plans or more ideas on how you can get involved, contact Beth Simone,
bethsimone@compostfoundation.org
In late February, the CREF and BSIbio held a 90-minute webinar for composters curious about compostable products and the benefits of field testing for their facilities. The level of interest from participants was outstanding with many leaving the event with the tools needed to start designing their own field test and join our international field testing research project. If you missed the webinar, or compostable products weren't on your mind then but they are now, you can still request more information from our website: http://compostabletesting.org.
Secaucus will keep its composting program following its successful launch in June of 2021.
Mayor Michael Gonnelli and the Town Council authorized the pilot program last year, with five separate sheds collecting food scraps from the public. Following robust participation and its resounding success, the program will continue with hopes of major expansion in the future and a few minor changes to locations, the town announced in its monthly newsletter.
| | |
| --- | --- |
| | This dynamic event unites industry professionals from all sectors of the world's interconnected biomass utilization industries - bio-based power, thermal energy, fuels and chemicals. This event brings current and future producers of bioenergy and bio-based products together with waste generators, energy crop growers, municipal leaders, utility executives, technology providers, equipment manufacturers, project developers, investors and policy makers. It's a true one-stop shop - the world's premier educational and networking junction for all biomass industries. |
| | |
| --- | --- |
| | We will continue meeting you all for monthly virtual happy hour on first Thursday 7 p.m. Eastern. The upcoming is 7 p.m. EST Thursday, March 3. Below is the zoom meeting details. Topic: YPG happy hour Time: April 7, 2022, 4 p.m. Indiana (Eastern) Join Zoom Meeting https://us02web.zoom.us/j/85607596445 Passcode: YPG2022 |
| | |
| --- | --- |
| | International Compost Awareness Week (ICAW) is the largest and most comprehensive education initiative of the compost industry. It is celebrated nationwide and in other countries each year during the first full week of May. The goal of ICAW is to work together to raise public awareness on why we all should be composting our organics recycling and using compost. The program includes poster and video contests in the fall and activities and events held during the week in May. Throughout the week of ICAW, community and business events are held to encourage and celebrate composting - all types of composting - from backyard to large-scale are promoted. |
| | |
| --- | --- |
| | Recipe for Regeneration: Compost We are pleased to host this year's VORS in conjunction with International Compost Awareness Week (ICAW). |
| | |
| --- | --- |
| | May 9-12 , Las Vegas, Nevada |
| | |
| --- | --- |
| | May 10-12 , Minneapolis, Minnesota |
| | |
| --- | --- |
| | May 11-13, East Lansing, Michigan |
| | |
| --- | --- |
| | PWX provides a first-class multimodal learning experience designed for professionals at all levels and across the entire spectrum of public works. Come prepared to see, hear, touch, and discuss in a variety of traditional and interactive sessions, seminars, workshops, and networking opportunities. |
| | |
| --- | --- |
| | From owners to plant managers or marketing and sales executives to industry suppliers, the MSC invites all interested parties to Charlotte for the 51sth MSC Annual Meeting. Come in person to network with industry people and to hear what the Council is doing for your benefit. |
| | |
| --- | --- |
| | The USCC's 31st Annual Compost Conference located in sunny Ontario, California. |