TIP 0404-57 "Troubleshooting cross-machine direction moisture profile problems" (Revision)
TIP 0404-07 "Paper machine drying rate" (Revision)
T 254 cm-10 "Cupriethylenediamine disperse viscosity of pulp (falling ball method)" (Revision)
T 403 om-10 "Bursting strength of paper" (Revision)
T 411 om-10 "Thickness (caliper) of paper, paperboard, and combined board" (Revision)
T 431 cm-10 "Ink absorbency of blotting paper" (Revision)
T 456 om-10 "Tensile breaking strength of water-saturated paper and paperboard (wet tensile strength)" (Revision)
T 702 om-10 "Rheological measurements for characterization of polyolefins: low-density polyethylene (LDPE) for extrusion coating" (Revision)
T 840 om-10 "Testing adhesives used in glued lap joints of corrugated fiberboard containers" (Revision)
T 619 om-10 "Analysis of salt cake" (Reaffirmation)
T 617 cm-10 "Analysis of lime" (Reaffirmation)
T 562 om-10 "CIE whiteness and tint of paper and paperboard (45/0 geometry, C/2 illuminant/observer)" (Reaffirmation)
T 553 om-10 "Alkalinity of paper as calcium carbonate (alkaline reserve of paper)" (Reaffirmation)

Special note: Documents appearing in the TAPPI online version of the Standards and TIPs are updated once a month (usually around the 15th). So it is possible that there is a delay between the publication announcement and the posting online. If you are a subscriber to the online access to Standards and TIPs and you are in a hurry for new documents that have not yet been posted, you can send a request to standards@tappi.org.
The TAPPI Standards regulations require public review of standards that are up for ballot. TAPPI members can view any drafts that are in ballot by logging in to the TAPPI web site (www.tappi.org), clicking on "My TAPPI," and then clicking on the "Standards Public Draft Review" link on the left side of the page. If you would like to review and comment on any draft and are not a member of the corresponding Standard-Specific Interest Group (SSIG), you may view the draft online or you may request a copy of the draft being balloted, by writing to standards@tappi.org. TAPPI members may join SSIGs as permanent members; go to the Subject Category page to download forms for this purpose. Nonmembers of TAPPI may join any SSIG as a voting member; to do so, send a message to standards@tappi.org to receive a copy of the draft and a ballot.
Listed below are TAPPI Standards that have recently gone out for ballot to the corresponding Standard-Specific Interest Group (SSIG). The date in parentheses is the closing date for voting.
T 220 sp-06 "Physical testing of pulp handsheets" (June 4, 2010)
T 813 om-04 "Tensile test for the manufacturer's joint of fiberboard shipping containers" (June 7, 2010)
T 200 sp-06 "Laboratory beating of pulp (Valley beater method)" (June 7, 2010)
T 1006 sp-06 "Testing of fiber glass mats: Use of modified TAPPI procedures for sampling and lot acceptance, stiffness, tear resistance, air permeability, and thickness" (June 11, 2010)
T 622 cm-01 "Analysis of sodium hydrosulfite" (June 14, 2010)
T 628 cm-01 "Analysis of rosin size" (June 14, 2010)
T 1007 sp-06 "Sample location for fiber glass mat sheets" (June 14, 2010)
T 434 cm-01 "Acid-soluble iron in paper" (June 24, 2010)
T 1008 sp-06 "Test conditions for fiber glass mat test methods" (June 25, 2010)
T 830 om-04 "Ink rub test of containerboard and corrugated board" (title change; June 25, 2010)
T 1009 om-06 "Tensile strength and elongation at break for fiber glass mats" (June 28, 2010)

TIP 0402-30 "Inspection for cracking of composite tubes in black liquor recovery boilers" has been withdrawn by the Quality and Standards Management Committee (Q&SMC), due to lack of progress in its regular review. Q&SMC may withdraw TIPs that are periodically reviewed if no progress has been made within a year of the targeted completion date.
Withdrawn TIPs are available free for TAPPI members and for a $10 charge to nonmembers.
Anyone wishing to open a Work Item for reinstatement of withdrawn TIPs should contact standards@tappi.org.

A new TAPPI standard has been proposed: "Aerobiological fungal growth of paper under extreme indoor air quality." This test method evaluates fungal spore germination on cellulose paper fiber under post-flood disaster conditions. Part one evaluates fungi growth on samples by visually recording germination over a 7-day testing period as the temperature slowly increases. Part two evaluates the presence of volatile organic compounds (VOCs), microbial volatile organic compounds (MVOCs), and types of fungi growing on samples in the environmental cabinet assembly, after 28 days. Environmental cabinet assembly conditions simulate indoor air quality (IAQ) conditions, occurring in room post-flood disaster, when building mechanical systems are inoperable, affecting cellulose products as the RH and temperature increase.
The procedure will: (a) determine background levels of VOC and MVOC in the tank chamber, before testing; (b) test the paper sample for fungal growth, after 7 days of testing; (c) visually evaluate fungal growth on the paper sample as RH and temperature increase; (d) determine levels of VOC and MVOC, after the 28-day testing period; and (e) document quantitative and qualitative data.
Any persons who are interested in this method may join the Standard-Specific Interest Group (SSIG) to receive ballots when this method is ready for vote. If you would like to join the SSIG for this project, please notify the Standards Department at standards@tappi.org or by fax at +1-770-446-6947, no later than May 21, 2010.

SSIG members needed for review of T 657 "Sampling of fillers and pigments"
T 657 "Sampling of fillers and pigments" came up for five-year review in 2008. Since that time, there have been two ballots, neither of which received the proper percent return to validate. Eight people have been dropped form the Standard-Specific Interest Group (SSIG) for missing three ballots in a row (including ballots from the previous review of this standard).
It is now necessary to reconstitute this SSIG in order to have the minimum number of 10 participants. It is important to retain this standard, because it is referenced in all other standards that test fillers and pigments.
If you would like to participate in this SSIG, please contact standards@tappi.org no later than June 1, 2010. Thank you for your consideration.

. . . that any interested parties have the right to view and comment on any TAPPI Standard up for ballot? If you are a TAPPI Member, you can access these drafts on the web by first logging into the TAPPI Home Page with your user name and password. Then point your cursor over the "Membership" button, and select "My TAPPI" from the dropdown menu. When the "My TAPPI" page opens, click on "Standards Public Draft Review" from the menu on the left-hand side. You can then select from a list of drafts currently in ballot.
You also do not have to be a TAPPI member to join one of the Standard-Specific Interest Groups (SSIGs). To join an SSIG for a specific Standard, send a message to standards@tappi.org. You will receive emails when it is time to vote on standards.
If you are a member of TAPPI and are on one or more SSIGs, any ballots that you are requested to vote on can be accessed from your "My TAPPI" page, by selecting "Click here to vote on Standards ballots." You can also see which SSIGs you belong to by selecting "Click here for a full list of your Standard-Specific Interest groups."
If you do not choose to join an SSIG, you can still request copies of any Standards up for ballot, by sending a message to standards@tappi.org. After reviewing drafts, you may also send any comments to standards@tappi.org. The volunteer experts working on Standards are required to consider all comments received, but they are not required to accept comments from nonmembers of the SSIG. To ensure that your comments are addressed, then think about signing up for as many SSIGs as you like, but also consider TAPPI membership in order to access draft and vote online.

For details on these commonly-used acronyms in the development of TAPPI Standards and TIPs, please see the Standards Guidelines and the TIP Guidelines, or send your questions to standards@tappi.org.
TIP = Technical Information Paper
Q&SMC = Quality and Standards Management Committee
SSIG = Standard-Specific Interest Group
SARG = Standards Advisory Review Group
WI = Work Item
WG = Working Group
WGC = Working Group Chairman
om = Official Method
pm = Provisional Method
sp = Standard Practice
cm = Classical Method
ss = Standard Specification
sg = Standard Guideline
gl = Standard Glossary
wd = Withdrawn Standard
UM = Useful Method
Details on how to search and order TAPPI Standards and TIPs can be found on the TAPPI website's Search and Order page.
All individual TIPs or Standards are available for electronic or paper delivery. For electronic delivery, the documents are e-mailed in PDF format. Hard copy documents can be mailed or faxed, but shipping and handling costs will apply.
For Individual TIPs, order Item Number: 0108____ (Insert TIP number).
For Individual Standards, order Item Number: 0104T____ (Insert Standard number).
List price: $49; TAPPI member price: $32. There are no shipping or handling charges for electronic documents.
The 2010-2011 collection of Standards, published in March of 2010, and the 2009-2010 collection of TIPs, published in March of 2009, are available on CD. An Individual or Company License for access to the continually updated collection of Standards and TIPs via the web, is the best way always to have a current set of documents accessible. A print-on-demand version of either the Standards or the TIPs set, current and updated as of the date printed, is also available.
For information and quotes on company licenses, contact Lisa Stephens at lstephens@tappi.org or +1-770-209-7293. For regular orders (including individual online licenses), contact Member Connection at 1-800-332-8686 (US), 1-800-446-9431 (Canada), or +1-770-446-1400 (international), or order online at www.tappi.org.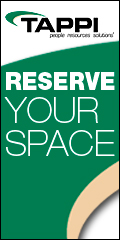 Find us on Facebook
Network with us on LinkedIn
Follow us on Twitter