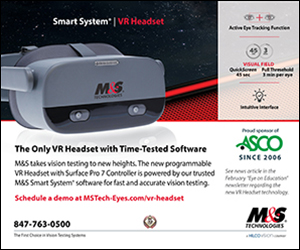 The ASCO Diversity and Cultural Competency Committee (DCCC) held two online town hall events in April. The first town hall "Creating a Brave Space for AAPI Faculty" was held April 13 to discuss Asian American and Pacific Islander (AAPI) discrimination and hate crimes, and it focused on the importance of having an honest and open dialogue about challenges faced by AAPI members of the optometric education community, with the main goal of empowering faculty to help their own school/college communities deal with these ongoing issues.
ASCO's Annual Meeting, scheduled for 12 p.m. – 2 p.m. eastern time on Wednesday, June 16, is open to all who wish to attend. The Annual Meeting will be virtual again this year due to the ongoing COVID-19 pandemic.
Dr. Damon Williams is scheduled to speak to the ASCO Student Affairs Officers (SAOs) and Chief Academic Officers (CAOs) June 8 during the ASCO June meetings. Dr. Williams is a visionary and inspirational leader and one of the nation's recognized experts in strategic diversity leadership. He currently leads the Center for Strategic Diversity Leadership and Social Innovation and the National Inclusive Excellence Leadership Academy.
The ASCO Board of Directors meet formally three times a year – in the spring, summer and fall. Keeping that schedule, the Board of Directors met virtually due to the ongoing pandemic in March.
Dr. Douglas J. Hoffman is this year's Lifetime Achievement Award. This award recognizes an outstanding individual who, over an extended period of time, provided exceptional leadership to ASCO and to optometric education; made outstanding contributions to the optometric community; and displayed exemplary commitment and dedication to the association.
The Dr. Jack Bennett Innovation in Optometric Education Award was established in March 2000 to recognize an ASCO volunteer for an outstanding innovation to optometric education. The award was named in June 2000 in honor of Dr. Bennett, a creative leader in optometric education, who served as Dean at three optometric institutions.
CooperVision Announces 2021 Best Practices Student Scholarship Recipients
Essilor Ensures ECPS Have "Life-Proof" Lens Technology with the Introduction of the Latest Crizal Innovation: Crizal Rock
New Crizal Rock lenses are the most scratch-resistant Crizal No-Glare lenses ever made1
EssilorLuxottica Makes First Appearance at Vision Expo East Showing Industry and Customer Support as a Combined Company
Newly imagined booth will offer a dual physical and virtual experience that reinforce the company's support for ECPs
Haag-Streit Presents Lenstar Myopia – Your Companion for Myopia Management
A New Toolkit Built to Boost Contact Lens Success!
National Vision is Named One of America's Best Employers for Diversity by Forbes
Topcon Announces the US Launch of Aladdin-M
Company Introduces Tool for Measuring and Monitoring Axial Length Metrics
Join us at the CAREER ZONE at Vision Expo!
Saturday, June 5 from 10 a.m. – 5 p.m.
Orlando Convention Center, Orlando, FL
Optometry Student Internships Available
Walmart is accepting applications for its Optometry Intern Program, which is designed to prepare the company's next generation of ODs.
Keshia Elder, OD, MS, FAAO, associate professor, has been named director of diversity, equity and inclusion (DEI) for the UAB School of Optometry (UABSO). This position is a new role within the school's leadership.
As conversations around the globe on issues surrounding race and diversity continue to evolve, a few Pennsylvania College of Optometry (PCO) at Salus University alumni are also leading a dialogue, asking for 13 percent of Black representation in the optometry community.
The last official day at the Pennsylvania College of Optometry for Francine Pearlman-Storch, OD '79, Resident '80, was Feb. 24, 2021. As an honor, she was presented with a plaque in lane 18 of the program's Clinical Skills Lab and invited her husband, Jeffrey, and her adult children, son Eli and daughter Leah Eppinger, to join the festivities.
The Indiana University School of Optometry's Indianapolis Eye Care Center will host a new residency in traumatic brain injury.
Salus University's 14th annual "Looking Out for Kids" fundraiser was held on May 1.
Southern College of Optometry worked with FedExForum, the sports arena home of the Memphis Grizzles NBA team, to host an in-person commencement ceremony for the Class of 2021's 135 graduates on Tuesday, May 4.
On April 13, Richard Meetz, OD '76, received the Spirit of Philanthropy Award, which honors individuals, corporations and foundations that have contributed to the success of Indiana University through significant gifts and voluntary services.
On April 7, Indiana University announced that two Indiana University School of Optometry faculty will receive the IU Trustees Teaching Award.
New England College of Optometry (NECO), the oldest continually operating college of optometry in the United States and a leader in advancing the optometric profession, announces that it has partnered with Lumenis to educate students on the fundamentals of lasers, microsurgical procedures and intense pulse light (IPL).
The Indiana University School of Optometry has four scholarships that have reached their endowment levels and can be soon awarded to its OD students.
A new contact lens technology to help diagnose and monitor medical conditions may soon be ready for clinical trials.
Catherine Cheng, PhD, an assistant professor at the Indiana University School of Optometry has been awarded a five-year, $2.35 million National Institutes of Health grant...
Northeastern State University Oklahoma College of Optometry Ophthalmologist, Richard Castillo, OD, DO, is the recipient of the Arkansas Optometric Association's Special Service Award for 2021.
The Illinois College of Optometry recently prepared and developed a four-hour course with a lab to train practicing Doctors of Optometry to administer COVID vaccinations, once Illinois Governor Pritzker approved optometrists to administer these vaccinations in a public clinic if they take 4 hours of online contuining education followed by participation in a one hour wet lab. To date, 57 OD's have been certified, and over the next two weeks that number should increase to 150.
Five ways you can join us for Healthy Vision Month 2021
Building Interprofessional Education for Collaborative Practice and Health Equity
Meeting Virtually May 18, 20, 25 and 27