ASCO staff exhibited at the National Society of High School Scholar's (NSHSS) Day in Atlanta on November 22-23, 2019 to promote optometry as a career choice.
For the fourth year in a row, ASCO participated in Health Professions Week (HPW) on November 16-21, 2019.
Direct costs awarded from July 1, 2018 to June 30, 2019 for research at ASCO member institutions totaled approximately $28.9 million, down from $29.9 million the previous year, according to ASCO's 2018-19 Research Survey Report.
Deadline to submit nominations is January 17, 2020.
Deadline to submit essays is February 13, 2020.
Set Your Swatch: CPT Changes Are Coming
Marshall B. Ketchum University announces that Jennifer Coyle, OD, MS, FAAO has been selected to serve as the Dean of Optometry at The Southern California College of Optometry.
Berkeley Optometry is thrilled to report that Dean John Flanagan has accepted the offer of a second five-year term as Dean of the School of Optometry.
United States Senator John Boozman, OD '77, recently revisited his optometry school roots with an afternoon on the SCO campus.
Recently, Ellen Shaw and Lyle Tate, admissions and recruiting team members from the University of Houston College of Optometry, took part in ABRCMS, the Annual Biomedical Research Conference for Minority Students, held in Anaheim, Calif.
Congratulations to Susan A. Cotter, OD, MS, FAAO from the Southern California College of Optometry at Marshall B. Ketchum University, 2019 recipient of the Glenn A. Fry Lecture Award.
Kallie Harrier, OD '19, has had an eventful year: the Wisconsin native moved through four different states during her clinical rotations before deciding to return home to DeForest, Wisconsin, to join Essential Family Vision Care.
"The Year of Bubba" will be one way that 2019 could be remembered.
Caroline Pate, OD, FAAO, associate professor and director of residency programs at the UAB School of Optometry, has been named the 2019 Optometric Educator of the Year.
Adam Gordon, OD, MPH, FAAO, has been named the Department of Optometry and Vision Science Chair.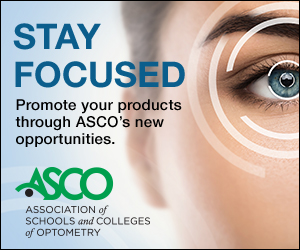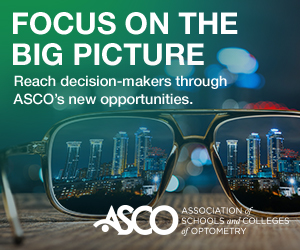 There is little known about the specific effects of Traumatic Brain Injuries (TBIs), such as concussions, on women, mainly because the majority of published studies on the subject have focused more on men.
The Interprofessional Education Collaborative (IPEC) is holding its 18th faculty development institute.