I recently had the pleasure of speaking at a conference in my region, and it really got me thinking.
Dawn Mancuso, MAM, CAE, FASAE, was recently featured in Association Advisor, a top source of information for association professionals covering everything about association leadership and association management.
Deadline to submit nominations is January 17, 2020.
ASCO's Optometry Residency Match (ORMatch) opened for applications on Oct. 2.
ASCO's new Interprofessional Education and Collaborative Practice Toolkit, "A Guide to Effective Interprofessional Education and Collaborative Practice Experiences in Optometry," was introduced to the greater interprofessional education/collaborative practice community through a poster presentation at last month's Collaborating Across Borders (CAB) VII conference in Indianapolis, IN.
Twenty-one residents and graduate students from the schools and colleges of optometry will be selected to participate in the program, which is co-chaired by Dr. Mika Moy and Dr. Jeff Walline.
Join an ASCO SIG now!
At its meeting in St. Louis in June, the ASCO Board of Directors voted to change the Association's nomination process for participation in its Special Interest Groups, or SIGs.
ASCO's Inspiring Future ODs program is an educational effort that encourages doctors of optometry and optometry students to speak to prospective applicants and community members about optometry as a rewarding future career.
Brooke Weiner joined ASCO's team in late September 2019. She will be attending the University of Southern California's Marshall School of Business in January.
Brett Paepke, OD, RevolutionEHR Director of ECP Services
­
If you're anything like me, you're wondering three things right now...
Marshall B. Ketchum University announces that Jennifer Coyle, OD, MS, FAAO has been selected to serve as the Dean of Optometry at The Southern California College of Optometry.
Dr. Horn started his Pacific career as an undergraduate studying biology before earning his doctor of optometry in the College of Optometry.
This fall, the University of Alabama at Birmingham School of Optometry (UABSO) proudly celebrated its 50th anniversary, a tremendous milestone that cements the school's legacy as one of the premier programs in the nation.
New England College of Optometry (NECO) announces that Morris Berman, OD, MS has joined the faculty as an adjunct professor.
Julie Rodman, OD, MS, FAAO, professor of optometry and chief of The Eye Care Institute-Broward, was awarded College of Optometry Professor of the Year for 2018-2019 by the Nova Southeastern University Faculty Advisory Council in recognition of significant contributions to research, scholarship and exceptional instruction.
Nova Southeastern University College of Optometry (NSUCO) is pleased to announce that Cristina Llerena Law, OD, PhD, FAAO, Dipl. has been appointed department chair of Didactic Education.
Midwestern University President and Chief Executive Officer Kathleen H. Goeppinger, PhD, honored three new recipients of the Littlejohn Award at the University's annual recognition dinner held in September at the Renaissance Phoenix Glendale Hotel & Spa in Glendale, Arizona.
The University of Houston, College of Optometry (UHCO) has added a state-of-the-art Mamava nursing pod to its University Eye Institute (UEI) clinical facility.
Salus University has signed four new articulation agreements with Cedar Crest College in Allentown, Pa., with the Doctor of Audiology degree program; the Doctor of Optometry degree program; the Department of Blindness and Low Visions Studies masters programs; and the Physician Assistant Studies Master of Medical Science degree program.
Salus University, one of the world's premier schools of optometry, and Eyesafe®, a global leader in high-energy visible blue light filtration technology and standards for the consumer electronics industry have partnered in a research project to study the eye and health impacts of cumulative exposure to high-energy blue light from devices and to announce the release of the first-ever comprehensive handbook on the health hazards and protective solutions related to blue light for the electronics display industry.
Students from the MCPHS Doctor of Optometry program are learning what it's like to walk in the shoes of a visually impaired person (VIP) through a community group called WALKFIT.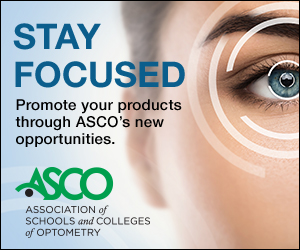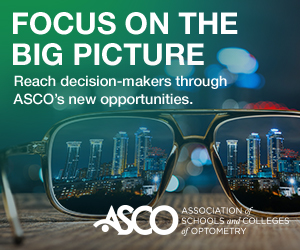 The National Eye Institute of the National Institutes of Health, in collaboration with an expert faculty of eye health and diabetes professionals, has developed a professional education initiative designed to help preserve the vision health of the millions of patients at risk of diabetic retinopathy and diabetic macular edema.
The American Academy of Optometry Foundation (AAOF), in collaboration with the Beta Sigma Kappa International Optometric Honor Society, announces Sima T. Mozdbar, OD, as the 2019 recipient of the Beta Sigma Kappa (BSK) Research Fellowship.
As an optometrist, you have the opportunity to provide a vital service for those in the community, especially aging residents. Optometrists diagnose eye problems, prescribe glasses and handle an array of issues related to the health of their patients' eyes.
While in school, optometry students may be wondering whether they should specialize and, if so, in what area?
When you visit www.eyeresearch.org, you will see an entirely new web site, easier to read with new navigation and compatible with a variety of devices.