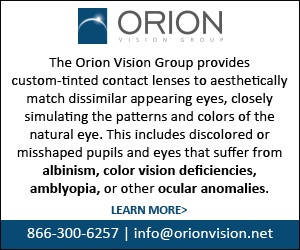 ASCO has negotiated a special waiver from exam fees with the American Board of Optometry (ABO) for all ASCO faculty and administrators. This new long-term arrangement between ABO and ASCO provides ASCO members a significant cost savings, as the $950 exam fee will be waived for any faculty/staff member from any of ASCO's 23 member institutions as well as ASCO's two associate member institutions in Canada.
Have you taken a trip to the ASCO blog, Eye on Optometry, lately? If you do, you can see that articles have been as abundant as piles of fall-colored leaves!
ASCO is slated to conduct its annual fall meetings in conjunction with the 2019 Academy Orlando. View the full list of meetings by clicking the link directly below.
Attention students: Mark your calendar! On Friday, October 25, from noon to 3 p.m. in the Valencia Ballroom of the Orange County Convention Center in Orlando, Florida, the American Academy of Optometry will hold its first Residency and Graduate Program Fair, and ASCO will have a strong presence.
Sunday, October 27, 8 a.m.-12 p.m.
Twenty-one residents and graduate students from the schools and colleges of optometry will be selected to participate in the program, which is co-chaired by Dr. Mika Moy and Dr. Jeff Walline. The goal of the program is to provide participants with an opportunity to gain the knowledge and skills necessary to enhance their success in an optometric academic environment as career-long, productive faculty members.
Join an ASCO SIG now!
At its meeting in St. Louis in June, the ASCO Board of Directors voted to change the association's nomination process for participation in its Special Interest Groups, or SIGs.
Alcon is pleased to announce that Dr. Carla Mack has been named Global Head, Professional Affairs. In her new role, Dr. Mack leads Professional Affairs within Alcon's Global Vision Care Franchise, reporting to Andy Pawson, President and General Manager, Global Vision Care Franchise.
"I'm probably the only Salus alumnus who has a Super Bowl ring," Dr. Carter Liotta said about his prized possession from the Philadelphia Eagles notable win over the New England Patriots in SuperBowl LII. That's how Dr. Liotta started the conversation about his experiences since graduating from the Pennsylvania College of Optometry (PCO) in 2003.
Southern College of Optometry Professor Dr. Glen Steele was honored in September as he celebrated 50 years of service on the college's faculty.
Midwestern University's Chicago College of Optometry (CCO) held a Summer Eye Experience (SEE) on the Downers Grove Campus for college students and recent graduates interested in pursuing a career in optometry. Students representing seven different states attended the three-day program that took place in August.
Joseph Stamm, OD, FAAO, recently joined the MCPHS–Worcester School of Optometry as an associate professor. An experienced clinician and teacher, Dr. Stamm possesses wide-ranging curiosity and enthusiasm that support his extensive professional experience. MCPHS staff sat down with Dr. Stamm to learn more.
Dr. Di Stefano is a 1973 graduate of the Pennsylvania College of Optometry (PCO). As a PCO student leader, he served as class president for four years and student council president from 1972 to 1973.
SCO selected two outstanding alumni to honor for their achievements during the college's fall homecoming and CE Weekend.
Fight for Sight, a nonprofit supporting eye and vision research, recently announced their 2019 grant recipients.
In August, a group of 21 students from Salus University's Students in Optometric Service to Humanity (SOSH) program - led by Laine Higa, OD, assistant professor at the University's Pennsylvania College of Optometry (PCO), and Navpreet Hehar, OD, PCO instructor - traveled to Panama to bring much-needed medical eye care to those living in poverty who otherwise might not have a chance to receive such treatment.
Salus University's annual White Coat Ceremony was held August 16 at the Kimmel Center for the Performing Arts in Philadelphia.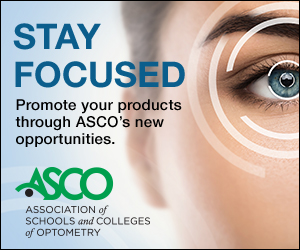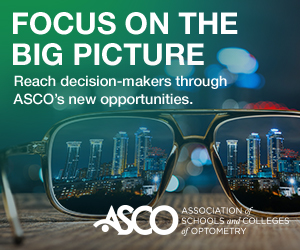 For patients recovering from TBI, dry eye may initially be pretty low on the list of medical concerns, with much more emphasis placed on regaining critical functions like mobility and speech.
Deadline: November 15, 2019