Welcome to the AOC 2021 Show Daily! For those who are fortunate enough to be attending AOC 2021, the Show Daily (a special edition of the JED eCrow) will give you a review of what's happening each day, as well as provide you with important updates and reminders. Check your inbox each morning of the convention to stay in the know.
For those of you who can't be with us in D.C., the Show Daily will give you a taste of the convention experience, including daily coverage, announcements, interviews, photos and more.
Visit the Convention website or download the app to learn more.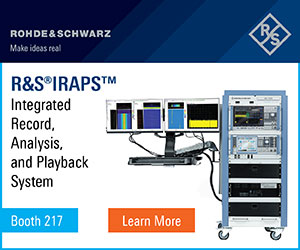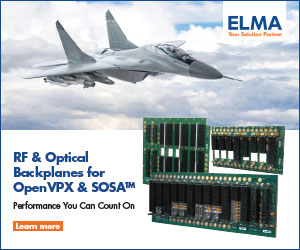 Quick Tips to Get Ready for the AOC Convention
SCHEDULE OF EVENTS - Monday, November 29
1:00 - 6:00 PM
On-site Registration
Pick up your badge in the West Salon of the Walter E. Washington Convention Center.


6:00 - 9:00 PM
Welcome Reception
Join us for live music at AOC's Boots and BBQ Welcome Reception.
Hill Country BBQ, 410 Seventh Street NW, Washington, DC
Sponsored by L3Harris

Official Exhibit Hall hours during the AOC Convention are as follows:
Tuesday, November 30
10:00 AM - 6:00 PM
Wednesday, December 1
9:45 AM - 6:00 PM
Thursday, December 2
9:45 AM - 2:00 PM
Learn more about exhibitor happenings and special events on the AOC Convention's Exhibit Hall Hours & Happenings page.
The December issue of JED includes these highlights:
Cover Story: US Army Helo ASE
The Challenges Facing Ground EW – a UK Perspective
News: Congress Advances Defense Policy Legislation
Start reading the issue now, and read more each week at jedonline.com.
The Journal of Electromagnetic Dominance (JED) is the official publication of the Association of Old Crows (AOC), an independent, nonprofit, international professional association promoting public understanding in the science and practice of EW, SIGINT and related disciplines. Become an AOC member to get access to the latest issue of JED.
Dr. David Young is the Chief Technology Officer (CTO) for CAES (Cobham Advanced Electronic Solutions). He joined the company after previously serving as VP of Advanced Development at Lockheed Martin Space and as VP of Business Development and Strategy at Northrop Grumman's Technology Services Sector. He is responsible for managing the company's overall technical roadmap across RF, microwave and millimeter wave solutions and helping to develop related business strategies for its four operating divisions. David holds a Doctorate in Philosophy in aerospace engineering and Master of Science degree in aerospace engineering from Georgia Institute of Technology.
JED: CAES offers a very broad technology portfolio across military and aerospace markets. What are the main thrusts that you pursue for your R&D strategy?
Young: Our R&D strategy is based on several factors. Among them:
1. Higher frequency, high power applications as well as wider band capabilities in order to push envelop in system performance;
2. Tighter form factors and increasing density of our solutions in order to fit into next generation platforms;
3. Support for multiband (i.e., X-band, Ka-band, W-band) in a single solution; and
4. Introducing digitization in higher level assemblies, a capability that was recently strengthened with our recent acquisition of Colorado Engineering Inc.
JED: From a technology perspective, how does CAES work with its customers to develop solutions for their projects? For example, how early do you typically get involved in your customers' programs, and in what ways do you collaborate with them?
Young: CAES is proud to be a partner of choice and we strive to create solutions with our customers. We engage with them very early on in the program lifecycle with constant collaboration and communications between senior technical staff to develop novel approaches enabling them to differentiate themselves from their competition. In addition, we provide millions each year in our own IRAD funding to complement our customers technology development projects to share in successful program outcomes.
JED: How does CAES approach innovation on the manufacturing end to remain competitive in the defense electronics market?
Young: CAES utilizes its longstanding experience and heritage in manufacturing aerospace and defense electronics to constantly look for new ways to innovate and drive efficiency any way possible. These include adopting automation tools and 3D printing/additive manufacturing, as well as driving best LEAN practices. Our pursuit of manufacturing innovation is constant and also taken into consideration in the engineering process.
JED: CAES recently acquired Colorado Engineering. From a technology innovation perspective, how does CAES integrate new companies into the larger R&D strategy and exploit synergies?
Young: CAES adopts a common-sense approach to integrating acquisitions. As in the case of Colorado Engineering, their culture which centered on developing teams of systems engineers and strong reputation in radar and EW markets were a perfect complement to our market leading manufacturing capabilities. Their engineering skillset is best-in-class, and we look forward to leveraging those practices throughout the company through IRAD projects that target higher levels of integration and increasing use of digital and software technologies.
JED: How do you think the DOD's embrace of open software and hardware standards (FACE, SOSA, etc.) will influence technology companies, such as CAES, going forward?
Young: The DOD's embrace of open software and hardware standards, such as SOSA and others, is definitely driving adoption of standard form factors. As a member of SOSA, we are actively involved in these standards and are adopting SOSA-compliant form factors, such as our newly introduced 3U Up/Down Converter, which integrates numerous advanced capabilities in a small form factor. 10 years ago, it would have taken 3 boards to achieve comparable capability. This new CAES product is fully SOSA-compliant and offers industry-best capability in a compact package, including 350 nanoseconds tuning speeds and low spurious emissions, as well as 2 GHz instantaneous bandwidth over a range of 0.5 to 18 GHz.
A Messsage from AOC President
Welcome back to D.C.! Finally we are able to come together after almost two years since the last AOC International Symposium & Convention, our annual opportunity to talk, network, exchange ideas to promote electromagnetic spectrum operations (EMSO), electromagnetic warfare (EW), cyber electromagnetic activities (CEMA), and information operations (IO). Of course, we have had some in-person conferences this year: CEMA, the Dixie Crow chapter event, and AOC Europe, but there is something about coming together in D.C. as a murder of crows.
Our symposium's theme of "All-Domain Operations – Integrating Effects Across the Spectrum" highlights the importance of EMSO and builds on our 2019 "Building the EMS Enterprise." All domain requires an awareness and understanding of the electromagnetic spectrum, its properties, and the need to command and control effects. The electromagnetic spectrum is the only domain that encompasses and empowers operations across the other domains; it is a critical maneuver space.
I would especially like to thank our host sponsor, L3Harris Technologies, and all of our sponsors for making this event possible as well as all the exhibiting companies. Our exhibition floor is an outstanding opportunity to reconnect and network with fellow EMSO warriors. We have thought-provoking keynotes, technical sessions led by top industry experts, and of course, the exhibition floor that provides multiple opportunities to gain new knowledge and perspectives. It takes a world-class team of professionals to pull a world-class event together. I want to recognize the exceptional AOC staff, our symposium committee led by Symposium Chair Jim "Hook" Pryor, and all the volunteers who give their time and talent. These folks have worked tirelessly throughout the year to make this event a reality.
We are here because we share common spectrum goals, the desire to sense, control, command, and protect our ability and capabilities within the EMS. This Symposium & Convention is your chance to reconnect with old friends, make new friends, network, and, most importantly, enjoy yourself. Unfortunately, the pandemic interrupted some of our efforts over the past 18 months. But AOC, YOUR association, has emerged stronger and larger due to your efforts and dedication as members. Let's continue building our EMS enterprise and support our warfighters.
Glenn "Powder" Carlson
AOC President
Our From the Crows' Nest podcast host, Ken Miller, will be recording live with many of our speakers from a studio located right in the exhibit hall. Start listening now and be sure to tune in for interviews and daily recaps throughout the event. Episodes will be available after the event for all to enjoy. Subscribe to AOC podcasts today.