On February 15th, the Calgary Herald published an op-ed written by CanSIA President & CEO John Gorman titled 'Here Comes the Sun - Alberta's next chapter on renewable energy'.
Fort Chipewyan, Alberta, will be building Canada's largest off-grid solar project with hopes of having it up and running by fall 2020. Once complete, the project will consist of 7,500 solar panels and will help offset 800,000 litres of diesel fuel that the community relies on for power.
"Walking through the doors of Regina's Lakeview School, you can feel the excitement. Students have been learning about Saskatchewan's solar capacity, and they're thrilled to learn that Regina has some of
the best solar power potential in Canada."
Watch how students at Lakeview School in Regina are learning about their province's solar potential.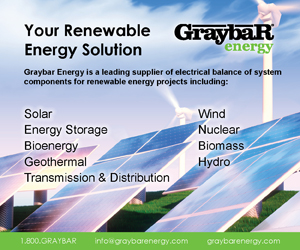 Join an estimated 2200 attendees and up to 100 exhibitors in Calgary from May 8-9, 2019 at Canada's must-attend event for solar energy professionals, stakeholders and advocates. Our comprehensive conference program will drive discussion, deliver insight and highlight opportunities in Canada's solar power industry. The Expo Hall includes suppliers representing the entire supply chain: solar integration, development, engineering and EPC, equipment manufacturers, utilities, consultants, federal, provincial and municipal governments, communities, and students.

Dive into the most important themes shaping Canada's solar industry of today and tomorrow including:

- Decarbonization & Electrification
- Distributed Solar & Storage
- Large Solar & Storage

Announced Keynote Speakers include:
● Mark Z. Jacobson, Director of the Atmosphere/Energy Program, Stanford University
● Katharine Hayhoe, Professor - Climate Change Center, Texas Tech University
● J. Charles Smith, Executive Director, Energy Systems Integration Group
CanSIA would like to welcome the following companies and organizations that have joined as Corporate and Supporter members:
- Alectric Solar Inc.
- Bird Construction Industrial Services Ltd.
- EfficiencyOne
- Helical Pier Systems Ltd.
- LONGi
- McNally Contractors (2011) Ltd.
- Southern Alberta Alternative Energy Partnership
Looking for a job in renewable energy? Check out the latest member employment opportunities posted on our site!
CanSIA Members can post job listings free of charge. To post a job on the CanSIA website, please send your employment opportunity in PDF format to info@cansia.ca.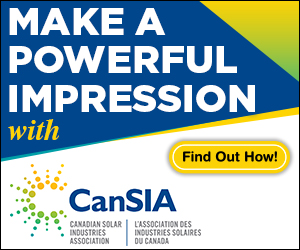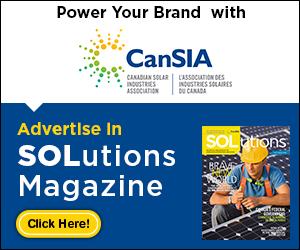 As part of an effort to streamline our communications to you, CanSIA sends out a monthly Member Benefits and Services newsletter. This newsletter brings together member benefit announcements into one monthly communication where information can be more easily accessed. Please rest assured that, where valuable to our members, time-sensitive benefits will be communicated separately as urgent news.
Ontario families, small businesses, and employers deserve more than high electricity bills and a lack of consumer choice. What if the new provincial government could help provide a real solution that helped you lower your electricity bill while providing you with more energy options?
Join the movement to support lower electricity bills and greater energy independence.
CALGARY, AB, FEBRUARY 15, 2019 - Three new solar electricity facilities to be built in south eastern Alberta (Canada) have been selected through a competitive process to supply the Government of Alberta with 55 per cent of their annual electricity needs. The facilities will be built near Hays, Tilley, and Jenner, by Canadian Solar with Conklin Métis Local #193 as 50-percent equity owners.