OrcaLab, a research station in a remote part of Vancouver Island has gone solar! In order to reduce the number of boat trips taken to refuel their gas generators, the research station has installed solar panels to keep their facility powered without disturbing the whales.
The first known wind-solar battery storage project in Canada has been completed recently by the Cowessess First Nation in Saskatchewan. A new 340 KW solar array was added to their existing wind and battery storage site that was originally installed in 2013.
This project has also won CanSIA's Game Changer Award for the Indigenous Solar Project category.
In Walt Disney World, a new 50 MW Solar Power facility (shaped like Mickey Mouse, obviously) is set to open at the end of the year! Situated just outside of Animal Kingdom, it is expected to be made up of more than 500,000 panels and will reduce greenhouse gas emissions by more than 57,000 tonnes each year.
After almost 30 years, Chernobyl is producing power again - this time through harnessing energy from the sun! Over 3,700 solar panels have been installed just over 100m away from Reactor 4, where the disaster in 1986 first started.
Solar-powered fridges are helping health workers in Haiti transport and store vaccines for residents across the country. As vaccines often need to be stored in a temperature-controlled environment, these fridges make it easier to bring life-saving vaccinations to people living in remote, off-grid parts of the country.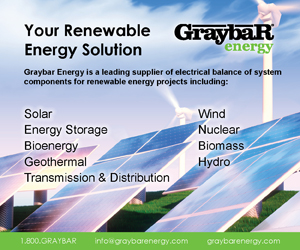 The Buildings Show is the leader in sourcing, networking and education in Canada for the design, architecture, construction and real estate communities. The Show is home to Construct Canada, HomeBuilder & Renovator Expo, IIDEXCanada, PM Expo and World of Concrete Pavilion.

More than 30,500 trade professionals attend the Show annually to discover new innovations across the building industry and source the latest materials, products, tools and technologies from more than 1,600 Canadian, US and international exhibits. Through the Show's comprehensive seminar program, attendees can choose from 350+ seminars, keynotes, summits and round tables led by a roster of 500+ industry experts.
The Canadian Solar Industry Association and the Nova Scotia Department of Energy and Mines have partnered to co-host a one-day solar industry event. The event will take place at the Halifax Marriott Harbourfront on Tuesday December 4th, 2018 from 9 AM to 3 PM Atlantic Time.

This event will bring together industry stakeholders to network and share experiences, provide feedback on solar policies and programs in Nova Scotia to the DoEM, and hear presentations on relevant solar topics. The event will also include an exhibit section to showcase Nova Scotia's growing solar industry!
Provincial governments and consumers are focusing more on renewable energy in an effort to lower greenhouse gases and utilize more affordable sources of energy. This has created a tremendous opportunity for companies to expand their market presence in Canada. Solar Canada Conference & Exposition 2019 will provide an excellent platform to connect with industry professionals and enter this growing market.

Network with an estimated 2200 attendees and up to 100 exhibitors representing the entire supply chain: solar integration, development, engineering and EPC, equipment manufacturers, utilities, consultants, federal, provincial and municipal governments, communities, and students.
CanSIA would like to welcome the following companies and organizations that have joined as Corporate and Supporter members:
-CWB Maxium Financial Inc.
-Endless Green Energy
-Solar Ascent
-Tekpower Energie Inc.
-Red Deer College
-Rexel Canada Electrical Inc. - Atlantic Division
-Southern Alberta Alternative Energy Partnership
Looking for a job in renewable energy? Check out the latest member employment opportunities posted on our site!
CanSIA Members can post job listings free of charge. To post a job on the CanSIA website, please send your employment opportunity in PDF format to
info@cansia.ca.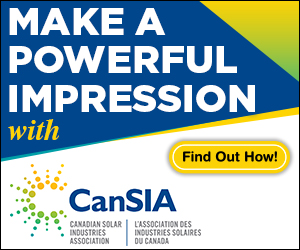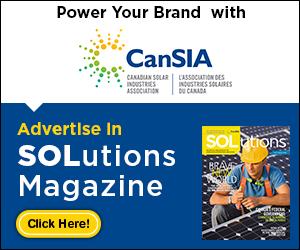 The Canadian Solar Industries Association (CanSIA) recognized outstanding achievements in the solar industry through our sixth annual Game Changer Awards, hosted at Solar Ontario 2018 on November 14th. The awards recognized the excellence of the many individuals and organizations that have helped the solar energy industry mature by pursuing the path that will lead us to an even brighter future.
SOLutions
digs deeper into key issues on the political and regulatory scene, and is clearly focused on the future of the solar industry. From vision to value,
SOLutions
engages high-level stakeholders and industry insiders in the solar industry conversations that need to happen.