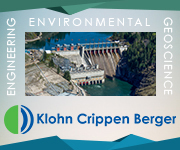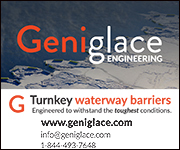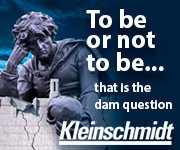 CDA is pleased to announce the inauguration of 2 new awards: Constructed Project Award of Excellence and CDA Young Professional Award, marking the occasion of CDA's 25th anniversary celebrations.

The CDA Constructed Project Award of Excellence recognizes teams that have made significant contributions to the dam industry in Canada and to society through the design, construction, remediation, upgrading, decommissioning, reclamation, and/or closure of dams. For details, please click here. Apply before June 30th!

The CDA Young Professional Award recognizes, celebrates, and acknowledges the contributions, engagement, and commitment of Young Professionals to the dam industry in Canada. This is awarded to individuals who are in their early career stages and demonstrate professional commitment in the dam industry, either through their technical achievements, volunteer work and/or their community involvement. They exemplify CDA's mission by the way they develop their skills and expertise in dam engineering and management disciplines. For details, please click here. Apply before August 12th!

L'ACB est heureuse d'annoncer l'inauguration de 2 nouveaux prix : le Prix d'excellence pour les projets construits et le Prix Jeune professionnel(le) de l'ACB, marquant l'occasion des célébrations de notre 25e anniversaire.

Le Prix d'excellence pour les projets construits récompense les équipes qui ont apporté une contribution importante à la société et à l'industrie des barrages du Canada par la conception, la construction, la réfection, la modernisation, le déclassement, la remise en état ou la fermeture de barrages. Pour plus de détails, cliquez ici. Proposez une candidature avant le 30 juin !

Le Prix Jeune Professionnel(le) de l'ACB reconnaît et célèbre les contributions, l'engagement et le dévouement de jeunes professionnels envers l'industrie des barrages au Canada. Il est décerné aux personnes en début de carrière en fonction de leurs réalisations techniques, de leur travail bénévole et/ou de leur engagement communautaire. Ces personnes illustrent la mission de l'ACB par la façon dont elles développent leurs compétences et leur expertise dans les disciplines de l'ingénierie et de la gestion des barrages. Pour plus de détails, cliquez cliquez ici. Proposez une candidature avant le 12 août !
The Canadian Dam Association will be hosting a Canada Pavilion during the 27th ICOLD Congress, from May 27 to June 3, 2022, and participating companies can market and promote their expertise in the exhibition space.

Exciting news! Limited funding is now available to support Canadian companies interested in participating in the Canada Pavilion. Take this opportunity to promote and share your Canadian expertise with ICOLD members from around the world.

This will be the first big international event that many companies attend going back a couple of years… We know that many Canadians will be presenting at the Congress and at the Symposium. Please contact ibd@cda.ca for more information.

L'Association canadienne des barrages accueillera un pavillon du Canada lors du 27e Congrès de la CIGB, du 27 mai au 3 juin 2022, et les entreprises participantes pourront commercialiser et promouvoir leur expertise dans l'espace d'exposition.

Bonne nouvelle ! Un financement limité est maintenant disponible pour soutenir les entreprises canadiennes intéressées à participer au Pavillon du Canada. Profitez de cette occasion pour promouvoir et partager votre expertise canadienne avec les membres de la CIGB venant des 4 coins du monde.

Ce sera le premier grand événement international auquel de nombreuses entreprises assisteront depuis plusieurs années... Nous savons que de nombreux Canadiens feront une présentation au Congrès et au Symposium. Veuillez contacter ibd@cda.ca pour plus de détails.
Mining Dams Committee has just announced the publication in French of the technical bulletin Tailings Dam Breach Analysis (Analyse de bris de digues à résidus miniers).

This Technical Bulletin, published in English in 2021, is intended to provide dam safety professionals with guidance for conducting a Tailings Dam Breach Analysis (TDBA). The Bulletin outlines a step-by-step procedure for detailed dam breach analysis based on the current state of practice.

Available in PDF format and soon to be published in hard copy, it is available for order online.

The English versions are also available through the CDA store.

Le comité des barrages miniers vient d'annoncer la parution en français du bulletin technique « Analyse de bris de digues à résidus miniers ».
Ce bulletin technique, publié en anglais en 2021, a pour but de fournir des conseils aux professionnels de la sécurité des barrages miniers pour la réalisation d'une analyse de ruptures de digues à résidus miniers (ARDRM). Ce bulletin présente une procédure, étape par étape, en vue de l'analyse détaillée d'une rupture de barrage fondée sur l'état actuel de la pratique. Intéressé?
Disponible au format PDF et bientôt disponible en version imprimée. Achetez-le sur notre magasin en ligne.
| | | |
| --- | --- | --- |
| Help out by participating in the organization of CDA activities in French, the growth in the professional network of francophone contributors to CDA (e.g., universities and organizations),or get involved in different CDA committees as a representative of the Francophone Committee. In particular, we are looking for volunteers to collaborate with the Honours and Awards Committee and the Membership Committee. To join the team: comite-francophone@cda.ca | | Venez participer à l'organisation d'activités, à l'édification du réseau de collaborateurs francophones de l'ACB (universités et entreprises) ou vous impliquer dans les différents comités de l'ACB à titre de représentant du comité francophone. Nous recherchons notamment des bénévoles pour collaborer avec le comité des prix et honneurs et le comité des adhésions. Pour rejoindre notre équipe dynamique : comite-francophone@cda.ca. |
"The National Volunteer Week theme for 2022, Volunteering Is Empathy In Action, affirms the strong connection between volunteerism and empathy. This profoundly human connection is at the heart of healthier individuals and stronger communities. Empathy is a quality that can help people relate to others and build awareness around different experiences. It connects people in ideas and actions and helps create bonds forged in common goals and aspirations." says the National Volunteer Week 2022 website.

As we count many dedicated and passionate volunteers amongst our members, CDA would like to encourage you to share your pride as one of CDA's volunteers. You can do so by customizing your own personal "National Volunteer Week" picture here and share it during the week of April 24-30.




« Le thème de l'édition 2022 de la Semaine de l'action bénévole, Le bénévolat est l'empathie en action, confirme le lien étroit entre le bénévolat et l'empathie. Ce lien profondément humain est au cœur de l'amélioration du bien-être des gens et de la résilience des collectivités. L'empathie est une qualité qui aide les gens à établir des rapports avec les autres et à les sensibiliser à différentes expériences. À partir d'idées et d'actions, elle permet de nouer des liens fondés sur des objectifs et des espoirs communs », peut-on lire sur le site Internet de La Semaine de l'action bénévole 2022.

Comme nous comptons de nombreux bénévoles dévoués et passionnés parmi nos membres, l'ACB aimerait vous encourager à partager votre fierté d'être un des bénévoles de l'ACB. Vous pouvez le faire en personnalisant votre propre photo de la « Semaine nationale de l'action bénévole » ici et partagez-la pendant la semaine du 24 au 30 avril.
| | | |
| --- | --- | --- |
| For any technical translation, you are free to consult the ICOLD website that includes a technical dictionary for terms in many languages. Very easy to use, you can input a word in one language and ask for it in another one… très pratique !!! You are also welcomed to provide comments and corrections to help with the accuracy of this tool. See the ICOLD dictionnary. | | Pour toute traduction technique, vous pouvez utiliser le site Web de la CIGB qui comprend un dictionnaire. Très facile à utiliser, vous pouvez entrer un mot dans une langue et le demander dans une autre... very useful !!! Vous êtes également invités à fournir des commentaires et des corrections pour aider à l'exactitude de cet outil. Découvrir le dictionnaire de la CIGB. |
On behalf of the Dam Safety Committee, we'd like to thank everyone who participated in our recent survey on the Dam Safety Guidelines. The responses, and especially the detailed comments, will be very useful to the committee as they consider future revisions to the Guidelines, and we appreciate your thoughtful input.

The Guidelines technical bulletin is one of CDA's premier publications. The support and commitment to our mission shown by those who responded to the survey is indicative of your engagement on dam safety and with CDA, and is very heartening to the committee. This feedback provides real insight into the ways the Guidelines are used and how they can be more helpful to our community.

Once again, a very heart-felt "thank you!"

Au nom du Comité de la sécurité des barrages, nous aimerions remercier tous ceux qui ont participé à notre récent sondage concernant les Recommandations de sécurité des barrages. Les réponses, et surtout les commentaires détaillés, seront très utiles au comité lorsqu'il procédera aux futures mises à jour. Nous sommes donc reconnaissants envers vous pour votre précieuse contribution.

Le bulletin technique Recommandations de sécurité des barrages est l'une des principales publications de l'ACB. Le soutien et l'engagement envers notre mission dont ont fait preuve ceux qui ont répondu au sondage témoignent de leur intérêt à l'égard de la sécurité des barrages et de l'ACB, et sont très encourageants pour le comité. Ces commentaires donnent un réel aperçu de la façon dont les recommandations sont utilisées et comment elles peuvent s'avérer plus utiles pour notre collectivité.

Encore une fois, un grand merci du fond du cœur!
Have You Read The Last Issue of The CDA Bulletin?

The electronic version of our quarterly magazine, CDA Bulletin, is available here. You will find of note in this issue an article on the Alberta Environment and Parks PFMEA Tool for Risk-informed Dam Safety Prioritization.

Avez-vous lu la dernière édition du Bulletin de l'ACB?

La version électronique de notre magazine trimestriel est disponible ici. Vous y trouverez notamment un article sur l'outil AMDEP de l'Alberta Environment and Parks pour la priorisation basée sur le risque en sécurité des barrages.
| | | |
| --- | --- | --- |
| Sometimes international development can be difficult without the appropriate network. CDA helps its members and Canadian companies grow their international business with the support of CDA's International Business Development working group. For more information about our services and strategy, please visit our website or contact us at ibd@cda.ca | | Parfois, le développement international peut être difficile sans le réseau approprié. L''ACB aide ses membres et les entreprises canadiennes à faire croître leur activité avec l''appui du groupe de travail pour le Développement des affaires internationales pour les entreprises canadiennes de l''ACB. Pour plus d''informations sur nos services et notre stratégie, veuillez visiter notre site Web ou nous contacter à ibd@cda.ca |

Donate to the CDA Scholarship Fund
Select CDA Scholarship in the Scrolling Menu
Faire un don au fond de bourses d'études de l'ACB
Sélectionnez CDA Scholarship dans le menu déroulant.
In this issue:

- Canada (Environment and Climate Change Canada)

Dans ce numéro:

- Canada (Environnement et Changement climatique Canada)
- The BC Ministry of Forests, Lands, Natural Resource Operations and Rural Development is looking for a Senior Engineer, Dam Safety.
- Klohn Crippen Berger Ltd., is looking for a Senior Civil/Hydrotechnical Engineer with minimum 10 years of relevant experience.
- KCB Vancouver is looking for a Senior Water Resources Engineer someone with more than 8 years of Water Resources experience.
- Klohn Crippen Berger Ltd., is looking for a Senior Geotechnical Engineer with more than 15 years of geotechnical experience.
- Klohn Crippen Berger Ltd., is looking for a Senior Geological Engineer with more than 10 years of Geological Engineering experience.
There are many Bronze options still available.

From Food Stations to the Young Professionals Social Event, and from the First Time Attendee Contest to Workshops and Tours, there are affordable and targeted opportunities for sponsorship.

The CDA Annual Conference and Exhibition facilitates gathering of dam professionals, academics, owners, and regulators to collaborate and advance knowledge through keynote presentations, technical papers, workshops, and supplier exhibits.

Date: October 17-19

De nombreuses possibilités de commandites Bronze sont encore disponibles. Des stands de restauration à l'événement social des jeunes professionnels, en passant par le concours pour les nouveaux participants, les ateliers et les visites, il existe de nombreuses possibilités de commandites abordables et ciblées.

Le congrès annuel de l'ACB est un carrefour d'échange d'informations et offre de formidables occasions de réseautage, de rencontre de nouveaux clients, de communication et d'apprentissage.

Date: 17-19 octobre
The objectives of the Basic Dam Safety Review Workshop are to present the concepts developed in the CDA's Technical Bulletin: Dam Safety Reviews. Participants will gain an introductory understanding of the following:1- Dam Safety Review process as described in the CDA technical bulletin, 2- Roles and expectations of the dam owner and review engineer and 3- Role of a Dam Safety Review within a dam safety program.

Date: Wednesday April 20th
Time: 11am – 3pm ET

Les objectifs de l'atelier de base sur les examens de sécurité des barrages sont de présenter les concepts présentés dans le bulletin technique de l'ACB : Examens de la sécurité des barrages. Les participants acquerront une compréhension fondamentale des éléments suivants : 1) le processus d'examen de la sécurité des barrages, tel que décrit dans le bulletin technique de l'ACB; 2) les rôles et attentes du propriétaire du barrage et de l'ingénieur chargé de l'examen; 3) la place de l'examen de la sécurité des barrages dans un programme de sécurité des barrages.

Date : Mercredi 20 avril

Heure : 11h - 15h HE
Ideal for dam owners or professionals unfamiliar with dams, this newest CDA course provides an introduction to the various types of dams, how they function, and how to identify and mitigate potential risks. Participants will also gain clarity on key roles and responsibilities. This is an interactive workshop that CDA members can book to offer in their workplaces and with key stakeholders.

Date: Thursday May 5th
Time: 1pm – 4pm ET

Idéal pour les propriétaires de barrages ou les professionnels qui ne sont pas familiers avec les barrages, ce tout nouveau cours de l'ACB propose une introduction aux différents types de barrages, à leur fonctionnement et à la façon de déterminer et d'atténuer les risques éventuels. Les participants obtiendront également des éclaircissements sur les principaux rôles et responsabilités. Il s'agit d'un atelier interactif que les membres de l'ACB peuvent organiser en milieu de travail et auprès d'intervenants clés.

Date : Jeudi 5 mai

Heure : 13h - 16h HE
The Ontario Waterpower Association (OWA) in partnership with the Canadian Dam Association (CDA) will be hosting an Emergency Management Workshop on May 11th from 8:00AM to 4:00PM (ET) at the White Oaks Conference Resort in Niagara. The workshop will identify the existing resources for emergency preparedness and management and how to prepare for and respond to emergencies. It will be of benefit to dam owners, managers, regulators on emergency preparedness and response.
The workshop will be held in conjunction with the Power of Water Canada Conference & Trade Show. Registered workshop delegates will receive a 20% discount off their POWC conference pass.

Date: Wednesday May 11th

Time: 8:00am - 4:00pm ET

L'Ontario Waterpower Association (OWA), en partenariat avec l'Association canadienne des barrages (ACB), présentera un atelier sur la gestion des urgences le 11 mai prochain, au White Oaks Conference Resort, à Niagara. L'atelier permettra de recenser les ressources existantes en matière de préparation et de gestion des urgences et d'expliquer comment se préparer et intervenir en cas d'urgence. Il profitera aux propriétaires de barrages, aux gestionnaires et aux organismes de réglementation en matière de préparation et d'intervention en cas d'urgence.

L'atelier aura lieu parallèlement au

Power of Water Canada Conference & Trade Show

. Les participants à l'atelier recevront un code pour obtenir une réduction de 20 % sur leur inscription au congrès Power of Water Canada de l'Ontario Waterpower Association.

Date: Mercredi 11 mai
Heure: 8:00 - 16:00 HE
In this event, members of both the Canadian Dam Association and British Dam Society will explain the roles of their organization, the process to become a licensed engineer in each country, specific processes that are unique to their country and more. Following these presentations, attendees will have the opportunity to ask questions to presenters from both countries. If you have ever wondered how similar organizations to the CDA operate in other countries or have been curious of the process to become a licensed engineer in another country, this is the presentation for you!

Date: Thursday April 7th

Time: 12pm ET

À l'occasion de cet événement, des membres de l'Association canadienne des barrages et de la British Dam Society expliqueront les rôles de leur organisation respective, le parcours à suivre pour devenir un ingénieur agréé dans chaque pays, les processus propres à chacun et plus encore. Après ces présentations, les participants pourront poser des questions aux présentateurs des deux pays. Si vous vous êtes déjà demandé comment des organisations similaires à l'ACB fonctionnent ailleurs ou si vous souhaitez connaître le processus à suivre pour obtenir un permis d'ingénieur dans une autre partie du monde, cette présentation est faite pour vous!

Date : Jeudi 7 avril 2022

Heure : 12 h HE
This webinar will discuss about diverse geotechnical construction undertaken during the course of project development in the Nunavut territories where permafrost conditions prevail. It will touch base on different subjects such as the main lessons learned along the journey with respect to the design, construction phase, the surveillance and monitoring practices. It will also briefly discuss the governance structure implemented to manage with the highest level of care these infrastructures. In French.

Date: Thursday April 14th
Time: 12pm-1pm ET

Ce webinaire discutera des diverses constructions géotechniques entreprises au cours du développement de projets dans les territoires du Nunavut. Il abordera différents sujets tels que les principales leçons apprises tout au long du parcours en lien avec la conception, la construction et les pratiques de surveillance. Il abordera également brièvement la structure de gouvernance mise en place depuis 2017 pour gérer avec le plus grand soin ces infrastructures.

Date : Jeudi 14 avril 2022
Heure : 12h-13h HE
Dear Colleagues, the Ontario Waterpower Association (OWA) is pleased to invite you to attend the 21st annual

Power of Water Canada (POWC) Technical Conference & Trade Show

! POWC is set to take place May 11-13, 2022 at

White Oaks Conference Resort

located in Niagara-on-the-Lake, Ontario.

As Canada's largest hydroelectric event, the OWA is excited to provide numerous educational sessions, the opportunity to connect with a several exhibitors, and endless networking opportunities.

Interested in showcasing your organization's products and services at this esteemed event? A few exhibit booths are still available!

Click here

to learn more about exhibit opportunities, or email

bmcmullen@owa.ca

Date: May 11-13

Time: 8am - 4pm ET


Dans le cadre du plus grand événement hydroélectrique du Canada, l'OWA est ravie d'offrir de nombreuses séances éducatives, l'occasion de rencontrer plusieurs exposants et d'innombrables possibilités de réseautage.

Vous souhaitez présenter les produits et services de votre organisation dans le cadre de cet événement prestigieux? Quelques emplacements sont encore disponibles! Cliquez ici pour en savoir plus sur les possibilités d'exposition, ou envoyez un courriel à

bmcmullen@owa.ca

.

Date: 11-13 mai
Time: 8h - 16h HE
CDA is excited to announce that we will be participating in the ICOLD Congress in Marseille and will host a Canada Pavilion in the exhibition space. We invite Canadian companies interested in sharing exhibition space under the Canada Pavilion banner to contact us as soon as possible at

ibd@cda.ca

Date: May 27 - June 3

L'ACB est heureuse d'annoncer qu'elle participera au Congrès de la CIGB à Marseille et qu'elle aménagera un Pavillon du Canada dans le cadre de l'exposition. Nous invitons les entreprises canadiennes intéressées à partager un espace sous la bannière du Pavillon du Canada à nous contacter dès que possible à

ibd@cda.ca

.

Date: 27 mai - 3 juin