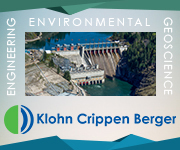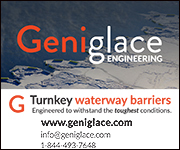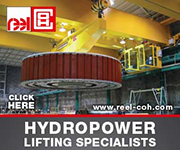 The Dam Safety Committee (DSC) is currently reviewing the Canadian Dam Association's current (2013) version of the main Dam Safety Guidelines and the various related technical bulletins that support them. To this end, the DSC has put out a questionnaire aimed at receiving technical feedback on these very important documents. While select sections of the guidelines were revised in 2013, the vast majority of the guidelines and technical bulletins are as published in 2007. Given the importance of this guidance to the entire Dam Safety Community across Canada, it is imperative that a broad cross section of the CDA membership is engaged on this topic and the success of this engagement is contingent on the thoughtful input from those using the guidelines. To learn more and to complete the questionnaire, we invite you to access this link.

Please note that this survey is open to members only. When you click on the link above, you will need to enter your credentials.

La version en français du sondage vient tout juste d'être mise en ligne.

Le comité sur la sécurité des barrages (CSB) se penche sur la version actuelle (2013) des « Recommandations de sécurité des barrages » de l'Association canadienne des barrages et sur les divers bulletins techniques qui s'y rapportent, dont plusieurs remontent à 2007. À cette fin, le DSC a mis en place un questionnaire visant à recevoir des commentaires techniques sur ces documents très importants. Bien que certaines sections des Recommandations aient été révisées en 2013, la grande majorité du contenu des Recommandations et plusieurs des bulletins techniques sont tels que publiés en 2007. Étant donné l'importance de ces Recommandations pour l'ensemble de la communauté en sécurité des barrages à travers le Canada, il est impératif qu'une grande proportion des membres de l'ACB de partout au Canada soit engagée sur ce sujet et le succès de cet engagement dépend de la contribution réfléchie de ceux qui utilisent les Recommandations. Pour en apprendre davantage et pour répondre au sondage, nous vous invitons à accéder à ce lien.

Veuillez prendre note que ce sondage est ouvert aux membres uniquement. Quand vous cliquerez sur le lien ci-dessus, vous devrez entrer vos identifiants.
We're growing our Professional Development program! The first step in doing that is through a Learning Needs Assessment, and we're looking for two experienced dam safety professionals (10+ years) to serve on the project working group.

The Learning Needs Assessment Project will run from January 2022 to September 2022 (or later as required to complete the project). You will serve on the Learning Needs Assessment Working Group (LNAWG) of the Professional Development Committee alongside 4 other WG members.

Nous élargissons notre programme de perfectionnement professionnel! À cette fin, nous devons d'abord évaluer les besoins d'apprentissage et nous sommes à la recherche de deux professionnels d'expérience dans le domaine de la sécurité des barrages (comptant au moins 10 ans d'expérience) pour faire partie du groupe de travail chargé de la réalisation du projet.

Le projet d'évaluation des besoins d'apprentissage commencera en janvier 2022 et se terminera en septembre 2022 (ou ultérieurement, si nécessaire). Vous ferez partie du groupe de travail responsable de l'évaluation des besoins d'apprentissage du comité de développement professionnel en compagnie de quatre autres membres.
On December 10, 2021, the Engineering Institute of Canada (EIC) announced its 2022 winners. The full list is available from their

website

.

The CDA is proud to have had two CDA members honoured this year:

Le 10 décembre 2021, l'Institut canadien des ingénieurs (ICI) a annoncé ses lauréats 2022. La liste complète peut être consultée sur le

site Web de l'Institut

.

L'ACB est fière d'avoir deux de ses membres honorés cette année :
The Dam Safety Committee (DSC) has posted the draft version of the Design and Construction Considerations Technical Bulletin for comments by members.

This document is a description of the process of dam design and construction, together with pointers as to where problems may arise, and suggestions on avoiding them. It is intended to apply both to new dam construction and rehabilitation projects, because society demands that any new construction or rehabilitation of older structures be designed and executed to the best of current knowledge and
practice.

Thank you for your support and time in reviewing this bulletin.

Le comité de la sécurité des barrages (CSB) a mis à la disposition des membres une ébauche du bulletin technique intitulé « Considérations liées à la conception et à la construction » aux fins de commentaires.

Ce document décrit le processus de conception et de construction des barrages, donne des indications sur les problèmes qui pourraient survenir et des suggestions pour les éviter. Il est conçu de manière à s'appliquer aussi bien à la construction de nouveaux barrages qu'aux projets de réfection, car la société demande que toute nouvelle construction ou réfection de structures existantes soit conçue et mise en œuvre sur la base des connaissances et des pratiques les plus actuelles.

Merci de votre temps et de votre soutien pour la revue de ce bulletin.
| | | |
| --- | --- | --- |
| The PDF version of the proceedings of Ottawa 2019 is now available free of charge through the ICOLD website (on the webpage of the new editor). | | La version PDF des comptes rendus de la réunion annuelle 2019 tenue à Ottawa est maintenant accessible gratuitement par l'intermédiaire du site Web de la CIGB (sur la page Web du nouvel éditeur). |
In this issue:

British Columbia

Quebec

Ontario

Dans ce numéro:

Colombie-Britannique

Québec

Ontario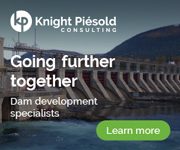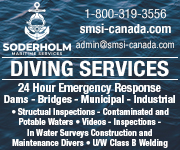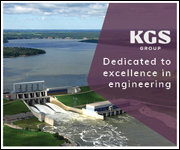 | | | |
| --- | --- | --- |
| Surveying technologies have changed significantly over the past 15 years with such things as the addition of terrestrial scanning and UAV aerial surveys. In this webinar, Nathan Kroeker and James Deschamps, both of WATT Consulting Group, will discuss contemporary technologies and procedures used in deformation monitoring and engineering surveys of earthen dams and associated structures. | | Les technologies de levés ont radicalement changé au cours des 15 dernières années, avec l'arrivée, entre autres, des levés par balayage terrestre et des levés aériens par drone (UAV). Au cours de ce webinaire, Nathan Kroeker et James Deschamps, tous deux de la firme WATT Consulting Group, passeront en revue les technologies et procédures contemporaines utilisées pour effectuer la surveillance des déformations et les levés d'étude des barrages en terre et des ouvrages connexes. |
Technical sessions will consider past performance and historical design criteria of aging infrastructure while focusing on environmental, social, economic and technological changes as well as evolving expectations of regulatory regimes related to the construction and operation of dams.


January 28, 2022 – Abstracts due for papers



Only 4 Gold level options left!

Les séances techniques porteront sur les anciens critères de conception et de performance des infrastructures vieillissantes, sur les changements environnementaux, sociaux, économiques et technologiques touchant la construction et l'exploitation des barrages ainsi que sur l'évolution des attentes des cadres de réglementation à cet égard.


28 janvier 2022 – Date limite pour les résumés d'articles



Niveau d'Or - seulement 4 disponible!
Dam Inspection and Surveillance

Dam Inspections- types and best practices

Dickson Dam Instrumentation and Surveillance

Current State-of-the-art and Unique Site Specific Methods

Types d'inspections de barrages et pratiques exemplaires

Instrumentation et surveillance du barrage Dickson

État actuel des connaissances et méthodes uniques propres au site
| | | |
| --- | --- | --- |
| We have the great pleasure to announce the final bulletin of of the 27th congress of ICOLD, of the symposium organized by the CFBR "Sharing Water: Multi-Purpose of Reservoirs and Innovations", the international round table on the challenges of dams in the 21st century, the meeting of ICOLD technical committees which will offer some thematic workshops presenting their work, training sessions on the main guidelines produced by the CFBR in recent years, technical visits and study tours, and many more moments. | | Le bulletin final du 27ème congrès de la CIGB, du symposium organisé par le CFBR « Partager l'eau : Multi-usages des réservoirs et innovations », la table ronde internationale sur les défis des barrages au 21ème siècle, la réunion des comités techniques de la CIGB qui proposera des ateliers thématiques présentant leurs travaux, des sessions de formation sur les principales recommandations produites par le CFBR ces dernières années, des visites techniques et des voyages d'étude, et bien d'autres moments. |