CSAE Honours & Awards recognize the best and brightest in Canadian association management — from outstanding teams to individual luminaries. Submit for a chance to be recognized at the CSAE's 2019 Conference & Showcase this October in Vancouver. Deadline: July 19, 2019.
Overview of Awards
• Awards of Distinction: for outstanding programs, services and initiatives you delivered to your members
• Pinnacle Award: for exceptional and outstanding association leadership
• Griner Award: for the contributions of CSAE Business Members
• Honourary Award of Excellence: for commitment and outstanding volunteer contributions to CSAE
• Donna Mary Shaw Award: for the next generation of association leaders

For more information on each award, click here.
The countdown is on! This October, join like-minded association professionals from across Canada for three days of learning and connection — designed to help you gain clarity, resolve your associations most pressing issues and achieve optimal results. Register before June 29 to take advantage of our early bird pricing!
Visit our website for more information.

Are you still selling Gold, Silver and Bronze sponsorship packages? Times have changed and you might be losing potential revenue! In this workshop, sponsorship expert Chris Baylis will equip you with the knowledge, tools and templates to stay on top of current trends and turn more of your proposals into sales.
Takeaways include:

• Sponsorship proposal templates
• The exact questions to use in meetings with sponsors
• Sample emails, pre-written, to help you secure the meeting
• A fulfillment report template
• Sales pipeline template
• 34-point sponsorship sales checklist
Learn more here!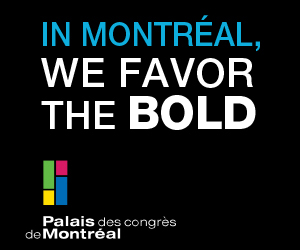 Member since 2011
I am the executive director of the Ontario Association of Landscape Architects (OALA), where I have worked in various roles since 2006. I am a graduate from the University of Toronto where I earned a BA (Hon.) in ethics, society and law. I find value in contributing to the CSAE community and am member of the CSAE Trillium Network's young professional's committee. I enjoy chatting with the brilliant and active committee members, tapping into their networks, and also attending the quarterly functions the committee hosts.
Read more about Aina.
If you consider yourself a "Leader on the Rise" we'd love to feature you on our website. Contact Casey Pope, Membership Specialist, at 416.363.3555 x 225 or casey@csae.com.
Member since 2018

My name is Alisha and I am the manager of association relations for MCI Group, which provides strategic event consulting and professional conference organization for Canadian and international meetings. As a young professional myself, I currently contribute to CSAE by sitting on the young professionals task force. I initially joined CSAE to meet more like-minded people. It has allowed me to be part of a network of resilient individuals who are passionate about what they do.
Read more about Alisha
Webinar
Speaker: Jordan Rodney
Sponsor: Max People
Price: Free for Members / $50.00 for Non-Members
Time: 1:00-2:00pm
Seminar
City: Toronto
Venue: Radisson Admiral Hotel - Toronto Harbour
Speaker: Meredith Low, Laura Williams, Erin Roberts
Sponsor: AV Canada, Tourism London, Beanfield Centre, BMO Institute for Learning, Bramm Research, Niagara Falls Business Events, MNP LLP
Price: $110.00 Member / $150.00 Non-Member
Time: 8:00am-1:00pm
Networking
City: Gatineau
Venue: Club de golf Hautes Plaines
Price: $125.00 - $500.00 Member / $140.00 - $500 Non-Member
Time: 2:00-7:00pm
Webinar
Speaker: Chris Baylis
Price: $80.00 Member / $120.00 Non-Member
Time: 1:00pm-2:00pm
Conference
July 10-12
City: Windsor
Venue: Caesars Windsor
This practical publication is designed to help volunteer Board Chairs who serve organizations with paid staff to properly prepare for this critical role and is an essential resource for association staff in assisting with the orientation of board leaders.

Excerpt: "Everyone has attended poorly chaired meetings, and yes, chairing meetings is the Chair's job. But it's not the only part, and some might suggest it isn't the most important aspect either. This publication explores various aspects of the Chair's job, but at the outset we need to set the stage for what is to follow. The Chair's job is to manage the board, not manage the Chief Staff Officer or the organization itself. The job of board Chair is an important one. Done well it can have a considerable impact on the organization as a whole: its effectiveness, efficiency, and public image. That's the opportunity before every board Chair, and one this publication hopes to help you attain."
Be a more effective staff or volunteer leader by embracing six emerging competencies, eight essential organizational foundations, and one unifying strategy (co-creation). This book offers insights to lead and sustain an organizational culture that embraces the opportunities a dynamic environment presents. Take a fresh look at leadership.

Excerpt: "Many books have been written about leadership competencies and leading organizational change efforts, but most of them are focused on the corporate sector and few can be applied to associations. Leading an association is different from leading in the for-profit sector, and this book is designed to provide association leaders and future association leaders with an understanding of the skills they to enhance or acquire to ensure their success as association leaders and the success of their associations."
Order at a 10% discount through June 30, 2019.
Do you have a recommended great read? Send your suggestion to nicolas@csae.com.
Have you thought about leveraging CSAE's relationship with over 15,000 association executives to fill your next position? Post your job to AssociationJobs.ca now! Remember CSAE members save 40%.
Interested in finding the latest career opportunities in the association sector? Click here to find the most recent postings, such as:
Title: Membership Coordinator
Organization: Canadian Society of Association Executives
Location: Toronto, ON
Get More Details
Title: Director, Women in Trades
Organization: Industry Training Authority
Location: Richmond, BC
Get More Details
A brand new way to create incredible event experiences. Boost event attendance, build community, launch your event app, monetize your event. Engage attendees, speakers, exhibitors, and sponsors with PheedLoop.
For more information, click here.