Join Vivian Swertinski on September 26 for a webinar focusing on the top goals, successes and challenges associations experience with marketing automation, and the role of marketing automation in your overall strategy.
This is an Insights Webinar, free of charge for CSAE Members. Non-members are welcome to register for $50 per organization.

Learn more and register.
Sponsored by:

Join CSAE president and CEO Tracy Folkes Hanson from 12-1 p.m. on Facebook Live. Hear results of the 2019 member survey and what's in store for members in 2019/2020. Bring your questions!
Can't make it on the 26th? The recording will remain available for replay on our Facebook page.
On October 22nd, join Dr. David Weiss in Vancouver for a full-day exploration of key questions around roles and the most effective approach for a board in developing the association's strategy. How can you work together to build a strategy that delivers sustainable competitive or comparative advantage? How can you track strategic progress and your investment in innovation?
Contribute greater value to the future of your organization with this outstanding day of learning and discussion led by one of the industry's best.
Attending the CSAE 2019 Conference? Maximize your time away with this extraordinary session! The Governance Forum takes place on the same day as the opening reception, happening on the evening of October 22nd.
For more information and to register, click here.
Sponsored by

Associations Connect is the online community for association and not-for-profit professionals in Canada. This robust platform offers many learning opportunities in the form of:
Past recordings of Insights webinars and CSAE 2018 Conference sessions, accessible on demand, free for CSAE members.
Discussion posts: Where professionals across the country come to ask questions and share knowledge. This has helped many association leaders to benchmark their activities and stay relevant.
Library entries: Templates and tools posted by and for community members.

Visit Associations Connect today to benefit from the brain trust and spirit of collaboration available across the sector, at your fingertips.


This focused 2-day symposium presented by Glenn Tecker & Donna French Dunn sets chief staff and their new board leaders on the path to a productive working relationship. You'll help set priorities for your organization and establish some common ground for joint leadership. Join us to find out why so many association leaders make this an annual commitment to success!
This event will be presented on February 24-25 in Toronto, and on February 27-28 in Calgary.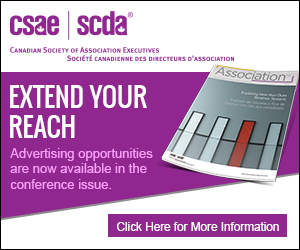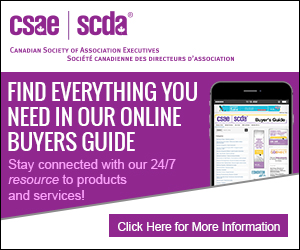 Winnipeg, MB
Lunch Session/Workshop
Speaker: Jonathan N. Strauss
Time: 11:30 AM – 1:00 PM
Ottawa, ON
Network event – CSAE Ottawa-Gatineau
Time: 2:30 PM – 7:00 PM
Online
CSAE Event
Insights Webinar
Speaker: Vivian Swertinski, Higher Logic
Edmonton, AB
Network event – CSAE Alberta
In-person event
Speaker: Dr. Judi Malone
Toronto, ON
Network event – CSAE Trillium
Reception and dinner, In-person event
Master of Ceremonies: Dave Hemstad
Time: 4:30 PM – 9:00 PM
Montréal, QC
Network event – CSAE Québec
In-person event
Speakers: Philippe Bourdeau, Nicola Martel, Danielle Poulin
Ottawa, ON
Network event – CSAE Ottawa-Gatineau
In-person event
Speaker: Marion Bailey-Canham
Toronto, ON
Network event – CSAE Trillium
In-person event
October 22-25
Conference and Showcase
Venue: Sheraton Wall Centre, Vancouver, British Columbia
Price: Early Bird Full Conference Pass – Members: $815.00 / Early Bird Full Conference Pass – Non Members: $1,065.00
Vancouver, BC
Workshop, in -person
Speaker: Dr. David Weiss
Time: 8:30 AM – 4:30 PM
Toronto, ON
Workshop, in-person event
Network event – CSAE Trillium
Facilitated by Fay Booker, FCPA-FCA, CIA, C.Dir., Acc.Dir., FCIS
Panel moderated by Korinne Collins
Time: 8:00 AM – 12:00 PM
Vancouver, BC
Network event – CSAE British Columbia
Luncheon, networking event
Time: 11:30 AM – 1:30 PM
Toronto, ON
Network event – CSAE Trillium
Networking event
Time: 4:45 PM – 9 PM
By Jim Brown
Excerpt:
"When my partner and I began our consulting practice in the 1990s, most people had no idea what the word governance even meant. Typically, CEOs and executive directors considered the board to be a necessary nuisance. Neither board members nor senior executives considered board coaching or director development to be of consequence. Indeed, there seemed to be a stigma that accepting any such service would tantamount to admitting they were not qualified to be at the board table."
Order at a 10% discount through September 30, 2019.


By Ed Rigsbee
Excerpt:
"For organizations that excel at member recruitment, this book provides the proverbial grinding stone for sharpening the axe. If you are an executive, staff person, or volunteer leader at this kind of an organization, even you will be challenged with the intent to improve. However, if you are involved with an organization that is stagnant, bleeding or even hemorrhaging members, this book will be your comprehensive guide for completely reversing your situation."
Order at a 10% discount through September 30, 2019.
Do you have a recommended great read? Send your suggestion to nicolas@csae.com.
Have you thought about leveraging CSAE's relationship with over 15,000 association executives to fill your next position? Post your job to AssociationJobs.ca now! Remember CSAE members save 40%.
Interested in finding the latest career opportunities in the association sector? Click here to find the most recent postings, such as:
Title: Executive Director
Organization: New Brunswick Dental Society / Société Dentaire du Nouveau-Brunswick
Location: Fredericton, NB
Get More Details
Title: Volunteer Events Coordinator
Organization: Victim Services of Durham Region (VSDR)
Location: Durham Region, ON
Get More Details
A leading provider of health and productivity management solutions to several of North America's top associations, including CSAE.
For more information, click here.