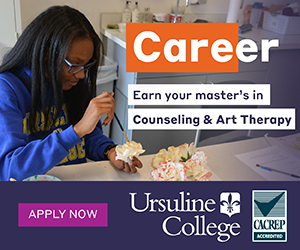 By Jordan S. Potash, PhD, ATR-BC, LCPAT, Editor in Chief, Art Therapy
In a fitting tribute to
Art Therapy
's fortieth volume, the journal has been recognized with an impact factor of 1.3.
Such an achievement is an important milestone in the history of the journal, which along with other measures (such as views and downloads), demonstrates that Art Therapy is recognized for producing trustworthy research, practice innovations, and theoretical contributions.
Clarviate
bestows this metric on journals that meet certain benchmarks of scholarship by calculating how frequently items from a particular journal are cited over a two-year period. We benefited from their
recent decision to extend impact factors
to journals on their Emerging Sources Citation Index (ESCI) – and not just the full index. However,
this debut impact factor is higher than anticipated, which puts Art Therapy on par with other social science journals that are hybrid research and practice,
as well as competitive with other journals closely aligned with our profession.
AATA has begun the hiring process for an Editor-in-Chief of Art Therapy: Journal of the American Art Therapy Association to join January 1, 2024 as Editor-Designate and then become Editor-in-Chief on January 1, 2025, to start January 1, 2025. The Journal is a peer-reviewed, scholarly publication that has a readership comprised of educators, practitioners, and students. Its mission is to inform the readership of research, recent innovations, and critical issues related to art therapy.
The role of Editor is only open to AATA credentialed professional members. Interested parties are encouraged to send inquiries to info@arttherapy.org with with CV and cover letter of interest.
We all have seen the horrific images of the wildfires in Maui, a magical place where so many people have visited and others call home. The series of wildfires that broke out earlier this month caused widespread damage and killed at least 115 people, leaving 850 others missing in the town of Lāhainā.
Members of the art therapy community in Maui shared with us their harrowing stories and experiences, as well as the resilient spirit of the community. They also asked that we share these resources in hopes that you will donate directly to support their recovery efforts.
| | |
| --- | --- |
| | During this workshop participants will learn about using Wild and Free Painting as a tool for Self-Care, as well as the Ethics of Self-Care. Join PATA on Sept. 9, 9:30 a.m. - 12:30 p.m. ET. (3 CEUs) |
| | |
| --- | --- |
| | Join us for our next All Member Meeting. Plus, hear from Megan VanMeter, MA, LPC (AZ), LMHC (IN), LPC-AT/S (TX), ATR-BC, about workplace bullying. |
♦ Creative & Expressive Arts Therapist I- Art Therapist, UPMC Children's Hospital of Pittsburgh
Art Therapist will conduct individual and group therapy as assigned using a C & E Arts Therapist specialty as part of the multidisciplinary team. This is an amazing opportunity to work with an award-winning hospital and enrich the lives of children each day.
Want to post or apply for art therapy jobs? Visit AATA's Career Center, the one-stop shop to help art therapists at all levels find new opportunities! For questions about the Career Center, email adamante@arttherapy.org.
The AATA's Art Therapy Today includes a digest of the most important news selected for the AATA from thousands of sources. Guest articles may be submitted to info@arttherapy.org. Publication of any guest article is at the sole discretion of the AATA. The opinions expressed and/or contents of guest articles, advertisements, and external links included in any AATA publication do not represent the positions or policies of the AATA. The AATA makes no warrenty or representation concerning the accuracy of such content.