Join Ethics Committee co-chairs Deborah Fung, LCAT, ATR-BC and Jennifer Waters, MA, ATR, LPCC, LMHC in their virtual, live, 3-part CEU series on Art Therapy Ethics to be held May 5, 6, and 15.
Each 2-hour session can be purchased individually or as a 6-hour BUNDLE at a discounted price. All sessions will be available for 30-day On-Demand viewing after the live event.
There's a powerful connection between the health of people, parks, and the planet. Join in the celebration by taking simple steps to care for yourself, care for others, and care for the Earth!
National ParkRx Day
is a day celebrated across the United States to promote the growing movement of prescribing parks and nature to patients to promote people's health.
This year, the National Park Service will be hosting a ParkRx Day event at Anacostia Park in Washington, DC, on April 22, 2023 with AATA, Project Create DC, and other partners.
AATA Member
Melissa Muttiah
, ATR, of Project Create DC, will facilitate a simple grounding touch-stone art project and offer brief psychoeducation on grounding. AATA Student Members Jessica Croker (an intern at Project Create DC) and Anna Hailstone (an intern at Martha's Table) will be assisting with the art project. So please come by and support this amazing opportunity for people to learn more about making art for wellness, as well as art therapy!
When: Saturday, April 22, 1-4pm (Activity stations will be open 1:30 - 3pm)
Where: Anacostia Park, Washington DC
Everyone is welcome, from older adults to families, youth and children!
The ATCB'S June 30 deadline for re-certification is just around the corner! Are you in need of CEUs for recertification? AATA's Online Learning Academy has got you covered! Our Continuing Education catalog offers up to 290 courses in Ethics, Neuroscience, Trauma, and more. AATA's 2022 Virtual Conference Sessions just opened for Self-Study and are now available for purchase at PRE-PANDEMIC PRICING ($20 per CEU)!
We are excited to share our Collection of Best Paper Award articles since this honor was established in 2012. Recipients demonstrate creativity and originality, scientific and professional quality, scholarship and significance. These articles advance the profession through innovative research, enhanced perspectives, and/or critical examinations.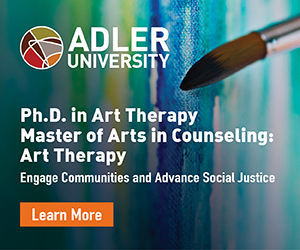 | | |
| --- | --- |
| | NJATA is hosting a series of webinars on building a private practice! Our first session in the series is Establishing Your Brand hosted by our Public Relations Chair Joanna Flora on April 23rd 10-11:30am. |
Join us for the third session of the live, 3-part CEU series on Supervision featuring past AATA President Margaret Carlock Russo, Ed.D., LCAT(NY), ATR-BC, ATCS, and Dr. Nicole Randick, ATR-BCS, REAT, LPC, NCC.
This 2-hour session can be purchased individually. It will be available for 30-day On-Demand viewing after the live event.
| | |
| --- | --- |
| | Please join the Pennsylvania Art Therapy Association on April 29th for our next CE event, featuring presenter and AATA President, Girija Kaimal! Dr. Kaimal will discuss her research about creativity, theories of biology, and brain sciences related to health and well-being. |