June is just around the corner! Are you in need of CEUs for recertification? AATA's Online Learning Academy has got you covered!
Our Continuing Education catalog offers up to 290 diverse courses in Ethics, Neuroscience, Trauma, and more. AATA's 2022 Virtual Conference Sessions just opened for Self-Study and are now available for purchase at
PRE-PANDEMIC PRICING ($20 per CEU)
!
"Meeting with [Ukrainian] people in war via Zoom, with bombs going blasting in the background or hindered by power outages. It brings the reality of their despair to the forefront each week. But it has also been incredibly rewarding. Seeing the resiliency, the courage and bravery in each person, holding their space in the smallest moments has been an honor. And being able to connect with other art therapists, creative therapists, dance therapists and expressive arts therapists around the world each week, gives me hope and inspires me in my personal and professional life. It has by far been one of the most rewarding professional experiences of my career."
The Journal is inviting submissions for an upcoming issue:
Special Issue on Art Therapy and Action
with Editor, Theresa Van Lith, La Trobe University, Melbourne, Australia. This special issue aims to examine how art therapists are responding to the devastation climate change has on the individuals, groups, communities they work with, and the environment that encompasses their practice. The deadline to submit is August 31, 2023.
National Endowment for the Arts (NEA) Military Healing Arts Network is embarking on the next phase of research funding to address priority research questions identified by Creative Forces in art therapy: How, through what mechanisms, and to what extent does art therapy affect emotional processing, self-regulation, and other symptoms of traumatic stress for service members and/or veterans?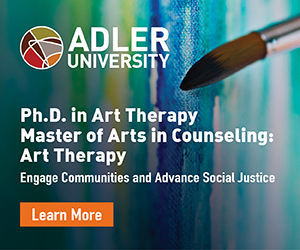 | | |
| --- | --- |
| | Join us for our next All Member Meeting to get updates on state licensure efforts, the annual conference, and more! This virtual meeting will start at 8 PM ET to accommodate our West Coast members. |
Join us for a live, 3-part CEU series on Supervision featuring past AATA President Margaret Carlock Russo, Ed.D., LCAT(NY), ATR-BC, ATCS, and Dr. Nicole Randick, ATR-BCS, REAT, LPC, NCC.
April 4, 6-8 PM EST
April 18, 6-8 PM EST
April 25, 6-8 PM EST
Each 2-hour session can be purchased individually for $50 or as a 6-hour BUNDLE at a discounted price of $125.
All sessions will be available for 30-day On-Demand viewing after the live event.
The AATA's Art Therapy Today includes a digest of the most important news selected for the AATA from thousands of sources. Guest articles may be submitted to info@arttherapy.org. Publication of any guest article is at the sole discretion of the AATA. The opinions expressed and/or contents of guest articles, advertisements, and external links included in any AATA publication do not represent the positions or policies of the AATA. The AATA makes no warrenty or representation concerning the accuracy of such content.