Join AATA on February 25th at noon ET for a live, virtual session celebrating Black History Month. Louvenia Jackson, Ph.D., LMFT, ATR-BC and a panel of black art therapy students will present about black visionary architect art therapists who have inspired them. Afterwards, Dr. Jackson will facilitate a discussion about the future of the field, and the experiences of black art therapy students.
The session will end with personal art sharing from the panelists, and an invitation for attendees to contribute their own art to a Padlet virtual bulletin board.
Everyone is welcome! Participants will be able to earn 1.5 CEU credit. The fee is $38 for members; $60 for non-members; and FREE for Student members.
AATA has launched an Art Therapy Bibliographic Search Tool! This new, interactive research tool helps art therapists find listings of art therapy publications and theses all in one place. The searchable database combines data from the following research sources: Art Therapy Outcomes Bibliography, Art Therapy Assessment Bibliography, Multicultural Committee Selected Bibliography and Resource List, and National Art Therapy Thesis and Dissertation Abstract Compilation.
This is a major upgrade, as this research data was previously housed in four separate, static documents.
AATA Member Exclusive: All AATA members have the benefit of viewing more details about each database entry, including abstracts, topics, and comments!
Art therapists in Florida and Indiana have secured the introduction of new art therapy licensure legislation.
Florida's
HB 343
and
SB 400
would license professional art therapists and register art therapist interns, and
HB 345
and
SB 402
would establish fees for annual licenses.
Meanwhile, Indiana's SB 338, which would provide for art therapy licensure and reimbursement through Medicaid, was passed by the Senate Health Committee unanimously and will be moving toward a vote on the senate floor!
Connect with your local chapters to get involved with art therapy legislation—or join us in the
MyAATA member community!
As more and more states join the counseling profession's interstate compact, more art therapists will begin to be impacted, either as licensed counselors or as new art therapists seeking licensure. Check out this Chi Sigma Iota panel discussion and brief analysis.
By Naarah Macklin, MS, LMHC
The month of February is Black History Month, and this serves as a time of reflection of my identity and what it means to me.
It results in a time of reflection in regards to my past, my ancestors, culture, and my connection to the BIPOC community. As an African-American woman, hair plays a big part of my identity and plays a major impact in who I am. I often think of my hair, many styles I have done to it, what it is saying to the world, if I am having a "good hair day", and its overall health. The topic of hair has taken me on quite the journey to unravel the misconceptions of it.
Every conference, hundreds of art therapists, educators, as well as graduate students join us as conference presenters—to share their knowledge and expertise, or begin a discussion that advances our profession. This Call for Proposals is an open invitation from conference organizers to invite you to submit session presentations that would be relevant and of interest to the art therapy community. We hope that you will consider submitting a proposal. The Conference Program Committee strives to obtain proposals that will provide a variety of topics, program tracks, and presenters to create a balanced program.
We're flagging content from Volume 39, Issue 4, of Art Therapy: Journal of the American Art Therapy Association:
Thanks to readers (including you!), Art Therapy Journal content was downloaded more than 200,000 times in 2022!
(Graphic credit: Taylor and Francis (Art Therapy Year in Review, January 2023)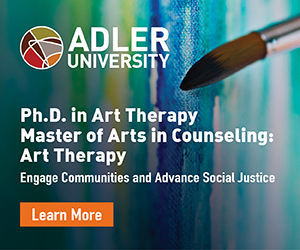 | | |
| --- | --- |
| | How do we build, grow, and maintain international research? Dr. Girija Kaimal, EdD, ATR-BC, our guest speaker, will be sharing her experience of leading an international research initiative, followed by an informal open discussion. |
| | |
| --- | --- |
| | Join Louvenia Jackson, Ph.D., LMFT, ATR-BC, and a panel of black art therapy students as they present about black visionary architect art therapists who have inspired them. |
- SPONSORED POST -
♦ Clinical Coordinator, PALS Domestic Violence Program: In collaboration with the Director, carries the responsibility for clinical supervision of CCWC programs as well as, provides creative arts therapy services to child witnesses of domestic violence, and support services to their non-offending parent.
♦ Creative Arts Therapists: At the direction of and in collaboration with the PALS Clinical Coordinator, carries the responsibility for providing creative arts therapy services in the areas of art, music, play or drama to child witnesses of domestic violence.
Want to post or apply for art therapy jobs? Visit AATA's Career Center, the one-stop shop to help art therapists at all levels find new opportunities! For questions about the Career Center, email jberry@arttherapy.org.