The bill, which was passed by the legislature in May, would require private insurance companies to cover mental health services. It would make it possible for services by LCATs to be reimbursed by insurance—a huge step forward in achieving parity between art therapists and other mental health professions in the state.
By Carolyn Brown Treadon, Ph.D., ATR-BC, ATCS, 2023 Conference Chair
Have you ever wondered how the Annual Conference comes together? It starts with all of you! The 2023 AATA Conference Call for Proposals will be opening soon and each of you are encouraged to consider submitting a proposal.
We will also need volunteers to serve as Program Reviewers. Are you an AATA Member with an ATR-BC? Once the call ends, proposals will be sent out for blind review. Three ATR-BCs review and rate each submission. The accepted submissions determine the sessions offered at our annual conference. We need voices that represent our membership and profession. The time commitment, on average, will be less than 5 hours. I have volunteered for the last 12 years and learn so much each year through this process.
If you are interested in volunteering to serve as a reviewer, please email Terri Cochran in the AATA National Office at
tcochran@arttherapy.org
.
Take a look at the most read articles and blog posts of 2022. While some were posted in past years, they still remain important to our readers. Special thanks to our AATA members who volunteered their time to write blog posts about their work!
On Dec. 14, AATA members joined the art therapy community and friends and family for a Virtual Memorial. Together, we looked back in loving memory to the AATA members who passed away this year. They contributed so much to the field of art therapy and to the lives of the clients and communities they served. Please take a moment to read about them and their contributions to our profession. You can watch the Virtual Memorial
here
.
With the help of the Honors Working Group (and Erin Partridge, Chair); Research Committee (Jill McNutt, Chair); Scholarships Working Group (Denise Wolf, Chair); Multicultural Committee (Craig Siegel, Chair) and Journal Editor-in-Chief Jordan Potash, we celebrated this year's scholarships, awards, and honors winners in a virtual ceremony on Dec. 14.
Please join us in congratulating them!
We are excited to share the most read articles published in the past 12 months in Art Therapy, the Journal of the American Art Therapy Association. The purpose of the journal is to provide a scholarly forum to advance the understanding of how art therapy and visual art contribute to the treatment, education, development, and enrichment of people. A recognized academic publication for more than thirty years, Art Therapy uses a double-blind peer review process, including initial editor screening for appropriateness of content and quality as well as incorporation of recommendations from a review panel of at least two anonymous referees.
2. Connecting in New Ways: Art Therapy Trainees' Experiences of Telehealth During COVID-19

Jessica Bianchi, Brittany Benjamin Amante, Chao Zhao, Amanda D. Martin, Alejandra Hernandez and Emily Lin
3. BIPOC Art Therapists: Antiracism Work Through the Virtual CircleMiki Nishida Goerdt, Ashley Abigail Gruezo Resurreccion, Brandi Taziyah, Rhonda Johnson, Sheila Lorenzo de la Peña and Tuesdai Johnson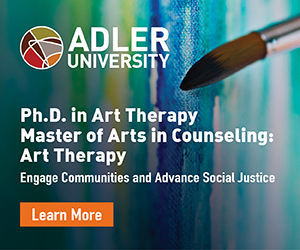 | | |
| --- | --- |
| | Join us for our first All Member Meeting of the year! |
The AATA's Art Therapy Today includes a digest of the most important news selected for the AATA from thousands of sources. Guest articles may be submitted to info@arttherapy.org. Publication of any guest article is at the sole discretion of the AATA. The opinions expressed and/or contents of guest articles, advertisements, and external links included in any AATA publication do not represent the positions or policies of the AATA. The AATA makes no warrenty or representation concerning the accuracy of such content.