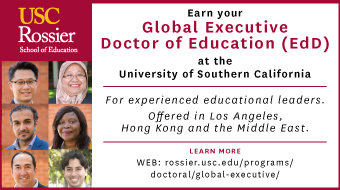 Robin Matross Helms, associate director for research at the American Council on Education's Center for Internationalization and Global Engagement, is a contributing author to IIE's recent publication,
Global Perspectives on Strategic International Partnerships
. In her blog post she discusses the how we can better address strategic partnership goals and action plans to maximize the returns on these linkages for students and faculty, as well as organizational structure as a whole. Helms writes, "For a partnership to be strategic, it should contribute to and advance institutional strategy in some way. Has the institution identified particular academic or programmatic areas that it wants to further develop? If so, a carefully chosen partner abroad may be able to provide knowledge, resources, and expertise that can support this development."
More than one billion people live with some form of disability, and 80 percent of them are in developing countries. As part of its aim to provide higher education opportunities to disadvantaged groups from around the developing world, the Ford Foundation International Fellowships Program (IFP) provided graduate fellowships to many emerging social justice leaders who have disabilities and/or work in areas of disability rights, advocacy, and service provision.
In the fourth IFP Issue Brief,
Disability is not Inability: IFP Alumni Advocates in the Disability Field
, IFP alumni who work in the disability field were asked a simple question: What challenges do individuals with disabilities face in your country and how are you working to find solutions? This brief shares the stories of alumni disability advocates in five IFP countries: Chile, India, Kenya, Russia, and Uganda. Their responses indicate that regardless of their location or impairment, people with disabilities face similar challenges at the individual, community, and national levels. Beyond these common challenges, IFP alumni are also united by the fact that their fellowship experience gave them new tools and perspectives to promote disability rights, improve services, and advance inclusive policies in the developing world.
For over 50 years, books and reports published by the Institute of International Education have been standard reference resources for students and advisors alike. Annual publications are key resources that offer comprehensive information on student mobility and study abroad programs, grants, and fellowships. IIE's research reports and policy papers serve as a rapid response to the changing landscape of international education. We encourage you to learn more about our publications online at
www.iie.org/publications
. On this site, you can download briefing papers on myriad topics related to international education and browse through an archive of IIE reports. Take advantage of the current sale on
IIE's online bookstore
; 20% discount on all IIE publications, including:
Order online before August 30, 2016, and use discount code: iiemember