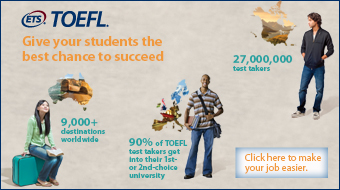 IIE's recent publication,
Preparing to Study in the USA: 15 Things Every International Student Should Know
, is now available as an eBook in Mandarin Chinese. This comprehensive publication prepares students planning to attend a U.S. college or university to succeed in and fully embrace the U.S. education system by addressing the topics most critical to international student success—identified by U.S. international student advisors—including:
• Finding and applying to the right school
• Understanding the importance of critical thinking and the value of liberal education
• Taking full advantage of the broad range of available resources
• Becoming immersed in a wide variety of campus activities beyond academics
In the Fall 2016 issue of the
IIENetworker
magazine, Natalia Dyba, Keiko Ikeda, and Jon Rubin share steps and best practices for those looking to bring virtual exchange programs, here referred to as Collaborative Online International Learning (COIL) to their campuses. "For each topic, we suggest a target and outline immediate steps towards it, based on the successes and failures we have experienced at our institutions, thereby forming a tentative COIL developmental rubric," write the authors.
March 20-23, 2017 | Kaohsiung, Taiwan
Registration Deadline: December 19, 2016
EducationUSA invites accredited U.S. colleges and universities to the EducationUSA Exhibit to promote U.S. higher education at the 2017 Asia Pacific Association for International Education (APAIE) Conference in Kaohsiung, Taiwan. The exhibit provides opportunities to showcase your institution, build and sustain partnerships in Asia-Pacific, and actively promote U.S. higher education offerings to Asia-Pacific audiences. The registration fee per U.S. institution is $1,650 USD and includes up to two staff members, use of your institution's name, logo, and pictures at the exhibit, and space to display institutional program materials. Please note that the exhibit participation fee does not include the APAIE 2017
conference registration fee
.
The Japan-IMF Scholarship Program for Advanced Studies (JISP) is financed by the government of Japan and administered by the IMF's Institute for Capacity Development with assistance from the Institute of International Education (IIE) and International Education Blueprint (IEB) in Japan. JISP's goal is supporting Japanese scholars during their doctoral studies in macroeconomics and helping them become applied macroeconomists at the IMF. The JISP scholarship grant covers two years of doctoral studies in macroeconomics at universities located outside Japan. JISP covers all reasonable expenses for two years of graduate study including full university tuition, medical insurance, selected travel expenses, annual book allowance, and a monthly stipend. Applications are open to Japanese citizens who are Ph.D. candidates studying at, or applying to a doctoral program in macroeconomics at a university outside of Japan, and who have the ability to obtain a Ph.D. by age 34.
Conference: August 22-23, 2017 | Auckland, New Zealand
Education New Zealand is pleased to announce that the Call for Proposals for NZIEC 2017 are now open. Presentations can relate to any aspect of the international education industry. NZIEC 2017 will explore the leadership that is required to foster this vibrant and successful industry to further heights in the years to come. Forging student experiences, developing cutting edge products and services, building international relationships, and delivering innovative education offshore are all topics to be explored at the 2017 conference, which takes the theme of Leadership in International Education.
Fulbright International Education Administrators (IEA) seminars
help U.S. international education professionals and senior higher education officials create empowering connections with the societal, cultural and higher education systems of other countries. Seminars include campus visits with a cross-section of universities and colleges; briefings with faculty and administrators, government officials, and leading educational experts; and tours of historical and cultural sites. Applications for IEA seminars in France and Germany are currently being accepted. These seminars will take place in October 2017:
•U.S.-France International Education Administrators Program:
This two-week seminar is open to senior-level university administrators (such as deans, directors, vice presidents, provosts, and presidents) with substantial responsibility for enhancing the international dimension of their institutions.
•U.S.-Germany International Education Administrators Program:
This two-week program is open to administrators involved in one of the following areas: international exchanges (student or faculty exchanges, foreign student admissions and advising, study abroad programs, and international education exchange services), career services, alumni affairs, development or fundraising.
Grants include economy round-trip airfare, travel within the host country, lodging, and a lump sum supplement for incidentals. Applicants must be U.S. citizens, and we encourage you to review the complete eligibility criteria, application guidelines, and review criteria on our
website
.
The application deadline for both seminars is
February 1, 2017.
Register for our webinar
on
December 14, 2016 2:30pm-3:30pm ET
to learn more about the IEA seminars to France and Germany. Please do not hesitate to contact
EuropeEurasia@iie.org
with questions.
The Fulbright Program, sponsored by the U.S. Department of State's Bureau of Educational and Cultural Affairs, is the U.S. government's flagship international exchange program and is supported by the people of the United States and partner countries around the world. For more information, visit eca.state.gov/fulbright.
Wagaye Johannes, Project Director for IIE's
Generation Study Abroad
(GSA) Initiative, shares insights into what is working and what we might need to do differently in order to reach the goal of doubling study abroad by the end of the decade. Setting a target, communicating the value of study abroad widely, collaborating within the GSA network, and expanding our definition of study abroad are all key to reaching this goal. Writes Johannes, "Higher education institutions need to redefine their definition of study abroad so that it encompasses a broad array of activities abroad that address the learning needs of different types of students and fields of study."
Congratulations to Dr. Sophia Howlett for her appointment as President of the School for International Training (SIT), a longtime Generation Study Abroad commitment partner! Dr. Howlett holds a PhD in European Renaissance Philosophy and Literature from York University, UK, and a BA in English Literature from Cambridge University. As a Generation Study Abroad commitment partner, SIT Study Abroad provides scholarships for U.S. students with financial need.