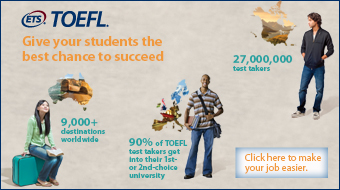 The Institute of International Education (IIE) is pleased to announce the call for nominations for the annual Victor J. Goldberg IIE Prize for Peace in the Middle East. The prize recognizes outstanding work being conducted jointly by two individuals, one Israeli Jew and one Arab Muslim, whether or not a citizen of Israel, working together to advance the cause of peace in the Middle East. The two individuals whose work is judged to be most successful in bringing people together and breaking down the barriers of hatred will share a $10,000 prize.
To be eligible for the Prize, at least one of the nominated individuals must be an alumna/us of any program administered by IIE, or any exchange program funded by any of IIE's sponsors and administered by another organization. Alumni of the following IIE-administered programs, among others, are encouraged to apply: Fulbright Programs, Hubert H. Humphrey Fellowships, International Visitor Leadership Program (formerly International Visitor Program, or IVP), State Department Middle East Partnership Initiative, Ford Foundation International Fellowship Program, Ford Foundation Global Travel and Learning Fund, and training programs funded by the U.S. Agency for International Development.
Fulbright alumni and alumni of the Israel Arab Scholarship Program whose grants were administered by AMIDEAST are also eligible. Similarly, individuals who came to the United States under funding from the Ford Foundation or as part of the International Visitor Leadership Program are eligible even if they were participating in a program coordinated by another organization.
IIE is excited to announce a collaboration with ISEP on GET™, an IIE initiative which connects international students and young professionals with unique research and internship opportunities offered through IIE's network of partners in the United States. ISEP, an educational network with more than 300 university members spread across 56 countries, shares a mission well-aligned with IIE's. Since 1979, ISEP has helped students all over the world overcome financial and academic challenges in order to study abroad.
Through hands-on training in a variety of fields, GET participants create connections and develop distinguished skill sets while working alongside professionals in their fields. IIE is thrilled to collaborate with ISEP and expects that more students will have access to GET opportunities as a result of our joint work. GET will offer five unique opportunities in the U.S. this spring 2017 exploring topics ranging from air quality and pollution management to industrial safety and risk management. GET expects to offer additional opportunities during summer 2017. IIE is proud to have ISEP promote these opportunities among their network of students and institutions across the world.
GET welcomed five participants this fall 2016 for political science internships implemented by the University of Akron and focused on the U.S. Presidential election campaigns. To learn more about GET, visit IIE's website
here
or ISEP's GET website
here
.
IIE-SRF Chairman Mark A. Angelson, a graduate of Rutgers Law School, was honored at this year's Alumni Association Gala, held on November 9th. Chairman of the Finance and Facilities Committee of the Rutgers University Board of Governors, Mr. Angelson was recognized with the first-ever Alumni Leadership Award. IIE-SRF fellow Jamil Ammar of Syria, a visiting instructor at Rutgers Law School, was featured in a video tribute that was played as an introduction. After receiving a standing ovation, Mr. Angelson spoke at the event, praising Rutgers' "culture of inclusion and collaboration." IIE-SRF congratulates Mr. Angelson on this well-deserved honor.

The Institute of International Education (IIE) has published the 2017 edition of its annual print directory
Funding for United States Study: A Guide for International Students and Professionals
, the print companion to IIE's online search engine
www.fundingusstudy.org
. With more than 800 grant and scholarship listings, Funding for United States Study is the most comprehensive directory on finding funding for study in the United States, making it an invaluable resource for advisers and international students worldwide. It features detailed descriptions of grants, fellowships, and scholarships for undergraduate and graduate study, and doctoral and postdoctoral research in the United States. Listings include grants, fellowships, financial aid, and scholarships available through: U.S. and foreign governments, colleges and universities, educational associations, research centers, libraries, foundations, corporations, and other organizations.
In the Fall 2016 issue of the
IIENetworker
magazine, Leslie Bozeman and Yao-Yi Fu of Indiana University-Purdue University Indianapolis (IUPUI) discuss that while participation in study abroad is key to preparing students to enter the global workforce, it's also important to recognize the ways in which universities can provide international opportunities for students who are not well-positioned to study abroad because of financial constraints, work, or other circumstances. "Curriculum internationalization through virtual exchange provides a valuable opportunity for student and faculty development. [...] Faculty benefits can include enhancing their scope of disciplinary knowledge, widening their pool of research collaborators, and enriching their own professional interactions through intercultural interaction," write Bozeman and Fu.
The Institute of International Education Scholar Rescue Fund (IIE-SRF) is now accepting a new round of applications from scholars facing threats to their lives or careers. Fellowships support temporary academic positions at colleges, universities, and other research institutions anywhere in the world where scholars can continue their academic work in safety. Qualifying applicants are currently facing or have recently fled from direct and immediate threats. Preference is given to scholars with a Ph.D. or other terminal degree in their field, and who have extensive teaching or research experience at an institution of higher learning. Women and scholars from under-represented groups are strongly encouraged to apply. Students or professionals seeking funding to pursue academic studies or training are not eligible.
Please refer eligible candidates and forward this announcement to any academic colleagues who may be interested. Information on eligibility can be found
here
. For campuses interested in hosting an IIE-SRF scholar, please refer to the
website
. Please note that IIE-SRF fellowships are awarded quarterly. Applications are accepted at any time and can also be considered on an emergency basis.