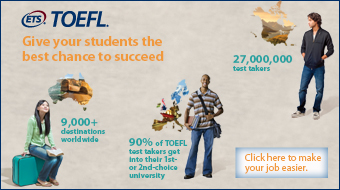 Thousands of Syrian students' schooling is on pause, and though many would like to continue their learning in America, immigration policies make that all but impossible.
At the IIE Generation Study Abroad Summit, panelists discuss how to get a more diverse group of students abroad, including students enrolled at minority-serving institutions.
In order to increase and diversify the number of American students who study abroad, K-12 educators, nonprofits and universities must pursue strategic partnerships to reach students from diverse backgrounds while they are still in high school.

In the Fall 2016 issue of the
IIENetworker
magazine, Ashley Holben, project specialist at Mobility International USA shares the many ways in which campuses and organizations can structure and adapt their virtual exchange programs in a way that has maximum benefit for students with disabilities. From the choosing the best e-learning platform to locating the appropriate accommodation, there is much that educators can do to make virtual exchange equally accessible to all. "Along with traditional in-person programs, virtual exchange promises to be one of many avenues for students with disabilities to develop and strengthen their intercultural competency," writes Holben.
Beth Garriott, Senior Program Officer for IIE's Women Enhancing Technology (WeTech) program, shares the incredible progress and outcomes of the WeTech program, three years after its inception. Fostering entrepreneurship among girls, investing in university women, and strengthening the ecosystem are just a few of the many ways in which this program, designed to provide training and building networks for girls and women in the STEM fields. Beth writes, "WeTech is driven by partners with a shared vision of women building the tech pipeline, from entry level to the executive level. [...] Much more work is necessary to make a lasting impact in this space, and IIE, through WeTech and other innovative programs, is committed to leading the way.
Undergraduate Scholarship Deadline: February 9, 2017 | Graduate Fellowship Deadline: January 31, 2017
Boren Awards fund U.S. undergraduate and graduate language study and research abroad in world regions critical to U.S. national interests, including Africa, Asia, Central & Eastern Europe, Eurasia, Latin America, and the Middle East. The countries of Western Europe, Canada, Australia, and New Zealand are excluded. Boren Scholarships provide up to $20,000 for undergraduate students for language-focused study abroad, and Boren Fellowships provide up to $30,000 for graduate students to fund language study, graduate-level research, and academic internships abroad. Applicants are encouraged to contact their Boren Awards campus representatives, listed in a
directory on the website
, for institution-specific guidance.
IIE administers the Boren Scholarships, Boren Fellowships, and The Language Flagship Fellowships and Grants on behalf of the National Security Education Program.
For
Diplomatic Courier's
upcoming January 2017 edition on "A Post-Employment World," interested parties are invited to submit an article for consideration. This special issue will be launching at
Diplomatic Courier's
annual
Global Talent Summit
in Zurich in January. Preparing for the opportunities and challenges of the
World in 2050
requires innovative thinking and fresh voices. Whether an ambassador, CEO, or student, we showcase new authors in addition to our curated content. Researched articles should be between 1200 to 1500 words in length; opinion pieces should be approximately 800 to 900 words in length. Articles should be original and not have been previously published in any other format – print or online. When submitting via email please include "Article Submission: A Post-Employment World" in the subject line.
February 23-24, 2017 | Washington, DC | Register
This conference is the original event focused on the recruitment and sponsorship of international students. Taking place at the University of California Washington, DC Center and at Embassies and sponsoring organizations throughout the city, the conference features exclusive access to the diplomatic community and sponsoring organizations and includes presentations from the leading authorities on international education. WIEC immediately follows the AIEA Conference, also in Washington, DC. 
The Institute of International Education's Council for International Exchange of Scholars (IIE/CIES) is pleased announce the opening of the application process for U.S. campuses to host cohorts of junior scholars from the
Fulbright Visiting Scholar Program for Iraq
.
The intent of this 10-week program is to equip scholars with the knowledge and tools needed to build the capacity of their home institutions and to advance the education of future generations. In addition, it lays the foundation for junior scholars and their U.S. hosts to develop long-term institutional relationships and to identify areas of cooperation that can be sustained beyond the grant period. Participating institutions will enjoy a unique opportunity to establish lasting relationships with faculty members at universities within Iraq and to build upon current efforts to internationalize their campuses and surrounding communities. 
CIES seeks two host institutions to implement the Fulbright Visiting Scholar Program for Iraq, which is scheduled to take place June 30, 2017 through September 8, 2017. Scholars will be distributed across the following discipline-based cohorts: Law and Human Rights, and Business Administration and Global Entrepreneurship.
The Fulbright Program, sponsored by the U.S. Department of State's Bureau of Educational and Cultural Affairs, is the U.S. government's flagship international exchange program and is supported by the people of the United States and partner countries around the world. For more information, visit eca.state.gov/fulbright.
The U.S. Department of State and Partners of the Americas are pleased to announce Capacity Building Grants for U.S. Undergraduate Study Abroad, which are designed to create or expand the capacity of U.S. HEIs to administer study abroad programs under diversity goals. These goals include broadening the student population who studies abroad and/or the destinations and disciplines in which they study. These grants are also intended to allow U.S. institutions to collaborate with and help expand the capacity of overseas HEIs to provide academic programs for U.S. undergraduate students. This opportunity is part of the 
Department's U.S. Study Abroad branch
, located within its Bureau of Educational and Cultural Affairs.