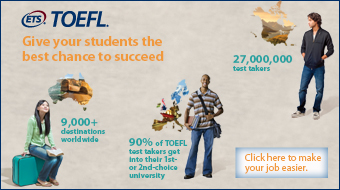 There is still time to submit the Fall 2016 survey on international student enrollment. The purpose of this survey is to obtain feedback on current events and trends in the field that may impact your international student enrollments for this academic year (starting in Fall 2016). By sharing this information with the international education community and the media, we hope to develop a wider understanding among the press, the general public, and policy makers at state and national levels, about how higher education institutions continue to be affected by the various factors which impact international enrollments.

All institutional-level responses will be anonymous and only aggregated information will be shared. We ask for your contact information only to ensure that no more than one reply is received per institution, and to facilitate follow-up if there are any questions.
If you are not the best contact for this survey, please forward it to another colleague on your campus who may be able to complete it. Please respond by October 25, 2016
so that we may include your responses in the findings that we report to the press and public during International Education Week in November 2016.
IIE, on behalf of the U.S. Department of State's Bureau of Educational and Cultural Affairs' EducationUSA Advising Network, invites accredited U.S. post-secondary educational institutions (non-profit and for-profit), U.S. higher education associations, university systems, consortia, and qualified entities that meet provisions in IRS section 26 USC 501(c)(3) to submit proposals to be a Partner Organization for the fourth round of
EducationUSA Leadership Institutes.
Partner Organizations will develop and manage one of three EducationUSA Leadership Institutes for approximately 12 to 15 mid- to upper-level foreign college or university administrators, Ministry of Education or other government officials, or other qualified participants from select countries and world regions. The Institutes consist of intensive, short-term academic programs that provide participants with the opportunity to deepen their understanding of U.S. higher education, develop the tools necessary to build capacity within their own systems, and engage with the U.S. higher education sector in effective, sustained ways.
Applicants are invited to submit proposals to host one of the following Institutes
(each proposed Institute must address only one of the following topics):
• EducationUSA Leadership Institute #1:
Campus Internationalization: Structures that Support Student Mobility
• EducationUSA Leadership Institute #2:
U.S. Higher Education and Industry/Private Sector Linkages
| | |
| --- | --- |
| | |
| | |
Now in its fourth year, the Carnegie African Diaspora Fellowship Program has helped 239 African-born scholars who have been living and working in North America to connect with their peers at universities throughout Africa. The current proposal submission period runs until December 8, during which time universities in eligible host countries (Ghana, Kenya, Nigeria, South Africa, Tanzania and Uganda) can submit a project request for visiting Fellows to come to their universities starting in May 2017. African-born academics residing in the United States or Canada can apply any time, and are matched with accepted projects on a rolling basis. Prospective hosts and fellows can find eligibility requirements and instructions in the
"How to Apply"
section of the program's website. The program is designed to build capacity at the host institutions in Africa, and to develop long-term, mutually beneficial partnerships between the universities. The Fellowships are funded by Carnegie Corporation of New York and managed by the Institute of International Education (IIE).
For Syrian students now living in Turkey, the path through higher education is far from smooth.
Nearly 200 students received their first passports thanks to the Passport Factory, a partnership between the university's Learning Abroad Center and the Council on International Educational Exchange (CIEE).
As the UK prepares to leave the European Union, the country will be faced with the task of managing control of its borders, including the inflow of immigrants, which will set the scene for its future business and entrepreneurial success.

In the Fall 2016 issue of the
IIENetworker
magazine, Alison Corbett, education program manager for the British Council, describes various ways in which the organization has used online learning tools to reach displaced students around the world. Virtual learning is enhancing the way the British Council connects people internationally while staying true to its original purpose. For those with hopes and dreams put on hold because of conflict, virtual learning offers a welcome route to a better tomorrow," writes Corbett.
Kelty Davis, WeTech Program Officer with IIE, has been a part of
Women Enhancing Technology
(WeTech), administered by IIE, since its inception in 2015. She has had the chance to witness the positive transformations of women who receive a scholarship and mentorship in the STEM fields, made possible with Qualcomm's support. Davis traveled to India this summer to take part in the country's end-of-program celebration, and said the changes in the girls were immediately apparent: "I couldn't believe that the 18 Scholars I met at orientation in February were the same self-assured young women standing before me. [...] I heard from girls who had recently launched their own start-ups, obtained funding for cutting-edge research studies in their fields that are being published in international journals, [and] garnered competitive internship placements in tech companies such as Google and Intel."
The 2017 TOMODACHI-STEM at Rice University for Female Students is a five-week research internship program for 10 female undergraduates from Japan who are majoring in science and engineering. Held at Rice University in Houston, Texas, the program will enable students to gain real world experience with S&E research, provide and introduction to U.S. higher education, and provide opportunities for cultural engagement and collaboration with U.S. students. The program will serve as a catalyst for female Japanese students interested in S&E study and research and engagement with the U.S. through international research collaborations.
New York, NY | November 9, 2016 | 9:00 a.m. – 6:30 p.m. | Register
The GHC/1 Women Entrepreneurship & Innovation Summit is a locally organized conference in New York City modeled after the international Grace Hopper Celebration of Women in Computing (GHC). GHC/1 will be a day of learning and networking, focused on advancing a gender diverse workforce in New York. Attendees will have the opportunity to participate in sessions on technology, career development and a career fair, and explore ways to attract top technology talent in various industries.
The 2017
Diversity Abroad Conference:
Embracing the Future of Global Education
also marks the 10-year anniversary of Diversity Abroad. Hosted by the Learning Abroad Center at the University of Minnesota Twin Cities Campus, the 2017 conference program will include sessions of relevance to faculty, administrators, and professionals who work in education abroad, international student & scholar services, diversity & inclusion, student affairs, K-12, and more.
Fulbright Arctic Initiative researchers will gather in Washington, D.C. from October 24-28 to participate in policy meetings and public engagement events. The events will include a capstone symposium showcasing the results of the Fulbright Arctic Scholars' research and collaborations over the preceding 18 months.
The following events are open to the public:
•
Smithsonian Natural History Museum Open House
-
Tuesday, October 25, 2-5:30pm
Fulbright Arctic Scholars will interact with the public through discussion and visual aids, to showcase their Arctic
research and countries' connections to the Arctic. Joining the Scholars will be Arctic Youth Ambassadors
representing diverse communities and life within Alaska's Arctic region.
•
Arctic Policy Dialogue at the Carnegie Endowment for International Peace
-
Wednesday, October 26, 2:30-5pm
Speakers and panel discussions focused on Arctic policy
•
Fulbright Arctic Initiative Symposium: "Arctic Science, Policy, and Diplomacy" at the National Academy of
Sciences
-
Thursday, October 27, 9am-4:30pm
The
Outreach Lecturing Fund
(OLF) provides travel funding for
Fulbright Visiting Scholars
to visit campuses across the U.S. The OLF travel award is designed to enrich both institutions and Visiting Scholars through lectures that will promote academic disciplines and cultural understanding. Additionally, the OLF seeks to build relationships and partnerships with institutions that are currently underrepresented within the Fulbright Program as a means to promote future opportunities.
OLF Enables U.S. Institutions to Invite Fulbright Visiting Scholars to:
• Give department or campus-wide lectures to students or faculty (or both);
• Hold lectures in classrooms where the scholar can make a contribution to the discipline or country/regional
understanding;
• Meet with faculty to allow for an exchange of ideas;
• Have informal gatherings with students and faculty;
• Meet with community organizations, professional, cultural or religious groups, K-12 schools and school districts
that have a special interest in international relations.
The Fulbright Program, sponsored by the U.S. Department of State's Bureau of Educational and Cultural Affairs, is the U.S. government's flagship international exchange program and is supported by the people of the United States and partner countries around the world. For more information, visit eca.state.gov/fulbright.
October 23-25, 2016 | Washington, D.C. | Read More
Diplomatic Courier's CEO & Publisher Ana C. Rold will be sharing her remarks at the
IIE Summit on Generation Study Abroad
, in a presentation entitled "What is the Future of Work?" on Tuesday, October 25. Be part of the movement. Discover and share solutions on reaching our shared vision. Make connections and form new partnerships. View the
schedule online
and reserve your place today. To learn more about Diplomatic Courier's research and work in this area, visit
The World in 2050
.
Seattle International Foundation (SIF) has renewed its partnership with the Institute of International Education (IIE) to support impactful leaders driving change in El Salvador, Guatemala, Honduras and Nicaragua. Now entering its second year, 93 leaders from diverse sectors in these four countries have been selected to participate in the Centroamérica Adelante program based on their accomplishments and their ability to contribute to the development of the region. Leaders will take part in a year-long fellowship comprised of workshops, coaching, networking, in-person experiential learning and online skills development to help them increase their impact in the communities they serve and build alliances to extend their reach. In addition, IIE recently became an associated member of the Inter-American Organization for Higher Education (IOHE) as part of its efforts to expand academic exchange opportunities between universities in Latin America and the United States. To receive updates about Centroamérica Adelante program and/or to express interest in nominating an individual or applying to be a Centroamérica Adelante Fellow, visit the program website or contact: cenamadelante@iie.org.