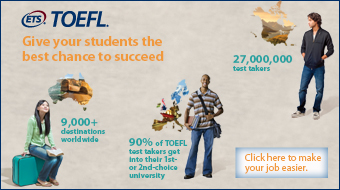 A higher education initiative that taps the African diaspora in North America as a way to reverse the effects of brain drain on the continent seeks to expand amid signs that it has had a positive and sustainable impact, new data shows.
A global database of scholarships and education opportunities available to displaced and refugee students is set to launch with backing from a new philanthropic organization, supported by former British prime minister Gordon Brown.
Whether students are aspiring to prevent the next global health epidemic or make clean energy sources accessible to all communities, it is clear that language is a key component for our next generation of global leaders.

The Fall 2016
IIENetworker
magazine, titled "Virtual Exchange: Connected Learning in the Digital Age," is now available as a
free interactive flipbook
. The idea of virtual exchange has become a reality for countless institutions around the world, and continues to gain momentum as we see how it can provide deep and interactive learning experiences. These exchanges are technology-enabled programs allowing for the sustained sharing of ideas through a people-to-people education approach. This issue of
IIENetworker
focuses on delving deeper into the ever-evolving landscape of virtual exchange in order to explore, share and continue the dialogue around this emerging educational model
The authors in this issue of
IIENetworker
provide many thought-provoking perspectives on the use of virtual exchange as it relates to the refugee crisis, language learning, curriculum internationalization, students with disabilities, alumni engagement, virtual reality, and study abroad pre-departure programs.
Read
about various models from around the world, including what IIE is doing in this dynamic realm.
In celebration of the 70th anniversary of the Fulbright Program, 7 program alumni were honored for their outstanding achievements in an award ceremony that took place during IIE's annual Gala, held on September 28 in New York City. The IIE Global Changemaker Awards recognize the achievements of the individuals throughout their careers and highlight the impact the Fulbright program has had throughout its history. Each individual is highlighted in this blog by Aileen O'Donnell, manager of the IIE Alumni Initiative.
The Fulbright Foreign Language Teaching Assistant (FLTA) Program, sponsored by the U.S. Department of State and administered by the Institute of International Education, is interested in hearing from U.S. colleges and universities about their language goals for AY 2017-18. The FLTA Program enables young educators to refine their teaching skills, increase their English language proficiency and extend their knowledge of the cultures and customs of the United States. FLTAs engage in non-degree studies at accredited post-secondary U.S. educational institutions while assisting in foreign language departments. More information on the Fulbright FLTA Program can be found by clicking this link
FLTA Website
. For additional information on the Fulbright FLTA Program or to have your contact details added to the program's distribution list, please contact
fltaevents@iie.org
. IIE is requesting FLTA interest survey submissions from U.S. institutions only.
The Institute of International Education's Council for International Exchange of Scholars (IIE/CIES) is pleased announce the opening of the application process for U.S. campuses to host cohorts of junior scholars from the
Fulbright Junior Faculty Development Programs (JFDP) for Egypt, Lebanon, and Tunisia
. These programs are designed to equip scholars with the knowledge and tools needed to build the capacity of their home institutions and to advance the education of future generations. In addition, the programs lay the foundation for the junior scholars and their U.S. hosts to develop long-term institutional relationships and to identify areas of cooperation that can be sustained beyond the grant period.
IIE/CIES seeks U.S. institutions to implement the 10-week programs scheduled for July through September 2017 and invites institutions to submit a proposal to host a cohort of scholars in one of the disciplines outlined below for each program. Each cohort will include approximately six scholars.
The Fulbright Program, sponsored by the U.S. Department of State's Bureau of Educational and Cultural Affairs, is the U.S. government's flagship international exchange program and is supported by the people of the United States and partner countries around the world. For more information, visit eca.state.gov/fulbright.
Eighteen university women from Syria were awarded scholarships to resume their studies through the new
"100 Syrian Women, 10,000 Syrian Lives"
scholarship program, launched by IIE and the non-profit organization Jusoor.
"100 Syrian Women, 10,000 Syrian Lives"
was implemented in partnership with Illinois Institute of Technology (IIT) and with support for educational advising from the EducationUSA network of international student advising centers. The scholarships are expected to bring 100 Syrian women to study at U.S. and Canadian colleges and universities over the next four academic years. IIE and the University of California Davis estimate that between 100,000 and 200,000 Syrian youth are currently displaced from higher education. Pre-war, men and women in Syria attended university in roughly equal numbers. However, Syrian men are three times more likely than women to resume their studies in exile. Selected for their potential to serve as global leaders, the first cohort of students will attend universities including Brown University, Harvard University, Illinois Institute of Technology, Middlebury Institute of International Studies at Monterey, Northeastern University, New York University, Syracuse University, the University of New Mexico, and Valparaiso University. In Canada, participating institutions include Ryerson University, Wilfrid Laurier University, and York University.