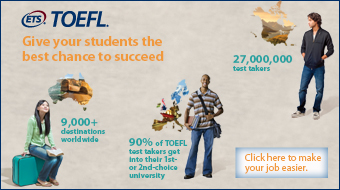 The Platform for Education in Emergencies Response (PEER) will be established by a new Catalyst Trust for Universal Education and IIE. This new global clearinghouse will identify scholarships and opportunities and connect refugee students with resources they can use anywhere in the world.
Quality of education and job prospects in the U.S. make it a favored destination, with the UK and Australia ranked as second and third choices for an education abroad.
Education has long been called the "great equalizer" in helping families and individuals attain the American dream. But it's become increasingly harder to ignore deepening inequality within our higher education system. Scholarships, however, are important tools for combating this inequality.

The 2016 edition of
Intensive English USA
is now available for purchase. This indispensable reference directory, published by the Institute of International Education, includes more than 500 intensive English language programs and courses offered by accredited U.S. higher education institutions and language schools.
Intensive English USA 2016
is a standard IEP resource for education ministries, embassies, exchange agencies, universities, and other organizations that sponsor international students in the United States. Each English language program listing includes information on accreditation, costs, eligibility, class size, student services, admission requirements, and more.
Zehra Mirza, Evaluation Officer with the IIE Center for Academic Mobility Research and Impact, discusses how international fellowship and scholarships programs can indeed influence policymaking, and how alumni of these programs can foster change on local, national, and global levels. The ten-year impact study of the
Ford Foundation International Fellowships Program
(IFP) highlights this work. "The results of the 2015 Global Alumni Survey show that 185 IFP alumni are working in local or regional government agencies, 189 are working in national government agencies, and 127 alumni are working in national non-governmental agencies. These alumni have not only drafted policies at their organizations, but have also provided trainings, technical assistance, and have been involved in strategy development affecting approximately 4 million individuals."
A new publication by Fabrice Jaumont, Program Officer for the FACE Foundation in New York and Education Attaché for the Embassy of France to the United States, offers an analysis of a U.S.-led foundation initiative of uncommon ambition, featuring seven foundations with a shared commitment to strengthen capacity in higher education in Sub-Saharan African universities. The book examines the conditions under which philanthropy can be effective, the impasses that foundations often face, and the novel context in which philanthropy operates today. This study assesses the shifting grounds on which higher education globally is positioned and the role of global philanthropy within these changing contexts. Available now for pre-order, this publication is will also attract attention from university-based readers and readers who are interested in the role foundations play in cultivating institutional capacity.
May 22-24, 2017 | London, UK
The conference will explore how colleges and universities support city-regional economies and social and civic engagement, connecting the world's cities to global talent, and addressing global challenges. This year's conference theme,
"Global Cities: Connecting Talent, Driving Change,"
will be examined through four lenses:
• research and innovation
• talent development and flows
• societies and communities
• leadership
Proposals can be for a speaking slot on the program as a presenter, panelist or chair, or for a poster to be displayed and presented at the conference.
This international event will host 200+ heads of scholarship, who are available to meet with attendees to discuss scholarship options. The event is also a time to further partnerships, provide access to strategic recruitment and networking, and increase understanding of trends in the region. 20 countries have already committed to coming including Bahrain, Brazil, Kurdistan, China, Saudi Arabia, Kuwait, Nigeria, Qatar, and Russia. The structure of the event enables you to log onto the online system, see who is attending and the scholarships and training that will be offered for 2017, and secure meetings in advance.
The Yidan Prize for Educational Research and Development will now accept nominations until March 2017 for its inaugural award, to be given in 2017. Two winners per year will receive HK$30 million (around US$3.9 million) each in cash and project funding, making this the largest educational prize in the world. The Yidan Prize seeks to recognize an individual or small group whose work transforms education in an innovative way that can be replicated and repeated around the world to improve education quality and provide better access to education for all. Each nomination, to be submitted by a third party, will be reviewed by a jury of highly respected experts in education according to a set of rigorous criteria in order to identify the very best individuals. Projects of nominated individuals should be sustainable, future oriented, transformative, and innovative. Nominees can be either individuals or working teams, consisting up to three persons who can be teachers, researchers, academics, policymakers, and advocates.
The deadline to apply for the U.S.-Korea IEA Program: November 1, 2016. Click here to access the online application.
The
U.S.-Korea International Education Administrators Program
is a two-week group seminar that allows participants to meet with representatives from Korean universities, private-sector agencies and organizations, and selected government agencies. International education administrators who interact with students on a day-to-day basis and are actively involved in promoting international education on their campus are encouraged to apply. The seminar is expected to take place in June 2017.
Fulbright International Education Administrators seminars
help U.S. international education professionals and senior higher education officials create empowering connections with the societal, cultural and higher education systems of other countries. In addition to Korea, seminars are also offered in India, Russia, Japan, Taiwan, Germany and France.
Register for our webinar, today, Sept. 28th, from 1:00 pm to 2:00 pm EDT, to learn more about the advantages of the IEA Seminars.
The Fulbright Program, sponsored by the U.S. Department of State's Bureau of Educational and Cultural Affairs, is the U.S. government's flagship international exchange program and is supported by the people of the United States and partner countries around the world. For more information, visit eca.state.gov/fulbright.
The Institute of International Education (IIE) is delighted to invite you to nominate your program for the 2017 Andrew Heiskell Awards for Innovation in International Education. IIE created these awards to honor outstanding initiatives in international higher education by IIENetwork member universities and colleges. IIE's Heiskell Awards showcase the most innovative and successful models for internationalization of campuses, study abroad, and international exchange partnerships in practice today. There are four award categories for 2017.
THE HEISKELL AWARD CATEGORIES:
Category 1: Internationalizing the Campus
Advancing curriculum development, fostering international opportunities and creatively integrating international students into university life.
Providing innovative programs and services to make study abroad accessible to a broader student population. Special emphasis on specific efforts that led to a strong increase in study abroad participation.
Category 3: International Partnerships: New Models for Research Collaborations
Recognizing strategic, comprehensive and innovative international partnership efforts with emphasis on connecting globally through research opportunities.
Category 4: Internationalizing Minority Serving Institutions
Creating innovative programs and services, including study abroad, to make international opportunities accessible to MSI students.
Note: With the exception of Category 1, please submit nominations which focus on particular programs or initiatives, rather than including all campus programs in one nomination.
IIE's Center for International Partnerships recently led a delegation of U.S. university faculty and administrators to Mexico as part of IIE's International Academic Partnership Program. The universities chosen to take part in the delegation were California State University San Bernardino, Lehman College, Rutgers University, Slippery Rock University, and Virginia Commonwealth University. While in the country, the group visited twelve universities and two governmental organizations in Mexico City, Puebla, and Querétaro. The goal of the trip was to learn more about opportunities for U.S.-Mexico academic collaboration in the future. To learn how your university can get involved in IIE's International Academic Partnership Program, please visit the
IAPP website
.